The next album in the series of Dio Deluxe Editions is about to be released – on March 4, 2013.  Last year we got the first three Dio studio albums (plus the first live one, Intermission).  I got a lot of emails asking when the next one was coming out, and today I got a press release for the next album, "Dream Evil".  Originally released in 1987, this was the first Dio studio album with longtime guitarist Craig Goldie.  
I rather liked this album when it was new, and it's got a lot of underrated songs in the overall Dio catalogue.   "Side 2" is for me one of the strongest "Side 2's" on any Dio album from the 80's.   However, most Dio fans tend to skip it, despite getting a lot of play on MTV back in the day.   It is the latest to get the two disc Deluxe Edition treatment.  Below is a track listing: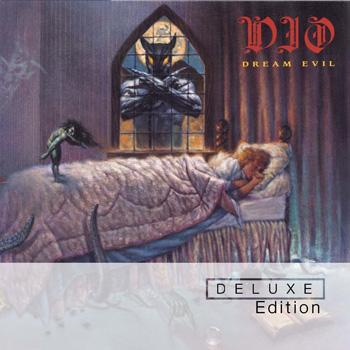 Disc 1
Night People

Dream Evil
Sunset Superman
All the Fools Sailed Away
Naked in the Rain
Overlove
I Could Have Been a Dreamer
Faces in the Window
When a Woman Cries
Disc 2
Hide in the Rainbow (Dio EP)
I Could Have Been a Dreamer (Single Edit)
Dream Evil (Live, Donnington – 8/22/87)
Neon Nights
Naked in the Rain
Rock & Roll Children
Long Live Rock & Roll
The Last In Line
Holy Diver
Heaven & Hell
Man on the Silver Mountain
All the Fools Sailed Away
The Last in Line (Reprise)
Rainbow in the Dark
Tracks 3-13 on Disc 2 are all live, and are a mirror of Disc 2 of the Live at Donington 83/87 release from 2010.   Officially that album was only released in the US, and this will be a European release, so the material is not a double dip.  But I was hoping for a little more extras wise there.
Still, I've always loved Dream Evil, and a proper remaster of the album will be most welcome.   I've liked the remastering work they've done in this series so far as well as the Black Sabbath deluxe editions, so this will probably be enjoyed upon arrival.  If you never tried this album, I suggest looking into it.  It's an underrated Dio classic, and a remaster will only make it better.  Looking forward to hearing the new remaster for sure!
You can pre-order it now at the following links.  Also, as with Black Sabbath, Warner Bros handles Dio releases in the US/North America, Universal elsewhere, and this "elsewhere" is where this release is.  If you want to buy it in the US, you're gonna have to pay import prices.   With that in mind, here's the ordering links:
Below is the full press release from Universal about this package..

Dio
Deluxe Edition Album: Dream Evil
Universal are pleased to announce the release of a deluxe edition of Dio's 'Dream Evil' album on March 4th 2013.
When Ronnie James Dio finally succumbed to stomach cancer in May 2010, the world of Hard Rock and Heavy Metal lost one of its most talented and fervent ambassadors. As lead vocalist to such Rock giants as Rainbow and Black Sabbath, as well as fronting his own eponymous band for nearly three decades, Dio created some of the genres most defining and respected works. Albums such as Ritchie Blackmore's Rainbow, Rising and Long Live Rock 'N' Roll for Ritchie's post Deep Purple band Rainbow; then Heaven And Hell, Mob Rules and Dehumanizer for the mighty Black Sabbath and with his own band Dio, albums such as Holy Diver, The Last In Line and Sacred Heart, all stand as towering monuments of sheer class and brilliance in the Rock pantheon. As a live performer, Dio knew few equals. With his lions roar and incredible vocal range, the front-man presided over countless memorable rock shows, delighting millions of fans all over the world.
Born Ronald James Padavona in 1942 in Portsmouth, New Hampshire into close Italian-American stock, the young Ronnie began his recording career whilst still at school. Initially learning trumpet and French Horn (the breathing technique for which would later assist him with his powerful vocal style), Ronnie moved onto bass guitar and vocals for bands such as The Vegas Kings who later became Ronnie And The Rumblers (later the Red Caps) and Ronnie Dio And The Prophets (Dio being a reference to the mafia member Johnny Dio). Winning a scholarship to New York's famous Juliard School for the performing arts, Ronnie by this time had discovered Rock And Roll, the pursuit of which led him to support Deep Purple with his new band Elf. Ronnie's powerful vocal would catch the attention of Purple guitarist Ritchie Blackmore who later enlisted Dio, along with his fellow Elf band members, when Blackmore was looking to recruit his new project, Rainbow.
Staying with Ritchie from '75 to '79 and recording the aforementioned studio albums, as well as the live album On Stage, Dio eventually departed citing musical differences. A chance meeting with guitarist Tony Iommi in, of all places, the Rainbow Bar & Grill in West Hollywood, found Dio filling the lead vocal position in Black Sabbath replacing the previously jettisoned Ozzy Osbourne. This combination produced two explosive studio albums and lifted Black Sabbath once again to the pinnacle of the Metal vanguard. However, differing personalities between the British and U.S. factions of the band would come to a head during the mixing of the live album, Live Evil and his refusal to support Ozzy Osbourne for some U.S. shows lead Ronnie and drummer Vinnie Appice to lay the foundation for a new band, the neatly named, Dio. 
Dream Evil is Dio's fourth album, released on July 21, 1987. It features former Rough Cutt members Craig Goldy and Claude Schnell, and includes the singles "All The Fools Sailed Away" and "I Could Have Been a Dreamer". Dream Evil was Dio's last album to feature drummer Vinny Appice
This new 2-cd deluxe edition comes with a bonus disc containing amounts other tracks the bands triumphant gig at Monsters of Rock. An expanded booklet with notes by Malcolm Dome endorsed by Ronnie's widow Wendy makes this the next in line of ultimate Dio reissues.
DISC ONE
Night People
Dream Evil
Sunset Superman
All The Fools Sailed Away
Naked In The Rain
Overlove
I Could Have Been A Dreamer
Faces In The Window
When A Woman Cries
DISC TWO
Hide In The Rainbow (Dio EP)
I Could Have Been A Dreamer (Single Edit)
Dream Evil (Donnington – 22/08/87
Neon Nights
Naked In The Rain
Rock N Roll Children
Long Live Rock N Roll
The Last In Line
Holy Diver
Heaven And Hell
Man On The Silver Mountain
All The Fools Sailed Away
The Last In Line (Reprise)
Rainbow In The Dark