Magica is an album I've written about on my site many times before.  I've always felt it was an under appreciated album.    What's weird about this, the lone official "concept" album in the Dio catalogue is that it doesn't work for me as a concept album.  Never has.   To this day, I have no idea what the heck the concept is about.  Ronnie tried to explain it, there's an 18 minute or so spoken word piece about the Magica concept that I just cannot get through.  Have tried – can't do it.   Back in the day when this was new, I found I enjoyed the album a lot more if I stopped trying to figure it out and just enjoy it as music.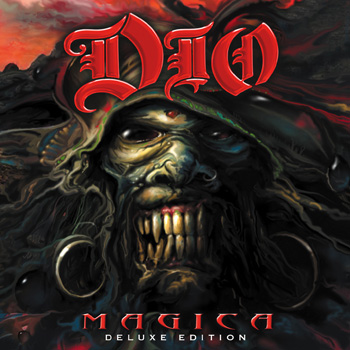 That's the beauty of this album for me, as a concept album it doesn't work, but as a piece of music, it bloody well slams it out of the park.  When people think of Dio solo material, they tend to gravitate towards Holy Diver (album) and individual songs like "Rainbow in the Dark" or "We Rock" or "Last in Line".  There's nothing wrong with that, those works are all killer.  Wouldn't have Magica without Rainbow in the Dark, much like we wouldn't have Heaven & Hell without the Paranoid album.  I get that.  But for me, Magica is a seriously solid album, probably right there with Holy Diver (and for me Dream Evil) as my favorite Dio albums front to back.
Dio was always a habit purchase for me.  I bought every Dio studio album without even thinking about it.  And given the years they were all released, without the benefit of song samples, full song previews on Youtube, I bought them blind.   But I took to it quite nicely once I got past attempting to figure out the "concept".  I always felt that Craig Goldie had a fluid style of guitar play that worked well in Dio.
The album came out 13 years ago, and as time and tastes change, the album stopped being in print, and you couldn't buy a new version of the album at a reasonable price anymore, because well, you know how it goes.  Out of print album means third party/used prices go up.  So I was pleased some months ago when I heard that Niji was putting this out again in a Deluxe Edition, which I hold in my hands.
If you don't know or never heard the Magica album in the first place..  Well, shame on you.  It's really solid stuff.  You need to buy it.  And given its price for a double CD package, there's no real reason not to.  It's cheap enough.   I'm not going to write about the music on Magica a ton here, because I'm laying money that most people reading this already know the album.  And besides, if you don't, well, just stop that and go buy it.   I'm gonna talk more about the packaging and the contents.   Well, OK I lied.  I'll talk a little.  The track "Fever Dreams" comes from this album, and if you make me pick one single Dio track that I like more than any other, it's Fever Dreams.  I love this tune an AWFUL lot.   I wrote a bit about my three favorite tracks from this album on the Dio career retrospective article I wrote in December 2011.   Those three tracks are Fever Dreams, Feed My Head, & Challis.  Check it out.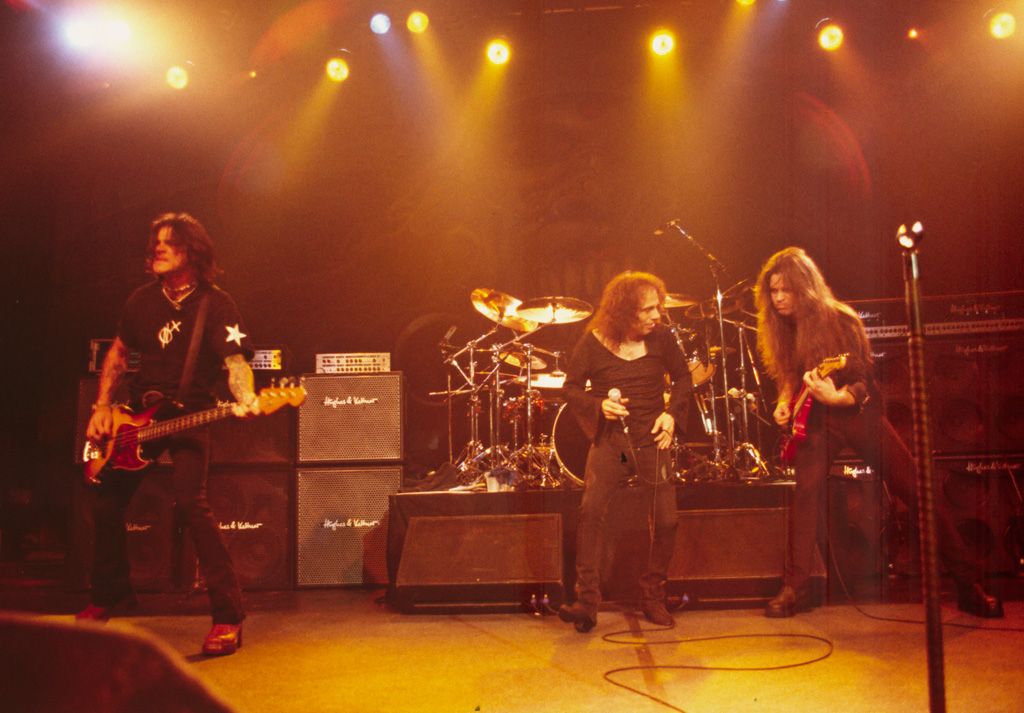 Disc 1
Discovery
Magica Theme
Lord Of The Last Day
Fever Dreams
Turn To Stone
Feed My Head
Eriel
Challis
As Long As It's Not About Love
Losing My Insanity
Otherworld
Magica – Reprise
Lord Of The Last Day – Reprise
This is as the original Disc 1 was, except the 18 minute "Magica Story" was moved off of Disc 1.   Other than that, it's the same layout in terms of tracks as the original release.   It's been remastered of course.   Speaking to that, it definitely seems to have some more punch than the original version did.  Not that the original was a slouch – it still has a good bass response, but the 2013 remaster has more of it.  Now, I know a lot is made by audiophiles (Gah, my term is bitrate bigots) of these issues.  Rick Rubin is a frequent target.   But I like the sound.  Improved power, but it doesn't overpower my ears.   Someone might get out an audio program, record the sound and prove it, but I don't care about that.  I don't measure my enjoyment of music on how high a peak it makes in audio software on the computer.  I just get into it with my own ears.
It's an extremely solid album, and one I would have NO PROBLEMS buying a second time, even if I hadn't gotten a copy gratis from the record label.  I still have my copy from the original purchase many years ago, and while I won't be getting rid of that, I see the new 2013 Deluxe Edition being the preferred version going forward.
Disc 2
The Magica Story (Narrated By Ronnie James Dio)
Annica (Japanese Only Bonus Track)
Electra (Recorded for Magica II & III)
Feed My Head (Official Live Bootleg)
Fever Dreams (Official Live Bootleg)
Turn To Stone (Official live Bootleg)
Lord Of The Last Day (Official Live Bootleg)
As Long as It's Not about Love (Official live bootleg)
Losing My Insanity (Official live bootleg)
Disc 2 is the (mostly) new disc of recordings.  As I said earlier, the 18 minute "Magica Story" was moved to Disc 2 from its original home on the single disc 2000 release.   After that, you get Annica, which was a track that was originally only on the Japanese print of Magica back in the day.  Third is "Electra", which has turned up a few times now.  It was originally on the "Tournado" box set, then on "Beast of Dio Vol 2".  It's a more natural on here.   However, I would have bloody rather seen it on Magica II, which we'll sadly never get now.  :(   The rest of the tracks are live ones.  They're calling them "Official live bootleg".   Not entirely sure what that means, to be honest.  I did inquire with Niji as to where the tracks were recorded, and got no answer out of them on that issue.  However tracks 5 & 6 on iTunes say they're from Roseland, NY).    The live tracks appear to have been run through the "remaster" process, as they have some bass response to them, which a lot of live bootlegs do not.   I did see Dio on the Magica tour (as did Dimebag, who was at the same show as I in Dallas – was near him), so some live tracks from the album are a good inclusion.    I know not everyone gets off on live tracks being bonus material, but I rather enjoyed these.  It's probably enhanced by my memories of the gig 13 years ago.   Was a good gig.  I almost fell down during the encore from too much headbanging, though.  Slipped on something on the floor.  :)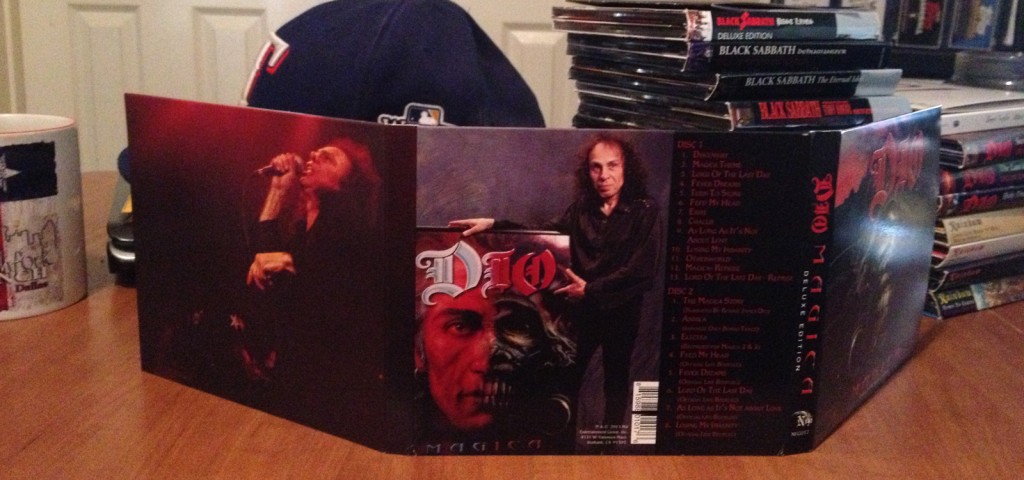 Packaging
The cover art is pretty much the same as the original, except for a small white text at the bottom saying "Deluxe Edition".
The case itself is one of the trifold digipak packages.   I have a few pictures of it here, but it's nothing you likely haven't seen before in that regard.  Inside are the two CD's in the kind of plastic you'd find in a more traditional jewel case, which is good.  As some of these kind of packages don't hold the CD's well, and they can allow the CD's to slide around in there.  Thumbs up on that one.    Underneath the CD's are reproductions of a list of dates for the year 2000.  It's not complete, because my Dallas show isn't on there, but it's kind of cool to see that.  There's the usual group of pictures of the band scattered throughout this.
The CD insert booklet has a new story by Mick Wall about Magica.  Also in here are album lyrics, a text reproduction of the 18 minute spoken word track, as well as the original 2000 & updated 2013 credits.    Finally there is a small square picture of Ronnie included.  I've included a picture of that in the interior packaging shot below.   In all, some nice Magica "stuff".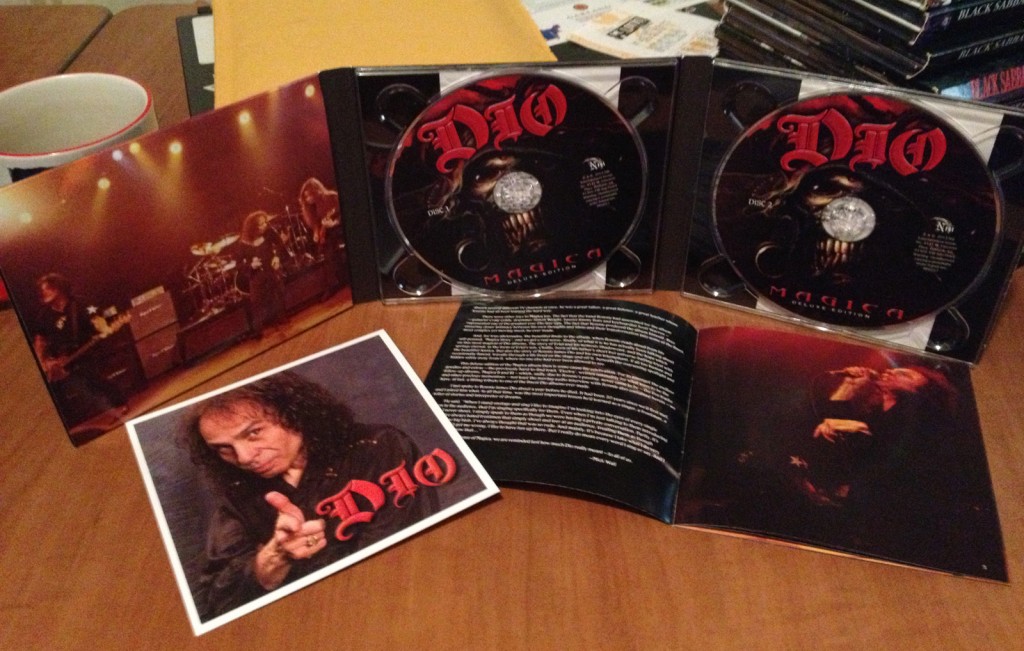 Bottom Line
But in the end, it's all "stuff" in the overall package.  To me, the most important thing is the music, that that's the big star here.  Magica is a great album that if you missed, you really should check out.   If you have gotten in in the past, perhaps it's time to revisit an old friend.  Need a replacement copy or just want the extra material?   It's a good value for a 2 disc deluxe package (at $11.88 as I write this), you should go pick it up.  You can also read my preview announcement of this package here, as well as view my discography page for Magica here.

NOTE: The digital purchases (iTunes & Amazon MP3) do *NOT* come with a pdf version of the booklet.