So Black Sabbath is touring again.  That's not an entirely unique situation, they've been touring on and off since 1997 through 2013, some with Ozzy, some with Dio (yeah yeah, I know about the name thing – shut up).   What is unique is that this tour is to support a new album.  The Devil You Know notwithstanding, this is the first time Black Sabbath has done this since 1995 when Tony Martin was the singer.   So a "proper tour for an album" was something new.   And initially, I wasn't planning on going.

The Roadtrip
Why?  Because I'm now 47, and I live in Dallas.  They weren't playing Dallas (they didn't play here on the Devil You Know tour either).   As I get older, traveling for concerts is something that doesn't interest me.  However, a friend of mine said he would pick up my hotel fee and cover food while I was down there, so it was hard to say no to that kind of offer.   So my friend who made this offer flew in from Chicago, and the two of us drove down to Austin TX.   Given we're both big Doctor Who & Black Sabbath fans, the time went quickly.   We had a stack of CD's with us.  Naturally, "13" got played quite a few times.  :)   Lively discussion makes a 4 hour drive go very quickly.
Checked into the hotel, and made our way over to the venue a bit early, I don't think either of us really knew what was going to happen, so you just "go with it".
Backstage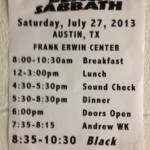 Given my tickets are from the band, I had to wait for will call.  Doors weren't open yet, so it was just some random milling around and waiting for something to happen.  Made my way towards the back where the buses were.   It was pretty hot, so we spent most of our time by the buses in the shade under some trees.  I was pretty much waiting for Pedro Howse to give me a ring.  Every time I've been at one of these, Pedro has done a bangup job at making sure I'm taken care of.  This was no exception.
After a wait where my friend and I hooked up with another guy who said he had a gift for Pedro, which was a really badass looking Sabotage Shirt (there's a pic of that in my photo gallery).   We waited around and eventually got our passes and tickets.  At which point Pedro had us head downstairs and enter in through the door where the band and various people from that group went.  Obviously our passes worked as we passed half a dozen police and "security" people, and nobody said anything unless we talked to them.   Eventually made our way down to the area directly behind the stage.  The backside of that giant video board Sabbath is using is a bunch of wires and pegs.  No real surprise there, but it looks kind of funny from the backside.
At this point Pedro came out, and I chatted with him, as I had met him many times before, I wanted to give him a hearty hello.   He had a health scare a couple of years ago.  He's all fine now, but it was touch and go for awhile there.  Was glad to see him up, working, and doing quite well.  Introduced him to my friend, and we made our way down to the Cafeteria area.  I don't know what its official name is, but it seemed like a central meeting area where everyone could grab something to eat, and just spend time.  This is where I spent most of my time, because while I had access, I didn't want to randomly walk into some area I really wasn't supposed to be, and make someone mad.
In this room I met several people.  Some of which I've met before, some not, just emails and the like.   There was a ton of crew, people I wouldn't know, but the ones I did know were Ralph Baker (Tony's manager), Gloria Butler (Geezer's wife/manager), Sharon Osbourne, Adam Wakeman (keyboardist), Tommy Clufetos, and of course Pedro Howse.   Got to talk to all of them (except Sharon) in some capacity.  With Tommy it was just "Hey, how's it going", as I didn't know him at all personally.  Pedro I talked to a lot, even put a bowl on his head in a bad haircut joke at the time.  Adam Wakeman I talked to a lot about Snakecharmer, as it's a bloody brilliant album.   Gloria I've talked to a lot as I work for her and Geezer, but I had never met her in person.  She and Geezer have done a lot for my family and my children, so it was great to see her.  Same with Ralph Baker.  I've been dealing with him for a long time now, and given our general locations, I have never met him face to face.  He recognized me first, which is cool.   Pedro also gave me a gift bag from Geezer Butler.  He's known for giving me goofy gifts in the past, and there were two this time.  One slightly goofy, one far more serious.   The goofy gift was an "Iron Man Beany Ball".   It was in a bag, but still, I felt kind of silly on the floor of a Black Sabbath concert with that.  :)   The far cooler gift from him was a set of Doctor Who Royal stamps.  It had all 11 Doctors in a cool package.  Here's a link to look at that.  That was most cool, as he and I share a love of Doctor Who.   As I said above, he and his wife have been most kind to me and my family, and these small little things are cool.  :)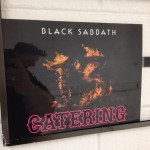 I did partake of the food, since I was permitted to do so.  They had a buffet with several choices.  A tofu thing, green beans, a really killer pot roast, chicken, several other choices I've forgotten about, as well as other non "dinner" things (like bananas, fresh fruit) – they even had boxes of Fruit Loops and other breakfast cereals as well as juices, etc..   So it was a well stocked buffet area no matter what time of day it was.
I never did get to meet the main band this time around (save for Tommy in passing and Adam in the lunchroom).  I was told the guys were doing some interview filming for some upcoming video release of some sort (I didn't get any details on that, more later, I guess), plus the usual pre-show press.  There were some problems with the sound check, and then Geezer had a personal matter to take care of.    The kind of pass I had meant that I had to be out of the backstage area when the show started (even including Andrew WK – more on him in a minute), so we basically ran out of time.  But it's all cool.  As I told them, this isn't a social event, it's where these guys are WORKING.  So I don't assume a darned thing.  I consider myself lucky to even be there.   Had a great time hanging out backstage before the show.   Both Geezer & Pedro told me ahead of time that there wouldn't be any time for after show stuff, as their flight schedule meant they had to leave the venue a mere ten minutes after the concert was over.  Which is good to know ahead of time actually, so you're not hanging around hoping.
Before I wrap up the backstage part of this review, I wanted to say something about Sharon Osbourne.  Not so much about HER in particular, but it's related to her.  I was standing in the hallway outside the cafeteria room, and she came in, and was walking down the hallway.  Her intended target was the woman (a friend of Gloria's) who was standing to my immediate right.  She walked up to her and started talking.   While I never would expect her to acknowledge me, she was standing about 5 feet away from me.  I stood there quietly, and as she talked for a few minutes, I figure I'd grab a picture of her.  Now I didn't want to anger her at all, so I went for the stealth method of photo.   I basically took my phone out of my pocket, grabbed the shot, and got it back in my pocket in like under three seconds.   Anyone who has an iPhone knows that shortcut to the camera on the lock screen.  That was a big use here.   When Sharon was done and walked away, the security guard for this area who saw the whole thing pointed at me, and said "He's smooth", as I managed to get the pic in just a matter of a couple of seconds.  :)
Anyway, our time was up, and Andrew WK was already on.  Didn't want to get in trouble for real, so we headed out to the floor.   Onto the part of this story that is about the actual concert…
Andrew WK
Well, then there was Andrew WK.  Now first off, let me say that I have nothing against the man personally.  I don't know him, so I'd be stupid to say something like "Andrew WK sucks".   But what I will say is that this is a very strange, very weird choice, and the performance was very flat.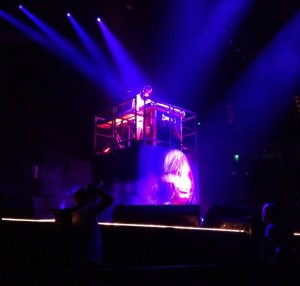 When I first heard that Black Sabbath was having a DJ open for them on the North American tour, I thought it was a joke.  I was expecting something cool, either some up and coming new metal band (I don't mean nu-metal, I mean a new band), or a classic similar band, or SOMETHING.  Not a fucking DJ.  Once I found out it was real from my band connections, I was quite flabbergasted.  I couldn't (and still don't) understand the logic behind this, no matter WHO it was.  Andrew WK, or DJ Jazzy Jeff, or even Tommy Lee, who has dabbled in that.  Black Sabbath is a legendary metal band.  They deserve much better than to be opened by "just a DJ".
So OK, this is actually happening.  I got into the seating arena, and it's actually already started.  I don't know how many songs he had played before I got in there (maybe 2 or 3), and I missed his intro, but he was playing "Straight Through the Heart" by Dio.  I went in there with an open mind.  I was thinking "Maybe he's got some really awesome stage act or shtick", and it would end up being not so bad.  About halfway through his set, I put a finger as to why this wasn't working.  I realized that he didn't even need to be there.  For two reasons.  He wasn't "doing anything" with the tracks – they were straight up plays.  No mashups or remixes or anything like that.   Not that I like remixes mind you (I hate them), but it would have been something different than just pushing play which is what effectively was going on here.   Hell, I could do that from my own iPhone in the second row if I was hooked into the sound system via Bluetooth.  Second was that he had next to zero interaction with the crowd, and for the most part just stood there.  A couple of times he would air drum or air guitar or something, or throw his fist in the air, but honestly, I'd say 2/3 of the time he was a statue.   Only three times did he talk to the crowd, and it was nothing more than to say "Are you ready for the best fucking metal band in the world?"  It wasn't the same thing three times, slightly different words, but that was IT, man.   His performance was flat, he was mostly a statue, and made no real attempt to get the crowd going in any way that I saw.   People around me were looking at their phones, or talking, or something.   When he was done, he said two or three words to the crowd, and climbed down from his perch and walked off.  That was it.
The biggest reaction from the crowd was when he played one of his last songs, "Master of Puppets" by Metallica.  The crowd perked up for that, but it was because of the song.
There was a quote in the pre-tour press saying that "Black Sabbath hand selected Andrew WK to fill this slot".  I find that extremely hard to believe.  Now it's known I work for a few guys in the band, and I have connections with managers and all that, but I honestly don't know who picked him.   Black Sabbath on what is probably their last US tour together really deserved better than that.
Especially when Australia/NZ got a real band, and South America is getting Megadeth.  We get this.  This was quite honestly an embarrassment.
Black Sabbath
So basically after WK got off, the crowd filed in a bit more in prep for Sabbath.  Per the schedule I saw backstage, there was only a 15 minute break inbetween.  Which is not a surprise, because all WK had was that podium.  Didn't have a full band gear to tear down.   Somewhere during that teardown the big black curtain came down and covered the stage.  This allowed the crew to prep the stage.  In this day and age, I'd say most people going to see this had seen the stage set from other gigs earlier on the tour, but still.
With about minute or so to go before Sabbath went on, we got a traditional Ozzy-ism™ – which is him grabbing a mike before the house lights go down and make some sort of noise, or shout or something.   That happened here, too.   When the lights went down, there was no intro.  No Supertzar, no Avi Satani, no E5150 (hahaha), or no samples of other Sabbath songs.  They just started right in with the sirens of War Pigs.   The red lights were going before the curtain went up, it was a cool looking effect.   I've seen some reviews that talk about their thoughts on every single song played.  I'm not going to do that, because let's face it.  If you are reading this, then you know the songs, I don't need to educate you about the individual tracks.  This review is about my experience at the show.   I'll have some comments in general, but before I get to that, here's the set list..
SET LIST
War Pigs

Into the Void
Under the Sun (with new video, designed to offend)
Snowblind
Age of Reason
Black Sabbath (some cool lighting effects)
Behind the Wall of Sleep
Basically / N.I.B.
End of the Beginning
Fairies Wear Boots (with new, very strange video)
Methademic
Rat Salad / Drum Solo
Iron Man
God is Dead?
Dirty Women (with new video, mostly of strippers/dancers)
Children of the Grave
Sabbath Bloody Sabbath Intro / Paranoid  (Encore)
Ozzy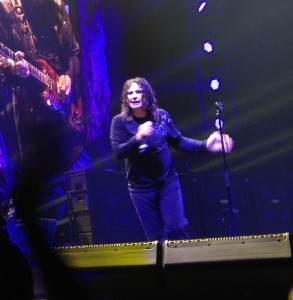 To sum up the entire concert, it was a hell of a lot of fun.  I've seen Black Sabbath many times over the years, going back to 1983.  Have seen many singers, including Ian Gillan, Ray Gillen, Tony Martin, Ronnie James Dio, & Ozzy Osbourne.   If there's been one knock on Ozzy over recent vintage, is that his off nights are somewhat more frequent than others.  It might explain why I was asked on twitter about half a dozen times "How does Ozzy sound" during the show.  It's a question I see posted at every gig.  I saw him a few years ago on his Scream tour, and he mostly did the job well, then so on the whole, I was hopeful he'd keep it together this tour.   His vocals on the 13 album are quite nice, but of course, one always worries about how it would translate on stage.   I think we all know he can do Iron Man, War Pigs, & Paranoid well.  But how he handled Methademic, Age of Reason, and God is Dead? is a big unknown.  I saw the bootlegs coming out of the Australian set, and it was what I expected.  Some good, some not so good – that's to be expected with ANYONE, really.  Then the US tour started.  I watched the videos coming out of Houston, and if there was one thing I picked up is that Ozzy seemed mostly out of tune.  But it was consistently out of tune, so it's not like his voice was all over the place.  It seemed like a monitor problem in Houston.
So we get to night two in Austin, and one would assume that would be fixed.  It appeared it mostly was, because (and here's the bit everyone seems to want to know about) Ozzy seemed fine in Austin!  Standing there in the second row, he seemed like he was doing fine.  He was still having a problem with monitors it seems, as on a few songs, he kept gesturing to someone off stage, presumably about some adjustment to his monitors.  It even happened once when Oz was actively singing, which was a weird look.    Oz kept it together vocally except for two songs that I thought were "off".  Unfortunately they were both new songs, that being "Age of Reason" & "Methademic".   Now I love Methademic.  It's an awesome song, and I knew from the OZ tapes that he was having issues.   It would not surprise me if that song is removed from the set before too long.   As any fan of Sabbath knows, the set list at the end of the tour is usually shorter than it is at the beginning of the tour.   But for this show, Ozzy's voice held up really well, given the realities of a live Black Sabbath performance in 2013.   So thumbs up from me for that issue.  But, your mileage may vary.  It all depends on how he's doing on any particular night, I'm sure.
His live stage persona definitely looks like a 64 year old dude, though.  His long tradition of leapfrogs was gone this night, and he mostly just walked back and forth on the stage.  All good, though.  Just don't expect all the running and leaping, he's not 25 anymore.  :) All his usual Ozzy-isms™ are in full force.   Those being "I can't fuckin' hear you", and "We'll do one more song if you go extra extra extra fuckin' crazy", "We love you all", throwing the water bucket into the audience….   But you know, despite everything one might say about Ozzy, it still came off well live for me.  I enjoyed it!
One nice thing at the end, he got down on his hands and knees and pretty much kowtowed to the audience, which was a nice touch, I thought.   Overall, it was still cool seeing him up there, and pulling it off so well!
Tony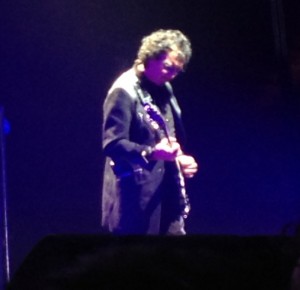 Tony Iommi is Tony Iommi.   As Ozzy has been saying during all the live gigs since Tony's cancer treatments, "He is Iron Man".   We've all seen the videos of Tony as he progressed through the recording of 13 with little to no hair, and wearing a hat.  Chemo does that shit to you.  He was wearing a wig for awhile there, but he's not now.  He looks GOOD.  If you didn't know he had gone through cancer, you couldn't have known that from last night.  Tony has never been a guy who runs around the stage or anything, but if you've seen enough live video of him, you know what he does on stage.  It all seemed normal, and he looked great, his hair having fully grown back it seems.
He played from a few guitars during the night, and one in particular looked rather old and beat up.  I couldn't get a good pic of it as he was too far away from me.  It was a good look for him, both personally and with his beat up looking guitar.   I kind of like that over a brand new pristine looking axe.  Plus several times on the giant video screens he was projected up there, and it made him look "larger than life".  I titled one of my pics "Tony Towers Over it All" – go look in the gallery.
I didn't get much in the way of good shots of Tony, because I was on Geezer's side of the stage, and Tony was too far away for my iPhone 4S to get a great closeup of him.
There's not much else to say here, because he just kicked all kinds of ass like normal.   Tony was his usual consistent self on stage.
Geezer
Geezer Butler is Geezer Butler.  Despite being in one of the most well known bands of all time, I'll argue he's one of the most underrated bassists of all time.  Since my seats were in the second row, I had a point blank view of watching him play, and just focused on his fingers for a few songs.  Makes me realize how feeble my attempts at playing the guitar have been over the years.  I also had a closeup like that with him once before.  Cross Purposes tour in Dallas, I was up front of the stage in front of him.   He's just as good in 2013 as he was in 1994, as he was in f'in 1970.   Like Ian Hill in Judas Priest, he just kind of anchors the thing.   Not flashy, not in your face, but man, he can kick your ass.
His playing of "Basically" before N.I.B. was badass, and in my opinion too short.  That should be extended into a full fledged solo by Geezer.  I'd love to see that, as I'm sure everyone else there would.  When he did play that "Basically" intro, I got the "Double Geezer" picture shown here, and was my favorite I took of the night.
There's not much else to say here, because he just kicked all kinds of ass like normal.   Geezer was his usual consistent self on stage.
Tommy
Tommy Clufetos is not Bill Ward.  Or any of the other drummers who have played in Black Sabbath (Appice, Bevan, Singer, Chimes, Powell, Rondinelli, Bordin, Larkin, or Wilk).  If there's one thing that I'm seeing over and over again online is that Tommy Clufetos sucks.  I cannot agree with that.  What he is not is Bill Ward.  What he is is a good metal drummer.   I don't think there's a Sabbath fan out there who wouldn't have liked to have seen Bill Ward up there, but he isn't there.  The reasons why are up to the band.   We don't get to pick that, it's not our band to dictate events for (fortunately, based on what I've seen some fans say).
The biggest complaints I see against Tommy is that a) He's not Bill Ward, and b) He doesn't play like Bill Ward – usually mentioning his "fills".  You know what, I reject that.  He's not Bill Ward.  Big fucking duh.  He's not going to play exactly like Bill Ward would have, he plays like Tommy Clufetos does, and if any of you who are bitching about him think you can do better, get up there and do it.   I'm sick and tired of all the fucking whining I see online about this subject.
There is nothing wrong with Tommy's drumming, and I had no problems with his playing at all.   He played the right parts when he had to, and while sure one could make the point that his "fills" are different, that will happen with anyone.   I never saw all this hatred towards any of the other guys who played with Sabbath, so I reject it here.   I didn't have any problems with Brad Wilk's drumming on the 13 album.  I don't have any problems with Clufetos' drumming on the 13 live shows.
I'll probably take some heat for this too, but I'll reject that too.  It is what it is.  No amount of internet bitching will change it, so don't be so darned angry and enjoy the show if you go.  As my friend Paul who went with me said, "If Tommy is good enough for Tony & Geezer, then he's good enough for me".  This makes it seem like I'm "meh" to his playing.  I'm not.  He pounded it the whole night – and had a strong solo, I'm just so miffed at the Anti-Clufetos crowd that it tends to dominate my thoughts too much.  Not fair to Tommy, I suppose.
I also could not get a good individual pic of him drumming.  Every time I tried that, the lights washed out my camera, the only shots I have of him my himself are bathed in light to the point where you can't even see him.
Adam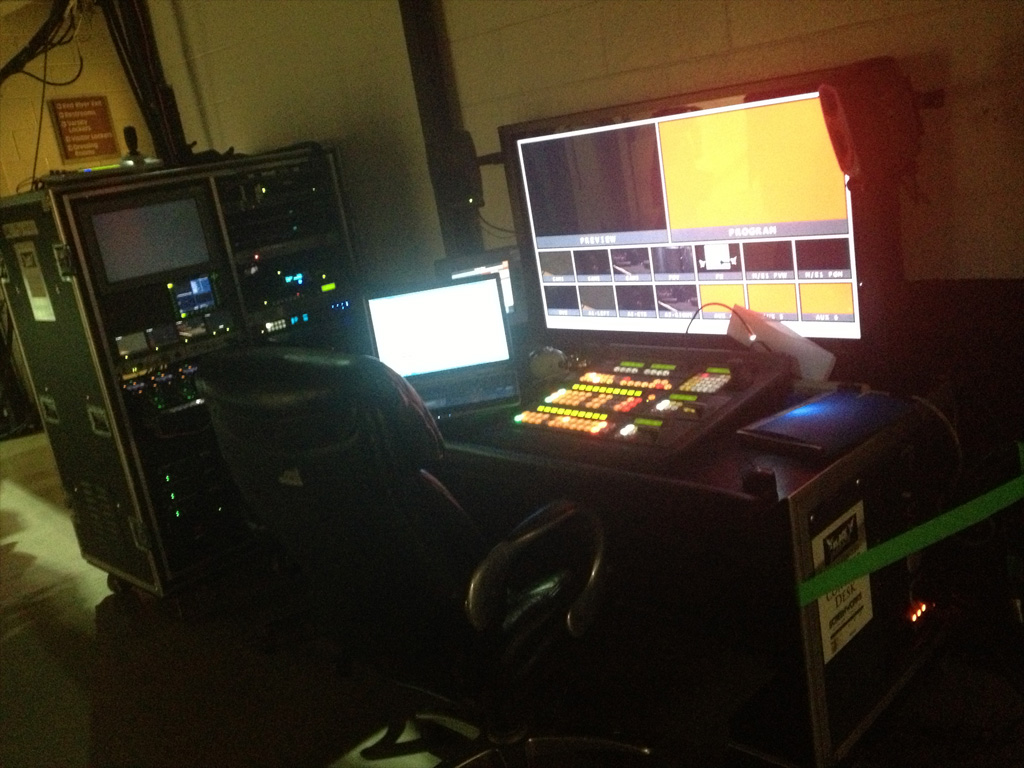 Adam was not even on the side of the stage.  He told me he's behind the entire set this time around, really REALLY in the background.  He still plays rhythm guitar with Tony, and of course does keyboards.   Most of Adam's stuff is to help create the overall "wall of sound", he doesn't get much of a chance to shine in this situation.  The only place I really felt his keyboard presence was towards the end of "Dirty Women".  But then the Technical Ecstasy album had an overall keyboard influence anyway, so that shouldn't be a surprise (Hello there, Mr. Woodruffe).
While Adam was not running this board, my friend Paul did take this picture of the video control area for the lights, the video screens, and all that.  Shame it wasn't on so we could see it in action, but there's a computer tech in charge of all this.  :)
Random Thoughts
Some random less structured comments about the night.
I didn't time the show, but I believe that it clocked in at about one hour and 50 minutes, which is long for a Sabbath concert of recent vintage.  Much better than the usual 90 minute shows we are used to getting.   Did anyone at the Austin show actually time it?  Let me know.
I cannot say how much I enjoyed this show.  A big thanks to my friend Paul for getting me down here.  I likely would have skipped it due to my general laziness at not wanting to drive four hours to a concert.  Had fun on the drive down/up.  The backstage stuff was killer, so thanks to Gloria, Heather, & Pedro for making that all happen.
I liked the "rock effect" with the video screens.  The video screens themselves had a "rock" feeling to them, and they were quite large.  In Austin, the top of it filled up the entire height of the stage area.   In places it reminded me a little of the stage set for the Seventh Star tour.  Not a lot, but in the rock motif mostly.
The light show was quite nice.  It wasn't just "turn on the lights', and that's it.  There was some effect and mood set with well done lights, I thought.  Nice thumbs up for that!
The show itself was pretty high up on my list of Sabbath concerts, especially the ones I've seen with Ozzy.  Had a decent set list, given the realities of Ozzy's live singing range (remember boys & girls, you're never hearing anything from Sabbath Bloody Sabbath & Sabotage live ever again with vocals) as well as bringing in songs from the new album.  With Ozzy fronted Black Sabbath, you know you're getting Iron Man / War Pigs / Paranoid and that lot – it's the other songs that will dictate how one feels about the set list.  I very much enjoyed the set list.
I really enjoyed the new songs live.  Even the ones that Ozzy struggled with.   The new songs have some nice timechanges, and it was all handled quite well live.
Why does Geezer Butler have picks made up for himself if he doesn't play with them?  Just to throw into the crowd?
Take a leak before you go to this venue and need to hang around outside.   There's nothing outside if you're hanging outside for awhile.  Worse if you're a girl I suspect.  :)
Future?
Is this the last tour that Black Sabbath will play?   My gut feels that it is.  Oh sure, there's random talk about Ozzy about he would like Bill Ward to be there if they do another one.  I think everyone thinks that.  But in 2013, it's nothing more than wishful thinking.  If anyone translates random interview quotes NOW into what will be the gospel word on future activities, you're setting yourself up for a disappointment.
In driving home from this concert, Paul and I had a discussion about this, and it's my opinion that they've done this "We better do this now or it will never get done".  OK, that's happened.  When Sabbath got together properly with Bill Ward in late 1997, interest was high, and then it waned as time went on.  That kind of thing will eventually happen here if they attempt to keep this going going forward.   If you assume they tour the rest of 2013 for the 13 album, take some time off in 2014, do some writing in the latter half of 2014, and perhaps record again in early 2015, we're looking at what, latter 2015 before another album would come out?   That assumes any number of things.  Not the least of which is their ages around that time, which will be 66 (Geezer), 67 (Tony), 66 (Ozzy),  35 (Clufetos – he's a baby), 41 (Wakeman), or 46 (Wilk).   Then there's the big question mark with all that, Bill Ward.  Bill would be 67, an age that is getting up there for a metal drummer.  Their ages will become an issue at some point, but right NOW in 2013 we have a new album, and an active tour.
What's my point in saying this?  If you get the chance to see this tour, go.  It might be your last chance.  I think it is.
Having said all that, if there is a "14" album at some point, I'd like for it to be Bill Ward.  Nothing against Wilk or Clufetos (or anyone else), but I really would like to see Bill there to close out the band's life.
Thanks for reading, and if you want to check out my full photo gallery from the concert, you can do so on either Facebook or Google+

P.S.  It's not Brad Wilk playing live.  It's not Toni Iommi either (that's his daughter's name).  I've seen a few professional newspapers botch their "reviews" with these facts.  Makes me wonder if they actually had someone at the show, or are just ghost writing from surfing twitter & Instagram.  It wouldn't be the first time that kind of thing has happened.
P.P.S.  I saw this really good text from Sabbath fan James Farrell on my Facebook Fan Page.  He said this about the concert.  I can't agree more.
"Ah Ozzy has always been who he is Live. And in his 60's he is not going to be on top of his game. When when I saw him during the No More Tears tour he had issues with tone. I am there to support the band I love and grew up listening to. This is a life time Bucket list event for me. Chances of ever seeing Black Sabbath again will only be a dream of mine. I will be in Boston arms raised high screaming and having a good time. Ozzy is the man. Geezer is a master. And Tony is a metal Genius on the Guitar. bring it good or bad…..Peace"
If you look carefully at this video, there's a dude right in front of Geezer with a white Cowboy hat.  You can see the same guy in one of my pics up above.  I was right behind him.  That's where I was.  :)