Back on June 29, 2009, Universal started releasing Deluxe Editions/remasters of the Black Sabbath catalogue, starting with the original album in 1970.  They worked through the discography, and released all the studio albums up through "The Eternal Idol" (plus Dehumanizer).   The final release in the series was Born Again, which was released on May 30, 2011, and then that's it.   But as TRUE Black Sabbath fans know, that's not the end of the story.  There were four more studio albums plus a live album put out under the Black Sabbath banner.  All of them featuring Tony Martin on vocals.   I've been getting asked a lot lately what's up with the Tony Martin era Black Sabbath albums getting Deluxe Editions.   I've actually had the answers to this on my website since 2011, but it was buried in the forums on the site.  So that's why we're here, to bring this information out front a bit more, and perhaps stop people asking me so much about it.  haha.  No seriously, I always wanted to do this, just never got around to it.   So here goes…

Background Info & Record Label Stuff
Before I get to the Tony Martin stuff in detail, there's a few background bits I should probably touch on.   As I pointed out in the intro, the existing Deluxe/remaster series from Universal from 2009-2011 covered from Black Sabbath (album) to Eternal Idol.
Back when Black Sabbath signed a record deal back in 1970, it was with Warner Bros in the United States, and Vertigo in UK/Europe/World.    Warner Bros had its own set of masters for the albums, and Vertigo (later Castle, later Universal) had their own set.  Each of the companies could not sell their products in the territory of the other (unless something was licensed).    This original contract ended after 1987, when Tony signed with IRS for Headless Cross.
This is why 2004's Black Box & 2008's "Rules of Hell" were not sold outside of US/North America.
This is why the 2009-2011 Universal Deluxe CD/Remaster series was not sold in US/North America, at least not domestically.
It is also the reason why we see a lot of greatest hits packages, and fans get all bent out of shape about it.  I frequently hear "How many times can the band release that?"   Well, most of the time, the band doesn't.  It's a record label thing most of the time.  Lets look at the various compilations (the major ones anyway, I know there's more)…
1975's "We Sold Our Soul" – Band sponsored, came out on both Warner & Vertigo

1995's "Between Heaven & Hell" – Castle, Europe
1996's "The Sabbath Stones" – IRS, Europe
2002's "Symptom of the Universe" – Warner, USA
2004's "Black Box" – Warner, USA
2006's "Greatest Hits 1970-1978" – Warner, USA
2007's "The Dio Years" – Warner/Rhino, USA
2008's "The Rules of Hell" – Warner/Rhino, USA
2009's "Greatest Hits" – Universal, Europe
2012's "Iron Man: Best of Black Sabbath" – Universal, Europe
So when you're talking about these kinds of releases, you have to take this into account as to why it's not available in certain places.  At least not domestically.   You can always get things imported, but it's always more expensive that way.
This is all relevant, because it is the reason why Universal stopped at "The Eternal Idol".  They didn't have rights to release the subsequent albums in the catalogue, those being:
1989's Headless Cross

1990's Tyr
1994's Cross Purposes
1995's Cross Purposes Live
1995's Forbidden
1996's The Sabbath Stones
These were all on the IRS contract that Tony Iommi signed for Black Sabbath in 1988, and as far as I know, the rights to these albums reverted to Tony at some point in the years after all these went out of print.    Now technically, 1992's Dehumanizer was an IRS release as well.  However, Dehumanizer has some special situations.   If you were around when that all happened, Dio was signed to Warner Brothers for the "Dio band" contract.  They apparently needed some coaxing to let Ronnie out of his Dio contract to go back to Black Sabbath.  So to appease Warner, they were given distribution rights to Dehumanizer in the US/North America, and IRS retained rights to Dehumanizer everywhere else.   In 1992, it came out on Warner's "Reprise" label.   Now I don't know all the nitty gritty, but it was this "special case" that allowed Dehumanizer to come out in the 2009-2011 Universal remaster series.   I don't know what the specific contract clause was, but that's what happened to allow that specific one to come out.
The other IRS albums do not have this, and as such would require a totally new contract to be signed for them to be remastered and re-released.
I get asked a lot why these albums are also not on Spotify and all that.  When IRS was around, these services didn't exist, so obviously, no deal would exist.  When IRS went bust, the rights returned to Iommi, and would require a new deal to be signed for them to be available.  It's assumed that when a deal is finally signed for these to be re-released, digital rights would be involved then.  THIS is why they're not on Spotify, Apple Music, etc…
Yeah OK, what about the Martin albums?
As said above, since the Tony Martin albums were on IRS, it would require Tony Iommi (the rights holder) to sign a new contract with someone (presumably Universal, who have done the other remasters) to re-release these.    One interesting thing – the original IRS deal was world wide.   Now, given this is a new contract (once it would eventually get signed), one doesn't know what the terms would be now, but….
I was told by someone that a request was made for world wide rights on the new contract to be signed for these, but that was before all the reunion stuff happened and work stopped on this project (more later on that).   So it's encouraging that this would be a WORLD WIDE release, assuming that still holds up.
There are five albums that this would cover.  They are Headless Cross, Tyr, Cross Purposes, Cross Purposes Live, & Forbidden.  Technically the "Sabbath Stones" compilation is also on IRS, but I'd be SHOCKED if that got re-released.     Let's look at each of the individual albums, and I'll comment on them in regards to this.
Before I get to them, I wanted to say that I think Tony Iommi's manager got tired of me nagging him awhile ago about extras for the IRS/Martin Deluxe albums, and he gave me some contact info for a couple of chaps at Universal, and said I should contact them.  So I did.  We got to talking about several things (including some the DE's that hadn't yet come out), and they asked me to submit a list of extras for possible inclusion on the DE's.  So for each of the albums below, you'll get what I sent to the label as possible extras.  Doesn't mean they'll happen, but it was my suggestion.
Headless Cross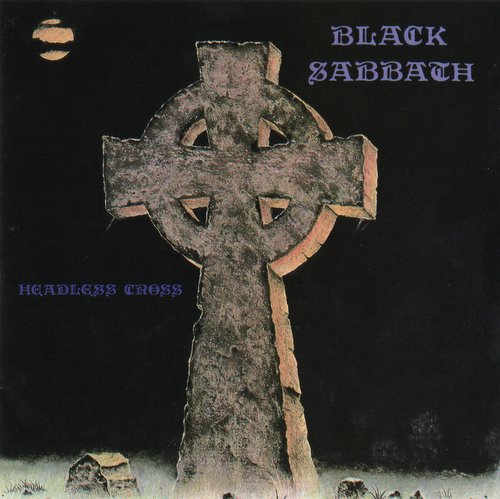 Black Sabbath's 1989 album was the first one to feature Cozy Powell on drums, and the first Black Sabbath album ever since 1970 to be on a different record label.    For me personally, this one needs the remaster the most.  The CD mastering I have has a flat underpowered sound.   It's not like it's awful, but if you compare it to other output, and especially things that have been remastered, it definitely shows its age and production.
I'm told this will get a remaster.   Now, what's available for bonus material?
Studio track "Cloak & Dagger".  Was a B side to the "Headless Cross" single, and also appeared on a picture disc version of the HC album.
"Headless Cross" radio edit.  This was a shorter version of the title track for radio play.
An EPK that Iommi & Powell did to sort of "re-introduce" the band.  It's video though, so you might not want to use it, but it could be put on there as audio only.
Music Video: Headless Cross
The Devil & Daughter LP single had an interview with the band, this could be used.
Russian live tracks.  There's an interesting story behind these that Neil Murray told awhile ago when I had asked him about Sabbath playing the old Shadows song "Apache" during the gigs. If you can get a hold of all this (was filmed on video, too) it'd be one hell of an extra! Here's the story:"We only performed Apache on the 2 shows that were recorded on one day in Moscow. It was supposed to be a throwaway track to be played while 24-track tapes were changed over for the live recording. From what I understood at the time, the recording would be under our control as far as mixing & editing goes. However, security guards prevented anyone from our crew entering the recording truck after the show, and instead of the band and record company taking possession of the master tapes, some Russian organisation (basically the Mafia) disappeared with them. I assume the concert was released in Russia etc, but I doubt if any money was ever paid to Black Sabbath. The Shadows, whose song Apache is, was a huge influence on myself, Tony Iommi, Cozy, Brian May and many other UK musicians of around my age – they were the biggest UK band before the Beatles came along."
NOTES:
The song "Call of the Wild" was originally called "Hero". The name was changed due to Ozzy putting out a song called Hero on his solo album the year before.
The song "When Death Calls" is the only time someone else other than Iommi ever plays a guitar piece on a Black Sabbath album. Brian May plays the guitar solo for that track.
Tyr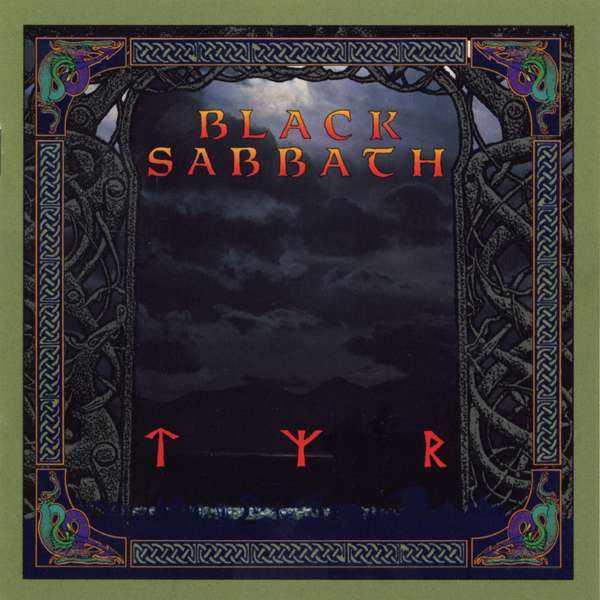 Black Sabbath's 1990 album was the followup to Headless Cross, and to me is an underrated gem.   The mix on this holds up better than Headless Cross did, IMO.  Still, it was the first to feature Neil Murray, and I'd love to see Cozy & Neil's rhythm section get a boost from a remaster.  Possible extras:
There were two live tracks from the CD/cassingle version of "Feels Good to Me" that came from the Russian gigs mentioned above.   Sabbath must have had some sort of access to get those.
"Feels Good to Me" radio edit.  Shorter version of the song.
Another possibility is the version of "Jerusalem" that appears on Tony Martin's first solo album in 1992 (Back Where I Belong), but there might be some big rights issues using that. Be cool, though.
Music Video: Feels Good to Me
Perhaps the Tony Iommi track, "Miranha".  It was recorded around this time.
NOTES:
Not that it matters, but this was released on my birthday in 1990.

On my site there are some notes from fans regarding the Norse mythology stuff connected with this album.  You're welcome to reproduce them, I can sign a waiver again if need be.  You can see them here.
Cross Purposes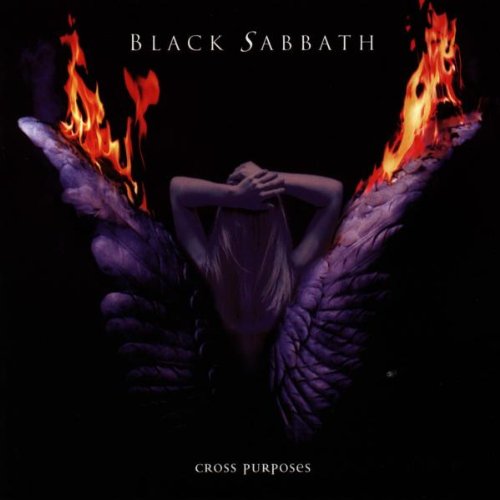 After the Dehumanizer reunion fell apart, Geezer Butler stayed on, and they brought back Tony Martin.  The album Cross Purposes was criminally under appreciated.  Was a great album, and contained the only album appearance of Bobby Rondinelli in Black Sabbath.    I saw them twice on this tour, and it was a great show.  Great album.  Really want to get this one back in print, and send some more love its way.  Possible extras:
Studio track "What's the Use?" – Was on the Japanese CD version of the album only.  It's a bloody crime it is so obscure, it's the best song on the album   DON'T YOU DARE LEAVE THIS OFF THE DELUXE EDITION – I WILL HUNT YOU DOWN!
Music Video: The Hand that Rocks the Cradle
The Cross Purposes Live CD as Disc 2?
The Cross Purposes Live VHS as DVD/Disc 3?
Live recordings from South America with Bill Ward?
NOTES:
There's a long standing rumour that Eddie Van Halen either co-wrote or played on the song "Evil Eye". If that really did happen, it would be nice to sort that out in the liner notes. There's been so many "authoritative" answers one way or the other, I don't think anyone knows what to believe about that anymore.
It would be nice (although not a surprise if not addressed) as to why the Scorpions used the exact same cover art for a single of theirs ("Send Me an Angel") three years previous.
Cross Purposes Live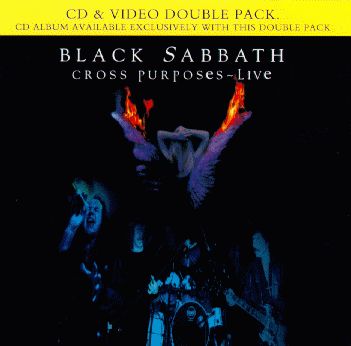 To me, this one is simple.  I can't see it being re-released on its own.   The original release in 1995 saw a CD bundled with a VHS tape in a special discounted package.   I do not honestly see this coming out, it strikes me as a far better coupling with the Cross Purposes studio album, the idea is to make a large "Cross Purposes" set, where Disc 1 is the base Cross Purposes album plus extras, Disc 2 is the Cross Purposes Live CD remastered, and Disc 3 is the original VHS recording cleaned up and put on a DVD.
Now I know there's been a few "re-releases" of the Cross Purposes live video over the years on DVD.  Some have claimed to be "remastered digitally".  Technically putting a VHS tape on DVD counts as a digital remaster, so I wouldn't put a lot of weight into those.   I will say this – whenever one of them popped up, I'd ALWAYS ask Iommi's manager about it, and the response is the same every time.  "Nope, don't have anything to do with that".   So they can *ALL* be considered unofficial.    That's the reason I'd love for this to come out on a DVD finally from Iommi – to lay to rest all these shitty bootleg DVD's I've seen over the years.
But still, a 3 Disc (2CD/1DVD) package of Cross Purposes & Cross Purposes Live together really seems the way to go to me.  If you don't do that, then when do you use as extras?   Some other live stuff from the Cross Purposes tour, and then what for extras for Cross Purposes Live itself?   I honestly can't see any other way to go about this.
Forbidden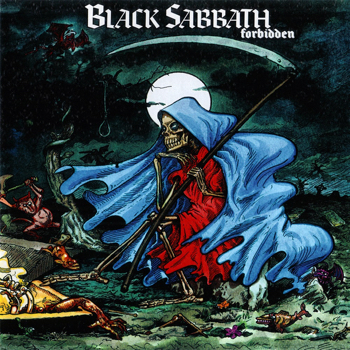 …and then we come to Forbidden.   The one that mostly ranks last on people's lists of "favorite Black Sabbath albums".  While I don't think there are any truly BAD Black Sabbath albums, this one isn't for everyone.  As I've relayed before, the songs on this album hold a close personal connection for me due to a bad relationship I was in the summer this came out.  So Tony Martin's lyrics spoke to me well.   Anyway, that's not what this article is about.
If there's one thing that people crap on the Forbidden album about (other than Ice-T's cameo) is the mix.   This has as much talk about its released mix as the Born Again album does.   When I was talking with Tony's manager about the Born Again remaster and how they lost the multi track master tapes (which is why that wasn't remixed), I did inquire about the Forbidden album.
I was told that indeed Tony Iommi was planning a FULL REMIX of the Forbidden album for the Deluxe Edition, not just a remaster.   This is excellent news.  If there's one thing that REALLY suffers on Forbidden, it's Cozy Powell.    So I was quite overjoyed when I found out this was the plan.   With that in mind, it shoots to the top of the list of these IRS albums as the one I'm most interested in.    Anyway, here's my list of suggested extras:
"The Illusion of Power" alternate take – There's a version with Tony Martin singing the part that Ice-T sings in the final version.  That'd be a good extra.
"Loser Gets it All" – Japanese only track, also appeared on the 1996 compilation, "The Sabbath Stones"
There has been a bootleg out there from this album in its earliest stages that is just instrumental.  All the songs are on there, but in earlier/demo form, and with no vocals.  Could be a possibility, but might not appeal to everyone.
Music Video: Get a Grip
NOTES:
The song "The Illusion of Power" is the only time that someone other than the incumbent lead vocalist in the band sang on a Black Sabbath record. I don't count Iommi, Butler, or Ward who also sang at times on a Sabbath song in the 70's. That's not what I was getting at – I meant a "guest vocalist".
PLEASE PLEASE PLEASE PLEASE in the booklet for this album, you need to get Iommi or Nicholls or Martin to detail everyone who is in the artwork on the cover. Nobody's ever done that. It needs to be in there.
Now I asked on my forums what extras fans might have as to what could be released on these.  I did say "Keep it realistic – use the existing releases as a guideline", and someone suggested the "Karlshamn Rock Festival 1995" concert as a live bonus disc for Forbidden.  It had a great set list..
Ave Satani/Gates of Hell
Heaven and Hell Intro
Children of the Grave
Neon Knights
The Shining
The Wizard
War Pigs
Headless Cross
Guitar Solo/Rusty Angels
Bass Solo/When Death Calls
I Won't Cry For You
The Mob Rules
Guitar Intro/Black Sabbath
Paranoid/Heaven and Hell reprise
Iron Man
Sabbath Bloody Sabbath
Still, with a new mix, and whatever goes on as extras, I'm looking forward to this one.
So where do we stand with all of this?
Why have these not come out yet?   There's two easy answers.
Tony's cancer

13
I know some work had begun on these before the 11-11-11 press conference awhile ago.   I had an email telling me that Tony had begun work on the Forbidden remix, but it wasn't completed, and I'm guessing with the knowledge Tony had of his own regarding what was likely upcoming regarding a reunion, one would expect the IRS Remasters weren't going to be top priority.   My contacts at Universal back then told me that they couldn't begin any work (one would presume the remastering being the biggest part of that) until a contract was signed, which to this day (Aug 24, 2013) has not happened.  (UPDATE: Still hasn't happened as of Dec 19, 2014 either).   So exactly how MUCH work was done on this project is unclear, I just know that some was done.
A couple of days before the 11-11-11  press conference happened, I was made aware of it given what my site is, and to expect a crush of traffic.  When I was told, the absolute FIRST THING I asked him in response was "Will this delay the Tony Martin/IRS era reissues"? I was told no, it is not directly delaying them. The two projects are independent of each other, I was informed. I was told the reason we haven't gotten these out yet is because the remix of the Forbidden album hasn't been completed. It has been worked on yes, but not completed."
That was on November 8, 2011 I believe.    About eight weeks later, it was announced that Tony Iommi had cancer, and that things were being delayed.  I know a bit about cancer treatments, and they just sap the shit out of you in terms of energy.   So with an announced new album from Black Sabbath, and dealing with cancer treatments, that pretty much was IT for the IRS Remasters.   Tony is really not going to spend the time during cancer treatments working on these.   Look at it this way.   Tony could have spent that time working on the new Black Sabbath album, or working on re-releasing older, less successful (lets face it, that's the case here) in terms of sales Black Sabbath albums.   I have a story to tell about that from the past that I think relates.
When Forbidden originally came out, I went to the local record store where I was living at the time, and looked for it. I was there like 30 mins after they opened in the morning. Couldn't find it. Asked the person working about it, said it's due out today, can you find it, I want to buy it. They looked in their computer, and the store had bloody ONE COPY ordered for sale. ONE! That's all the entire store had on order. The guy said it hadn't been sold, and I asked where it would be. Said probably still in the box from UPS waiting to be stocked. I made him go in the box and get it and bought it. Every time I was in any place that sold CD's, I went and put Forbidden up in front in the section the Black Sabbath discs were at.  The reason I bring this up was if retail CD stores in 1995 were only ordering ONE copy of the album for release on day 1 (and this was before CD sales went in the toilet), we shouldn't expect mega sales in 2014 (or whenver) of these. It never sold well in the first place, that we'll be getting at all in a deluxe edition is a minor miracle, IMO.
Back to more current events..   The 13 album progressed, and it came out .  Black Sabbath went back out on tour, and when I asked again after the 13 tour got started, I was told that the IRS Remasters will definitely still happen.  But everything will have to be "over" with the 13 tour and all that.    That also doesn't mean that the day the tour is over, we should see a press release announcing the IRS Remasters.   Tony will have to come off the tour, have a rest, and then will start looking into other projects again, one of which is this.  The key there is this is just ONE thing he's involved in.  We don't know what he'll want to do once he comes off tour.
So to sum up, we pretty much need to wait until the 13 tour is all done, and everyone's gone back home before any work can start up on this.  Long time visitors of my site know that I will NOT let the subject slide, so whenever there is new news on this, I will definitely pick it up and carry the news, because I want these to happen.
If they decided to do a "14", or whatever they would call another album with Ozzy…   Then I suspect these will get delayed further.   But we're getting a bit ahead of ourselves with that one.
UPDATE JUNE 2015
I inquired about all this again recently when I pointed out that June 2015 is the 20th anniversary of Forbidden.  I'm told that this will absolutely still happen.   I can't see it happening until they're finished doing whatever projects they're doing with Ozzy. Tony isn't going to confuse the issue by having two versions of Black Sabbath floating around out there, as far as I can tell.
UPDATE AUGUST 2017
Since my last update, there was a meeting between Tony Iommi & Tony Martin who met face to face for the first time in a very long time.  Reports are that it was very cordial to the point where they discussed working together again (possibly on a few new tracks for a possible box set of the Martin IRS albums).   While no formal news has been released, there are strong feelers that this is closer than further away.   As I said before, nothing will happen until they're done doing anything with Ozzy.  The DVD/Blu-Ray from the "The End" tour is yet to be released.  So we have to wait till that's done.
It wouldn't shock me if we hear something about this Martin stuff either late this year or early next year.  I don't mean a release, I mean hard news.  Stay tuned.
UPDATE APRIL 2018
Well, we still have no hard news on this.  Was sure that we would have something by the end of last year, but I was wrong.
I have been assured this is still happening, but "WHEN" is the million dollar question.   I inquired early in 2018, and basically Tony Iommi is still riding the "I don't have to work" wave pretty high.  :)    Having said that, I do fully believe it will happen.
Next year is the 30th anniversary of Headless Cross.  Now *THAT* would be a great release time for all this.
UPDATE SEPTEMBER 2018
We FINALLY HAVE MOVEMENT on this!   In an interview Tony Iommi gave with List in the UK, he mentions that he's working on remixing the Forbidden album again.   Now he was doing this before in 2010-2011-ish, but then the reunion with Ozzy happened, and then Tony got cancer, so this got shelved for quite awhile.
I'm glad to hear that this is an active project again!!
Any news on the eventual re-release of this stuff – you can bet your ass I'll be talking about it.   I will definitely stay on top of this, so if something happens, I'll have something to say for sure.
UPDATE OCTOBER 2019
Tony has been working on and off with Mike Exeter on the remix of Forbidden this year.  Despite my pleas to hear some of it, they haven't.  But I've been assured this is all still happening.  I have some requests in regarding the project, but I was told this will get a serious look at when one other as of another project is released – whatever that is.  I've been major pain in their side about these re-releases – it's coming on a decade now since the idea was for put forth.
Trust me – if there's news, I'll have it.  If there's no new updates, there's nothing new.
UPDATE APR 2020
Not all that long ago, I got word that the remix for Forbidden is complete.  When will it be released?  Who knows.   As I've said above, the Martin re-releases won't be the highest priority, but I have been assured (this year even) that it is still happening.   I wish I had better news, but I don't.   Other than to say it's guaranteed to still happen.
I know covid-19 is causing a lot of delays, and yes, he's working from home, but I know of some other things he's working on first (no, I can't say what they are).  I wish this project was top of the pile, but it isn't.  Have to get used to that.  :(
UPDATE JAN 2021
I know there's a lot of updates and no hard news, but..   In 2019 I was told that the Tony Martin re-releases would absolutely still happen, but a few unannounced projects had to happen before they'd get to this.  Most of those projects have happened now – or at least been announced.  I'm speaking of Paranoid Deluxe Edition, Vol 4 Deluxe Edition, Heaven & Hell/Mob Rules re-release.   While I still do not have any hard news on what's happening here, I'm still assured in 2021 that these things are happening.  I'm really hoping this is the year we find hard info for real.
UPDATE JAN 2022
On 19 Jan 2022, Tony Martin posted this on Facebook.  So it looks like we have some movement finally.  I've received no info from Tony or his management about this – I just got a "no comment" when I asked.
BELIEVE ME.  Once there is official info on the when, why, how, what's of all this, I'l be screaming it as loud as I can.