Noticed there was some updated info on the new album from Kill Devil Hill, the project with longtime Sabbath drummer Vinny Appice on drums.  The new album is due out October 29th and is called "Revolution Rise".   I've got a new press release here with cover art, as well as a tune from the album: Check it out:

FOR IMMEDIATE RELEASE
SEPTEMBER 5, 2013
KILL DEVIL HILL are proud to announce the October 29 release of 'REVOLUTION RISE' in North America. Featuring PANTERA bassist REX BROWN, former DIO, BLACK SABBATH and HEAVEN AND HELL drummer VINNY APPICE, ex-PISSING RAZORS singer DEWEY BRAGG and acclaimed session/touring guitarist MARK ZAVON, KILL DEVIL HILL will make their Century Media Records debut with the release.
Says REX BROWN of 'REVOLUTION RISE': "This new KILL DEVIL HILL record is definitely one of my favorite moments of my career – it's got balls, great melodies, awesome guitar riffing and a low end that'll set your ass on fire! The album far exceeds our wildest expectations and we can't wait to take this music out on the road and share it with all of our friends and fans. Buckle your seat belts, we're all in for one hell of a ride!"
KILL DEVIL HILL will celebrate their sophomore release with an October 29 CD release party and performance at The Roxy on the Sunset Strip in West Hollywood, CA. The band will tour this fall to promote the release, with more details to follow in the coming weeks.
'REVOLUTION RISE' was produced by KILL DEVIL HILL and Jeff Pilson, and mixed by Jay Ruston [STONE SOUR, ANTHRAX]. The album features artwork by Sam Shearon, who has also worked with ROB ZOMBIE, IRON MAIDEN and FEAR FACTORY, to name just a few.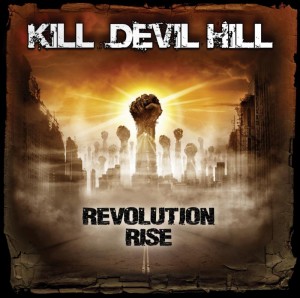 FOR IMMEDIATE RELEASE
AUGUST 26, 2013
CENTURY MEDIA RECORDS are proud to announce the signing of KILL DEVIL HILL to their family of artists. The band – REX BROWN [PANTERA], VINNY APPICE [DIO, BLACK SABBATH, HEAVEN AND HELL], MARK ZAVON and DEWEY BRAGG – have signed a multi-album deal for North America and will make their CENTURY MEDIA debut with the release of their sophomore record this fall.
"It's a real pleasure being on a label that feels like home!" says REX BROWN of the signing. "Since day one with CENTURY MEDIA, it's been great knowing that they have the same mutual beliefs and goals that we do – to keep hard rock and metal alive and kicking, and to bring our music to as many fans as we can! These guys have the best track record around when it comes to hard rock and metal music, and it's great to know that we're on the same page and striving for the same things!"
Featuring PANTERA bassist REX BROWN, former DIO, BLACK SABBATH and HEAVEN AND HELL drummer Vinny Appice, ex-PISSING RAZORS singer DEWEY BRAGG and acclaimed session/touring guitarist MARK ZAVON, KILL DEVIL HILL will be touring this fall to preview their new studio release. More details to follow in the coming weeks…
KILL DEVIL HILL online:
www.killdevilhillmusic.com
facebook.com/killdevilhillmusic
twitter.com/klldvlhll
KILL DEVIL HILL are (L-R in picture):
REX BROWN – bass
MARK ZAVON – guitar
DEWEY BRAGG – vocals
VINNY APPICE – drums