I don't have time to write one of the giant 5,000 word essays at this time, but I didn't want to let this anniversary pass.  Today is the 25th anniversary of the Headless Cross album, originally released back in 1989.  While technically the second Tony Martin era album, it felt like the "first" to me, because it was such a radical change from what was being done before.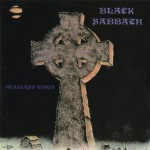 Given where the band was before this album, it was a big deal.  Was the first album with Cozy Powell, and the second with Tony Martin.   Lots of good stuff on here.   While most people will point to the title track (and it is good), I'm rather partial to Nightwing.  The B-Side and lesser known track "Cloak & Dagger" is a favorite of mine, too.
A bit of trivia.  The song "Call of the Wild" was originally called Hero.  The band changed the name, because Ozzy's most recent solo album (less than a year old at this point) also contained a song named Hero, and it was decided to change the name for that reason.
I've always loved this album.  25 years later, it's bloody hard to find at a decent price, as it has been out of print (along with all the other Tony Martin IRS Sabbath albums) for awhile now.  I wrote about that subject not too long ago.  Go read that article – contains the sum of my knowledge about a reissue of Headless Cross.   For additional info about the Headless Cross album, visit my discography page for it.
So Happy Birthday to this album, one that does NOT feel like it is 25 years old.