There's an upcoming drum clinic featuring former Ozzy band drummer Carmine Appice, and former Black Sabbath drummer Vinny Appice.  Thought some might be interested in it, so I'm passing along the details from a press release that made its way to me the other day.  Check it out: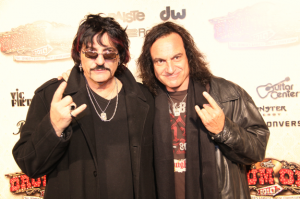 FOR IMMEDIATE RELEASE
Drum Wars The Clinic
Carmine and Vinny Appice
TO CONDUCT FREE LIVE STREAMING DRUM PERFORMANCE
AT GoDpsMusic on Friday July 18th 2014 5:30PM-8:30PM (PT)
NEWBURY PARK, CA– July 18, 2014 Carmine and Vinny Appice are some of the biggest names in the rock world. As both drummers and brothers, the Appice's have gained fame for their stand-out skills and experience with top tier bands. Carmine has drummed for Vanilla Fudge, Rod Stewart, Cactus, and more: earning himself Lifetime Achievement awards and induction into the Guitar Center Rock Walk of Fame. Younger brother Vinny Appice is known for his unique musical style and has drummed for Black Sabbath, Dio, and John Lennon just to say a few. The two are taking sibling rivalry to the next level with Drum Wars, an ongoing tour that is meant to showcase their individual skills and entertain fans of all genres.
-On Carmine Appice: "The creator of heavy rock drumming as we know it!" -Drummer Magazine UK
-On Vinny Appice: "Drummer Vinny Appice has a long history of playing with some of rock's greatest bands." – Chad Childers of Loudwire.com
Now the brothers and their band are conducting a free performance at GoDpsMusic on Friday, July 18th from 5:30pm-8:30pm PT. Drum Wars The Clinic is a special one time opportunity to see these drumming legends live in an intimate setting!
Highlights include:
-Free Live performance with Carmine, Vinny and a band!
-Free live stream that you can watch from home on EVENT DAY ONLY
-Free signings
-Live Q&A in-store and online
-Event giveaways
-One day special pricing on ddrum products
-View live webcast: www.godpsmusic.com on EVENT DAY ONLY
*Drum Wars will only be viewable live, either in our Pro Artist store or online. This is a ONE TIME ONLY event, and a recorded version will NOT be available online or on YouTube after*
Presented by GoDpsMusic Live and ddrum for more details visit: http://www.godpsmusic.com/info/Drumwars
Bring your friends and family!
GoDpsMusic: 810 Lawrence Drive Ste. #124 Newbury Park, CA 91320
Phone: 888-355-4377 www.GoDpsMusic.com
*RSVP here for free in store seating or online viewing: http://www.godpsmusic.com/info/Drumwars *Limited Space Available