If you're reading this on my Black Sabbath site, it is a pretty foregone conclusion what the thought you have for the answer is.  Still, Martin Popoff, noted rock author has penned a book with that exact question.  Check out some details from his latest…
Martin Popoff here, with the culmination of everything important, namely…
Who Invented Heavy Metal?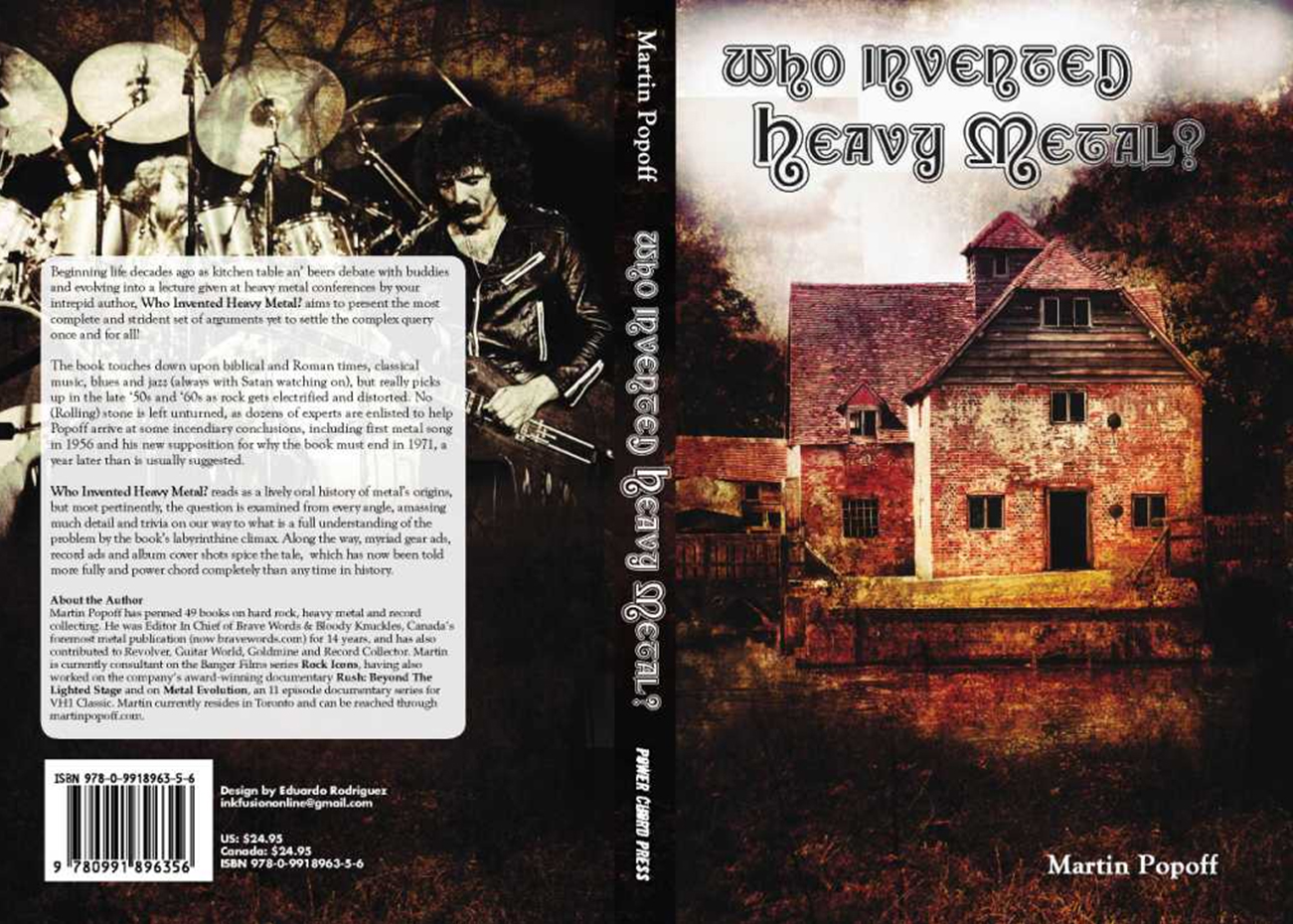 Boxes sitting in my office – shipping immediately!
Folks, this was a monster undertaking, comprising quotes from 126 different speakers (mostly the metal-makers themselves), many of them interviewed multiple times, blasted at you with much of my own contextualizing over 120,000 words of oral history, strict and detailed timeline, obsessive philosophizing, punctuated by more than 250 graphics. This book arose from years of debating this question with people, as well as talks I've given on the topic at university conferences (the below text is derived from the Finland program). I've endeavored to include everything related to the story, the result being a massive arrangement of all the salient arguments, in a weighty tome that ends in 1971!
It's one of the great debates in headbanged musicology and the answer is as complicated as it is hotly contested. Martin Popoff's Who Invented Heavy Metal? provides the most detailed, well argued, reasonable, ridiculously complete, and most lively and readable telling of the early history of heavy metal yet, arming the argumentative headbanger with all the facts and figures one needs on hand to win those bar room bets around this provocative question.
Ultimately, Who Invented Heavy Metal? aims to be a book that doesn't limit itself to fans of heavy metal, given the genre's unarguable cultural value and pervasiveness, as well as the wide umbrella of topics discussed within the volume. Put another way, it is the author's wish that the book provides wide instructional scope of teachable moments through unfolding, subconscious, telling by osmosis of the very history of heavy metal's origins through events inside the genre but, surprisingly, many events outside of its own kerranging reverberations.
Martin's presentation is compartmentalized into four parts:
Trace Elements: 1250 BC – 1966
Our story begins with the Battle Of Jericho and quickly moves through shocking concerts in ancient Greece, Vikings, Paganini, Robert Johnson and the blues, the invention of the electric guitar and the why Little Richard, Elvis, Eddie Cochran, Jerry Lee Lewis—but most notably, Johnny Burnette—might be called the first headbangers.
Lead: 1967 – 1969
Most of our time here will be spent discussing extreme vocals, distortion, feedback, guitar heroes, psychedelics, amplification, the first riffs, the first power chords and the first heavy metal songs.
Steel: 1970
Essentially, this is where Martin argues for the "real" or "correct" answer to the titular question being Black Sabbath given their groundbreaking Black Sabbath album, issued February 13, 1970, but also that band's Paranoid, Uriah Heep's debut, and most important of this set of three, Deep Purple's In Rock. And of course, by this point, dozens of other bands are discussed as well. In fact, we will see that the events of 1970 cause a fuzziness to the accepted answer, resulting in the need for an examination of the events of one more year, namely 1971.
Titanium: 1971
In the final stretch of the lecture, Martin will argue the necessity of a fresh—or at least "refreshed"—answer to the question, which requires us to talk about the wildest, heaviest full albums of 1971. Not to give too much away, but readers should come away with a new way to look at this question, whether they become convinced of Martin's arguments completely or not!
Price including shipping:
US orders: $34.00 US funds
Int'l orders (all books go air): $43.00 US funds
Canadian orders: $36.00 Cdn. funds
PayPal happily accepted. Ask me if you'd like a PayPal invoice (please indicate what country you are in), or just do yer usual and direct funds to martinp@inforamp.net
Or mail payment (personal check in US funds, cash, or INTERNATIONAL money order), to:
Martin Popoff, P.O. Box 65208, 358 Danforth Ave.,
Toronto, Ontario, Canada M4K 2Z2
Email me at martinp@inforamp.net with any further questions, and see www.martinpopoff.com for descriptions, cover art and ordering info for my other available 35 or so books (and no, this won't be up at the site for another week or so, BUT YES, THEY ARE IN MY OFFICE READY TO SHIP).