Those of you who have been following my site for awhile know I have an affinity for the Tony Martin era of Black Sabbath.  I've long since been a proponent that there's far more to Black Sabbath's history than the time that Oz & Ronnie were behind the microphone.   However, since they got back together with Ozzy some years ago, the other parts of the band's history are virtually ignored, or seemingly forgotten about.  So it was with much pleasure earlier today that I read that something might be happening here.Before I get to the exciting new stuff, I wanted to briefly talk about the Cozy Powell ceremony the other day.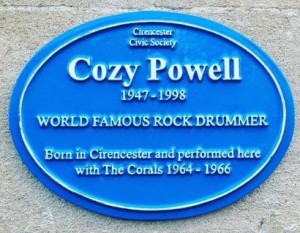 On Thursday the 7th, there was a ceremony where a plaque for Cozy Powell was dedicated.  You can see the plaque to the right.   It was attended by numerous folks who played with Cozy, were his friends, or something along those lines.  Brian May spoke at the ceremony, and gave a very nice speech about Cozy.  You can read Brian's words here.  Speaking of Brian May & Cozy Powell..  If you never checked out the two studio albums Brian released in the mid 90's, you're doing yourself a MAJOR EPIC DISSERVICE.  These albums are fucking brilliant.  I speak of "Back to the Light" and "Another World".  I mean go watch this.  It's the song Resurrection, which was originally a Cozy Powell solo track, but it was re-recorded and Brian may added vocals, and it turned up on the "Back to the Light" album.
Anyway, several people spoke at the ceremony, two of which were Tony Iommi & Brian May.  I suggest you check out these videos:
One last thing about Cozy Powell.  I had a personal relationship with Cozy.  Back when he was alive, he rung me up from England at my desk at my job, and asked me about doing a website for him.  He was the first.  I had this site first, but of the other people I've worked with on websites, Cozy was the first.   I will never forget my shock at having Cozy Bloody Powell ring me up at work to talk.  Blew my mind.  I will echo what others have said, he was nothing but nice to me.  Wish I could have met him face to face, but I'll treasure the year or so we worked together before he tragically died in 1998.
Anyway, back to why I started writing.
Of most relevance to visitors to this site, in attendance at this ceremony were some Sabbath folks.  It was Tony Iommi, Brian May (played on Headless Cross album), Neil Murray (played on a couple of Martin era albums), Don Airey (played on the Never Say Die Album), and Tony Martin.  Tony Martin of course sang vocals on five studio and one live album under the Sabbath name, spanning 1987-1995.   As I said above, his era is all but forgotten about.  When Universal records released Deluxe/remasters of the Sabbath catalogue, the only Tony Martin album to be released was Eternal Idol, and THAT was only because it was the final album under the original Black Sabbath record contract from 1969/1970.   The rest were on another contract/label (IRS), and would require something new to be hammered out for them.  I know work had been done towards releasing them, and I wrote about that a couple of years ago.
But still, as time marches on, and with the Tony Martin albums long out of print (save for Eternal Idol), his era becomes more forgotten.  Something that has bothered me for some time.   Now I know Tony Iommi is not about to go out and confuse the issue with pushing that era of Black Sabbath when the "current" Black Sabbath is doing what it's doing with Ozzy.
So the Tony Martin era remains mostly buried, unfortunately.   Tony Martin himself has mentioned his era being forgotten a few times in recent years, and as a fan of his era, I'm bummed about that.  Still, I have all the recordings, so it's not like I can't hear the stuff anymore.
When I saw a picture turn up of Tony Martin & Tony Iommi together at the Cozy Powell ceremony, I wondered how they were.  By all accounts, they haven't talked much in the last decade or so, certainly not at any kind of length.   Then, to my surprise, I saw this post by Tony Martin on his own Facebook page.
First off, it was just nice to read they had a pleasant conversation.  Tony Martin (rightfully so) has been miffed about his era being effectively buried.  So that they had a pleasant conversation was something very nice to read.
But more excitingly was Tony M's line of "….. and it turns out we may well be working together soon!!!" that got me all worked up.   First off, this is NO GUARANTEE anything is happening.  There's tons of projects out there that people talk about getting together and working on that never actually materialize (the 2005 GZR Band & Tony Iommi band tour leaps to mind).  Still, it's the first bit of any kind of news we've had about the Tony Martin era of Black Sabbath in bloody ages.

What form do I think this could take?  That's hard to tell.   This is like the first proto steps towards "let's do something".  So I'd be surprised if even THEY knew what form this could take.   But there's a few thoughts that come to mind.
Remasters: Tony Martin participates in the remasters of his era of Black Sabbath.   As I said earlier, I've written about this subject (in great detail) before.  Unfortunately, that article still stands, as nothing has happened with that situation.  If you've never read my article on that, you should.   I know after the 2016 tour is over, Tony will be going back to "other projects".  This can certainly be one of them, and it would be great to have Tony Martin participate in the remaster series, offering new memories, and whatnot.
Live Shows: They could play a live show or three.  Of the Tony Martin era, other than Cozy, they're all still alive.  The Eternal Idol aside, the Tony Martin era had two drummers – Cozy Powell & Bobby Rondinelli.  Cozy is sadly no longer with us, but Bobby is.  You could put together a lineup of Martin / Iommi / Murray / Rondinelli / Nicholls and play a few shows here and there.   Now, I fully believe the truth about Tony Iommi and Sabbath "ending" for the reasons stated.  Tours like that are hell on him because of the cancer treatments and whatnot.  I could see him doing a small handful of shows here and there. If they want to play it the way the 2000's Dio era played, it they could go out under the name "Headless Cross".  Tony Martin actually tried that himself a couple of years ago, but promoters bailed on it, and the project fizzled.
Studio Work: This, in my opinion, is the most likely possibility.  They don't live all that far from each other.  Now what form this would take is unknown.  Would it be a full fledged album, or perhaps an extra track or two to toss onto the Remasters (perhaps some deluxe box with all of them together and a handful of new tracks)?
Tony Martin's solo album: Tony's been working for awhile on a third solo album entitled "Book of Shadows".  It could be Tony Iommi making an appearance on that album.
But if you're reading this, understand THIS IS PERSONAL SPECULATION.  I haven't even talked to them at all about this stuff.  I have no news, nothing I'm holding back here.  Just thinking out loud here with the ideas above.
But no matter what comes of it, at least the ice has been broken and the two Tony's are talking again.  I'd love to see any number of my three options happen.  But hey, let's shoot for the moon and have ALL OF THEM happen in some combined project.  That'd be badass!  If you agree, please leave a comment here about it.  I'll be sure to pass the feedback on.