No, it's not a new album. It's something that I think most fans have expected to happen for some time now. Today Black Sabbath announced a new release to coincide with the 2016 "The End" Tour. It's called (not surprisingly) "The End", and comprises eight tracks. Four are the unused studio tracks from the 13 sessions, and there's four live tracks here as well.
But there's a huge catch. It's going to be only sold at the shows. The ones sold at shows will be signed, however. But the "exclusive to shows" issue means a couple of things.
It will be severely bootlegged
It will have an obscenely high price on Ebay and whatnot.
I wonder if it will be publicly released after the tour is over to everyone (say iTunes and whatnot), but in the meantime, most people who will want to buy it will get their hands on it anyway, and the window for sale might be over then (because they'll already have it). Still, this is where those four extra tracks recorded from the 13 sessions will surface, coupled with four live tracks. The track listing is:
Season of the Dead
Cry All Night
Take Me Home
Isolated Man
God is Dead? (Live Sydney, Australia 4/27/13)
Under the Sun (Live Auckland, New Zealand 4/20/13)
End of the Beginning (Live Hamilton, ON Canada 4/11/14)
Age of Reason (Live Hamilton, ON Canada 4/11/14)
Those four studio tracks sound familiar. Remember my practical joke from April 1, 2015? :) Anyway, It appears that the CD will be called "The End". The artwork is below. Both for the CD and for the individual art for each city.
There is to be a video clip on Friday the 15th, which I'll add back in when it is released. In the meantime, they have this teaser video for the tour.
More as I get it on this.  But in the meantime, here's the formal press release for this, along with some artwork.
Limited Edition Tour Exclusive CD At The Shows
BLACK SABBATH
LIMITED EDITION
'THE END'
EIGHT SONG CD
TO BE SOLD
EXCLUSIVELY AT SHOWS ON 2016
"THE END" WORLD TOUR
EACH SHOW ALONG TOUR ROUTE TO FEATURE ONE-OF-A-KIND ARTWORK CREATED FOR EACH MARKET
BEHIND THE SCENES LOOK AT "THE END" TOUR REHEARSALS TO PREMIERE THIS FRIDAY, JANUARY 15 AT 10:00 AM (PT)
With BLACK SABBATH's 2016 THE END Tour launch now just a week away, comes exciting news about a new special limited edition CD–THE END–to be sold exclusively at shows on the legendary band's massive worldwide final tour.
Featuring original artwork by Shepard Fairey/Obey Giant, the CD is comprised of eight previously unreleased tracks: four songs are outtakes from BLACK SABBATH's worldwide #1, Grammy Award-winning album 13 and four live songs from the band's critically acclaimed 13 World Tour. The CD features Ozzy Osbourne (Vocals), Tony Iommi (Guitar) and Geezer Butler (Bass), along with Brad Wilk (Drums) on tracks 1-4, Tommy Clufetos (Drums) on tracks 5-8, and Adam Wakeman (Keyboard) on tracks 5-8. Tracks 1-4 were recorded at Shangri La Studios in Malibu, CA and produced by Rick Rubin, mixed by Andrew Scheps at Punkerpad West and recorded by Greg Fidelman. Tracks 5-8 were recorded and engineered by Greg Price and mastered by Robert Vosgien at Capitol Studios Mastering.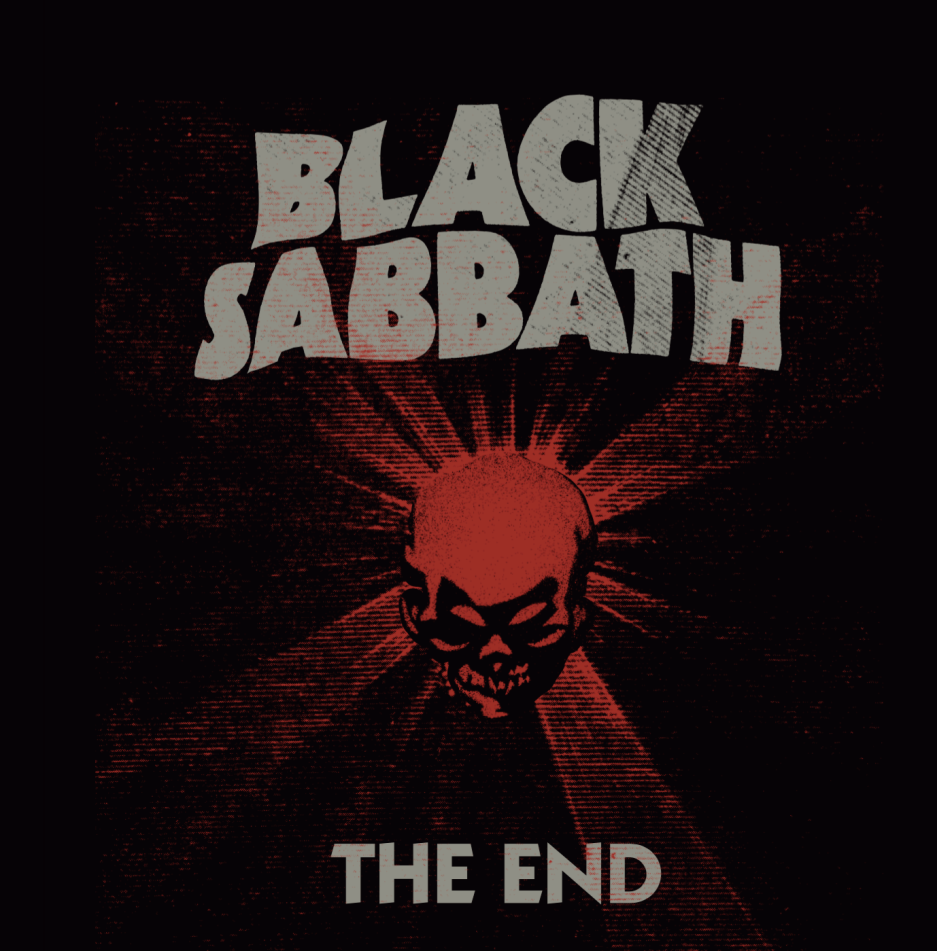 THE END CD track listing is as follows:
1. Season of the Dead
2. Cry All Night
3. Take Me Home
4. Isolated Man
5. God is Dead? (Live Sydney, Australia 4/27/13)
6. Under the Sun (Live Auckland, New Zealand 4/20/13)
7. End of the Beginning (Live Hamilton, ON Canada 4/11/14)
8. Age of Reason (Live Hamilton, ON Canada 4/11/14)
Beyond the collaboration with Shepard Fairey, BLACK SABBATH will celebrate artists each night of the tour by commissioning exclusive posters for each market on THE END tour.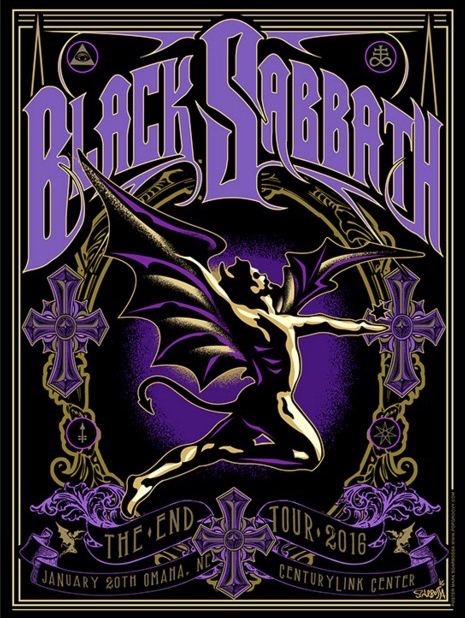 For those who can't wait for THE END tour to hit their city, the band has released a behind the scenes preview from their Los Angeles rehearsals. Set to debut Friday, January 15 at Blacksabbath.com and via the band's social media, the clip was teased via a short clip Wednesday, January 13.
BLACK SABBATH will end the epic journey they began nearly five decades ago when their 2016 THE END world tour kicks off Wednesday, January 20 in Omaha, NE. The band–Ozzy Osbourne, Tony Iommi and Geezer Butler–will then head to Australia, New Zealand and Europe (for a mix of summer headlining and festival performances), before returning to North America in August.
The massive 2016 world tour by the greatest Metal Band of all time marks THE END for BLACK SABBATH as they close the final chapter in the final volume of the incredible BLACK SABBATH story with this tour. BLACK SABBATH's THE END farewell tour promises to surpass all previous tours and will feature the band's most mesmerizing production ever. The support act for the whole tour is RIVAL SONS.
When this tour concludes, it will truly be THE END, THE END of one of most legendary bands in Rock 'n Roll history…BLACK SABBATH
NORTH AMERICA

Wed

1/20

Omaha, NE

CenturyLink Center

Fri

1/22

Chicago, IL

United Center

Mon

1/25

Minneapolis, MN

Target Center

Wed

1/27

Winnipeg MN

MTS Centre

Sat

1/30

Edmonton, AB

Rexall Centre

Mon

2/1

Calgary, AB

Scotiabank Saddledome

Wed

2/3

Vancouver, BC

Rogers Arena

Sat

2/6

Tacoma, WA

Tacoma Dome

Tue

2/9

San Jose, CA

SAP Pavilion

Thu

2/11

Los Angeles, CA

The Forum

Sat

2/13

Las Vegas, NV

Mandalay Bay

Mon

2/15

Denver, CO

Pepsi Center

Wed

2/17

Kansas City, MO

Sprint Center

Fri

2/19

Detroit, MI

The Palace of Auburn Hills

Sun

2/21

Hamilton, ON

First Ontario Centre

Tue

2/23

Montreal, QC

Bell Centre

Thu

2/25

New York, NY

Madison Square Garden

Sat

2/27

New York, NY

Madison Square Garden

AUSTRALIA/NEW ZEALAND

Fri

4/15

Perth, AU

Perth Arena

Sun

4/17

Adelaide, AU

Entertainment Centre

Tue

4/19

Melbourne, AU

Rod Laver Arena

Sat

4/23

Sydney, AU

Allphones Arena

Mon

4/25

Brisbane, AU

Entertainment Centre

Thu

4/28

Auckland, NZ

Vector Arena

Sat

4/30

Dunedin, NZ

Forsyth Barr Stadium

EUROPE

Wed

6/1

Budapest,Hungary

Groupama Arena

Wed

6/8

Berlin, Germany

Waldebuhne

**Sat

6/11

Donington, UK

Download

Mon

6/13

Verona, IT

Arena Di Verona

Wed

6/15

Zurich, Switzerland

Hallenstadon

**Fri

6/17

Dessel,Belgium

Grasspop

**Thu

6/23

Halden, Norway

Tons of Rock