Care to help / vote to get Geezer Butler on the Birmingham Walk of Fame?  Check out this petition set up online.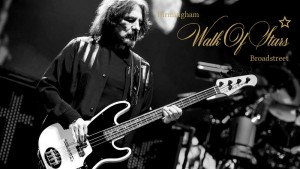 Petition : Geezer Butler to receive a star at Birmingham's Broad street 'Walk Of Stars'.
Born in Aston, Birmingham England on 17 July 1949, Terence Michael Joseph "Geezer" Butler is best known as a founding member , bass player , song writer and main lyricist of heavy metal pioneers band 'Black Sabbath' .Defining the main foundations of the genre with ground breaking classic releases such as Black Sabbath (1970), Paranoid (1970), Master of Reality (1971), Vol.4 (1972) and Sabbath Bloody Sabbath (1973) , Black Sabbath inspired millions of fans and musicians around the globe paving the path for many artists and bands that came after them – Metallica , Iron maiden , Judas Priest , Guns 'n' Roses , Van Halen , Sound garden , Alice In Chains ,Nirvana , Opeth , Pantera – along with countless others cite Black Sabbath as one of their major musical influences.
With over 70 million record sales worldwide , Black Sabbath were responsible in spreading the sound and spirit of industrial Birmingham all around the globe , They were ranked by MTV as the "Greatest Metal Band" of all time.Rolling Stone magazine ranked them number 85 in their "100 Greatest Artists of All Time" recalling Paranoid "the birthplace of heavy metal", also VH1's placed them second "100 Greatest Artists of Hard Rock" list.Black Sabbath also won numerous Grammy awards and were inducted into the UK Music Hall of Fame in 2005 and the Rock and Roll Hall of Fame in 2006.
Regarded as one of the most influential bass players of all time and often cited as the 'Godfather' of hard rock /heavy metal bass players ,Geezer Butler's thunderous aggressive finger style technique along with his gargantuan tone was a major key aspect in shaping Black Sabbath's musical identity , his unorthodox approach to the instrument bringing new elements such as the wah-wah pedal and down tuning have inspired thousands of musicians and bass players for over four decades.