BLACK SABBATH'S GEEZER BUTLER TO BE HONORED ON BIRMINGHAM WALK OF STARS
Venue: VILLA PARK
Date: SUNDAY 3rd FEBRUARY 2018 Time: 15:00 -19:00
Q & A HOSTED BY CARL CHINN POST MATCH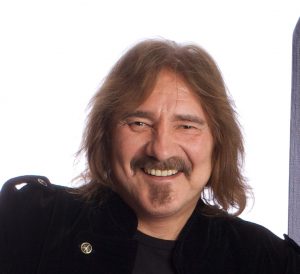 On Saturday, 3rd February, Geezer Butler, co-founding member, bass player, songwriter and lyricist of Black Sabbath, will receive a star on the Birmingham Walk. As an avid supporter of Aston Villa, Butler will receive his star during the half-time show at the game vs. Burton FC.
Born in Aston, Birmingham on 17th July 1949 as "Terence", Geezer Butler got his name from the schoolyard – often calling fellow classmates by the nickname "Geezer". He formed his first band with fellow Black Sabbath member, Ozzy Osbourne, in 1967. The two were called "Rare Breed. With the addition of Tony Iommi and Bill Ward in 1969, the foursome decided on the new name "Earth". Soon after realizing there was another band close by with the same name, they decided to change it; and so, Black Sabbath was born.
Since their inception in 1969, the band has sold over 70 million records, been honoured with accolades such as two Grammy awards for "Best Metal Performance", and were included in Rolling Stones magazine's "100 Greatest Artists of All Time" list. The band is also credited as being the pioneers of "heavy metal".
Recognized as being one of the most influential and proficient bass players in heavy metal, Geezer is also for writing lyrics that still have depth and meaning in today's society. Celebrated by fellow artists, Geezer was called the "Godfather and pioneer" of the bass guitar by former Metallica bassist, Jason Newsted.
Receiving his star at the Aston Villa home game on Saturday the 3rd, Geezer will celebrate with friends and family as he is honoured by the Westside Business Improvement District. The presentation of the star will take place at the half time show.
Note to Editors: The Westside Business Improvement District (BID) was voted in by 350 businesses in the area, in August 2015, with a 99.75% yes vote (the best in the United Kingdom). The BID ensures the Westside region is promoted and protected.
The Birmingham Walk of Stars was developed to recognise those who were born in Birmingham or have lived here and have put the city on the map nationally and internationally through their work.
This Walk of Star presentation is in partnership with Aston Villa, Home of Metal and Hollywood Monster.