Back in December 1981, I was leafing through the pages of a Hit Parader magazine, and I happened upon the cover art for the Mob Rules album.  I wondered what kind of music went with that kind of art, so I trudged on down to the Sam Goody and bought Mob Rules.  Put it in, and holy cow – that was something I'd never heard of before.  *THAT* was my introduction to Ronald James Padavona, or as we know him, "Dio".
My Black Sabbath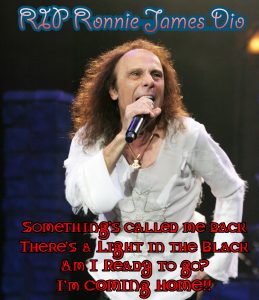 From that moment, he was "my" Black Sabbath vocalist, as they say you never forget your first.  I went on to buy everything Dio put out after that (at least until I started this website), both from Dio and Black Sabbath, and discovered all the stuff from the past, too.  His voice was amazing, his stage presence was awesome, he was a consummate hard rock/metal frontman.  Very few equaled him, and even less surpassed him.
Today (16 May 2020) is now 10 years since he's left us.  I wanted to take a moment and talk about him, and pass on a few stories.  Several of which I've told before, but I thought I'd re-tell them today, as it seems like a good time.  I remember the time leading up to his death as kind of expecting it due to the medical reports I had been hearing (most in the public, some not).
Dio Concerts
I've seen Ronnie live in concert quite a few times.  By no means do I claim I've seen him more than others, but for my concert going history (starting in 1982) I've seen him live more than I think any other individual singer.  It was in three bands (officially, although realistically two (talking the Sabbath/Heaven & Hell stuff).  Here's a list:
10 Dec 1983 – Dio / Holy Diver
25 Aug 1984 – Dio / The Last in Line
13 Sep 1985 – Dio / Sacred Heart
17 Jun 1986 – Dio / Intermission
8 Aug 1992 – Black Sabbath / Dehumanizer
1 Jul 1994 – Dio / Strange Highways
18 Feb 2001 – Dio / Magica
9 Jun 2002 – Dio / Killing the Dragon
13 Aug 2003 – Dio / Killing the Dragon (a second time)
21 Oct 2004 – Dio / Master of the Moon
3 May 2007 – Black Sabbath – Heaven & Hell Tour
27 Aug 2008 – Black Sabbath – Metal Masters Tour
I also had a ticket to see Dio on 12 Jul 1998, but it was (no lie) 110 degrees F out that day, and I stayed home, as it was an outdoor venue.  Too bloody hot.   The last two of these were notable because I met Ronnie both times. Those were the only two times I ever met Ronnie face to face.
The 1986 show was later re-released professionally in 2013 as "Finding the Sacred Heart – Live in Philly 1986".  I was quite stoked by that, as it's always cool when a concert you were at is released professionally.
Meeting Ronnie
The first one was in 2007 in Grand Prairie TX on the "Heaven & Hell" tour…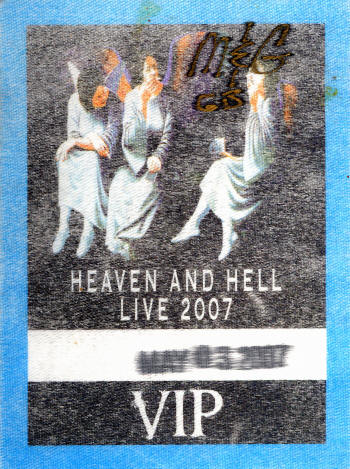 I was backstage meeting just about everyone (Pedro Howse, Tony Iommi, Geezer Butler, Vinny Appice, even Simon Wright was back there!  However, the one I was most curious about was Ronnie, as I had met the others before.  After a time, Ronnie James Dio had wandered out into the hallway, and I wanted to go over and say hi to him, and waited patiently for him to finish talking to whom he was talking to. I introduced myself, as the guy who does the Sabbath site. Unclear if he really recognized me or not, but he certainly seemed to. I said something about having run afoul of his wife, as I had posted a picture from tour rehearsal before the 2007 tour started, and I was "contacted" by Wendy Dio about my having posted that picture. When I told Ronnie I had "run afoul of his wife", his response was "Yeah, done that a few times". We chatted about the old days, told him I'd seen him in just about every incarnation of "Dio" there was, and apologized for an event in 1995 when some jackass was throwing beer cups on stage, almost forcing Ronnie to walk offstage. He got a chuckle that I still remembered that kind of stuff. We talked for awhile, I mentioned his old stuff from the 50's, asked if it would ever be re-released, you know that kind of talk. I also was joking with him, and referred to George W. Bush as "his buddy", which prompted Ronnie to say "He ain't my buddy – fuck you too!". So we parted after a handshake, and then more backstage stuff happened. I think in all I talked to Ronnie for about 5 minutes solid?  It was quite an event for me, although in the grand scheme of things, something forgettable to Ronnie, which leads me into the other time…a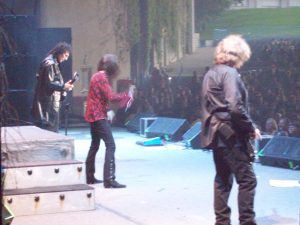 I met Ronnie again in 2008, although it was for a very brief time.  One thing about this show that I loved over any other is that I got to watch it from the side of the stage.  I was hanging out in front of Scott Warren's keyboard setup.  The picture to the right here was my POV for the concert.  One of my favorite vantage points I ever had for a show.  Anyway, back to Ronnie…  Even before he died, I read a lot about how he has a great memory for people. I hold no illusion, I'm a small time name in the chronicle of people that Ronnie met in his life. In 2008, I was hanging out backstage, and I didn't get a lot of time to hang out with the band, as they were doing one of those Meet & Greet things. That's OK, as I've said, I know they didn't come to down to meet me. So I hung out backstage, and when the four guys walked across the backstage arena to head to meet & greet, they all passed me. I waved hi to Geezer, since I knew him the most. At the same time, Ronnie James Dio waved back and said "Hi Joe". Which blew my mind that he'd remember me like that. Tony Iommi actually stopped, doubled back to me, and apologized that he couldn't stay and talk, but shook my hand. Watched Ronnie walk off to the meet & greet, and that was the last time I saw him in person. I'm still somewhat surprised that he remembered me out of all the people he met in the time between when I met hin 2007 and again in 2008. I know that's not much of a Dio story, but it was very short.
His Musical Career
If you're reading this piece, then you probably know of all this content, but not everyone does.  His musical career started in 1957!  Perhaps not when he started playing, but that was his first recorded output (as best as my research shows).   Back then he was in band names like "Ronnie & The Prophets", "Ronnie & the Redcaps".  It was VERY much of the era.  In fact, the earliest recorded song that I'm aware of is from back then, titled "An Angel is Missing".  It's seriously 50's doo-wop stuff – if you never heard it, check it out..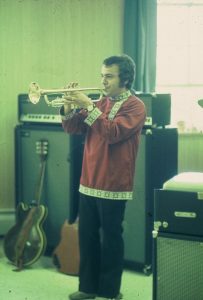 I've seen a shit ton of different places say this song came out in 1957, 1958, as far as 1962 – but whatever the exact year is, you can say it's extremely far removed from what he's known for in Black Sabbath and Dio, it almost doesn't sound like him, even though it was.
As he moved past that 50's sound, it was into the 60's and a series of band names which I'm fairly sure are the same band, just with different names.   "The Elves", "The Electric Elves", and just "Elf".  Most people recognize this as the start of Dio's career, and I get why – they don't know of the Prophets/Redcaps stuff, but Elf does start to sound more like what we knew later on as Ronnie James Dio.
Elf put out three albums, Elf (1972), Carolina County Ball (1974), & Trying to Burn the Sun (1975).  They also had some singles before these, and some compilations later on (not all of which were official).   It's a time that's worth revisiting if you've never heard it.  It's more piano based than straight up rock guitar.   One of my favorite Elf tracks is the title song from their second, "Carolina County Ball".  If you've never heard it, check it out: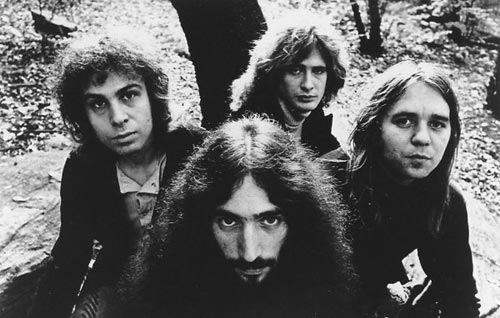 After Elf, it led to Rainbow, Black Sabbath, and finally Dio.   I know I'm glossing over a lot of stuff there, but I've already done a piece on Ronnie's career, where I break down all of my favorite tracks from every album he's ever done.  If you want to read more like this, I strongly suggest checking out that article.  It's quite in depth, starting with 1957, and going to the (to date) only posthumous track he's been on, "Metal Will Never Die".
His Final Concert
When Ronnie had rejoined with Sabbath (now officially under the name Heaven & Hell) for his third go-around with the Sabs, it produced an album titled "The Devil You Know" in 2009.   Of course, they went out on tour for that, and the tour's final show was in Atlantic City.  A friend of mine who lives back there and does TV production and acting suggested that we get permission to film at the concert.  That ended up happening, and on that night, my friend Damian and a cameraman attended the show.
In short, they filmed the first song (The Mob Rules), and as it turns out, that was the final time Ronnie ever took the stage.  At the time, we just intended in filming a little at the last show on the tour.  It wasn't until the following year that we realized "Oh shit, this was the final time he EVER took the stage".   After some negotiation with Ralph Baker, Wendy Dio, & Gloria Butler, I was granted permission to make the video available online.  It's been there ever since, and of course I'm including it here.
But beyond just the video is a great story written last year by Damian about his experience filming that day, and all that went into that day.  I STRONGLY urge you to read it, it's a damn great story.
Summary
Everyone dies.  No one is spared, but it sucks when someone you're attached to goes.  I'm no fool.  Ronnie wasn't my friend.  I met him twice for a grand total of about 6 minutes.  But I followed his career for a long time, and I enjoyed every bit of it.  I was fortunate enough to see him live many times, and for that I'm grateful.
I've been listening to that career long playlist I mentioned further up.  It's not on streaming, because so much of it is not available due to rights issues.  But it's amazing stuff.  Whatever Dio you have, be it Rainbow, Black Sabbath, Elf, or just the Dio band..  Play something today, and play it loud.   Ronnie would have liked that.