Well, late last week I got the new 2021 CD versions of the Heaven and Hell and Mob Rules albums in.  And this week I received the vinyl copies, so I decided to get some thoughts down as to these new releases, what's on them, and whether it's worth it to pick them up.
One thing before I dive into things.  These releases are from Rhino here in the US.  They're a subsidiary of Warner Bros Records, who has had US/North American distribution rights for every Black Sabbath album from Black Sabbath (1970) through till Eternal Idol (1987).  These are only for sale here in the North American market.  They are *NOT* the same as the 2009-2010 Universal Deluxe editions.  Those versions used a different set of masters, and were only marketed to the European market.  The point being, this is not just them "releasing the same thing over and over".  These are issues released by different record labels in different markets.  I wrote in more detail about the fiddly details on record labels and regions elsewhere if you care to read about it.
Now, with that out of the way….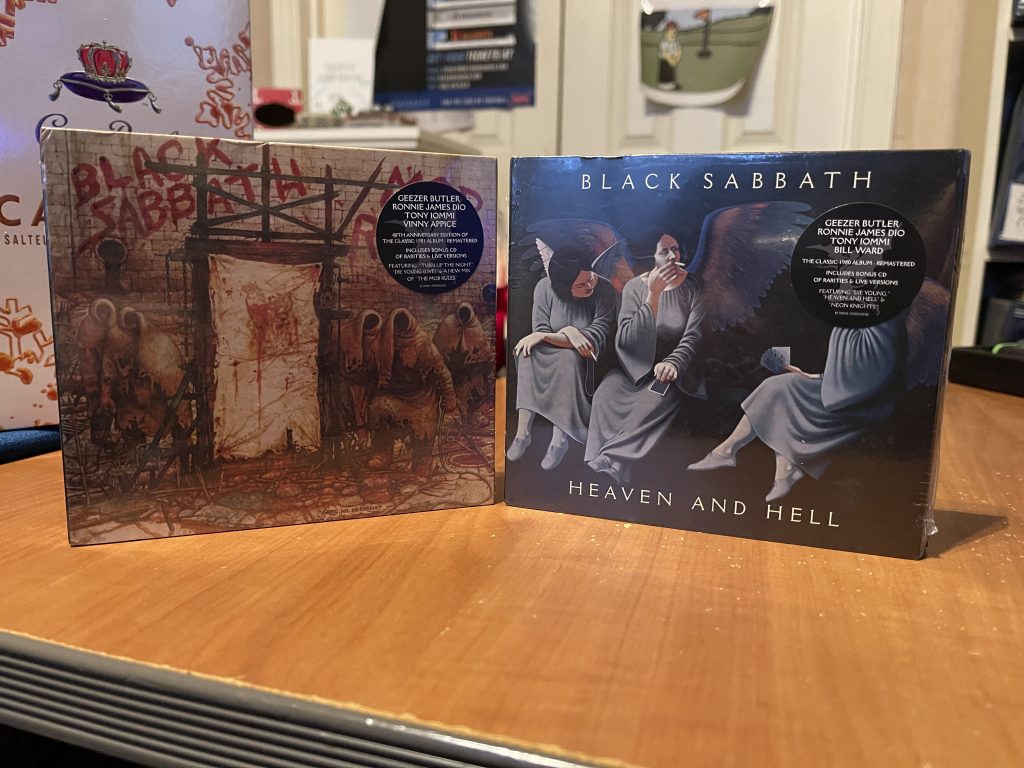 I'm not going to be saying a ton about the base albums themselves.  That's because they're well known entities at this point.  They're 41 and 40 years old this year respectively, and as such, if you're reading this, you know the albums.  All I'll say about the base albums are that they're still damn good.  These first two albums with Dio are classic, and in the case of Mob Rules specifically, are special.  That's because Mob Rules is the first Black Sabbath album I ever bought.  So when I went to listen to these new versions, I picked Mob Rules as it was my first.  These 2021 releases have a new round of remaster work done on them.  That work was done in 2020 by Andy Pearce – a name you've seen before a few times if you follow all the reissues.
The reissues can be broken down into a few parts..
Packaging
The base album
Extra tracks
Live stuff

Mob Rules
Mob Rules CD Packaging
The packaging is a Digipak – this time without the "Deluxe Edition" plastic slipcover that was on the 2009 Universal Deluxe editions.  The pack opens twice.  First time you see a couple of pieces of art, and the second time you see additional art and the two CDs on plastic on the inside.  It's a pretty standard digipack layout, but it still looks darned nice.
There's also a CD booklet on the inside, which if this were an old style jewel case cover would be on the exterior sleeve.  There's a long multi page story by Kory Grow of Rolling Stone about this album and the Dio era of Black Sabbath. Most hardcore fans will likely know most of what's in here, but it's a nice read just the same.  There is also a story in here from Greg Hildebrandt, the chap who did the original cover art.  As I'm sure most know, the cover art to this album existed before Black Sabbath licensed it. This is also a nice story that I can't recall having heard before.
There is plenty of artwork in the packaging, either on the digipak itself, or in the booklet.  Not all of which I've seen before.  here's some pictures of the packaging…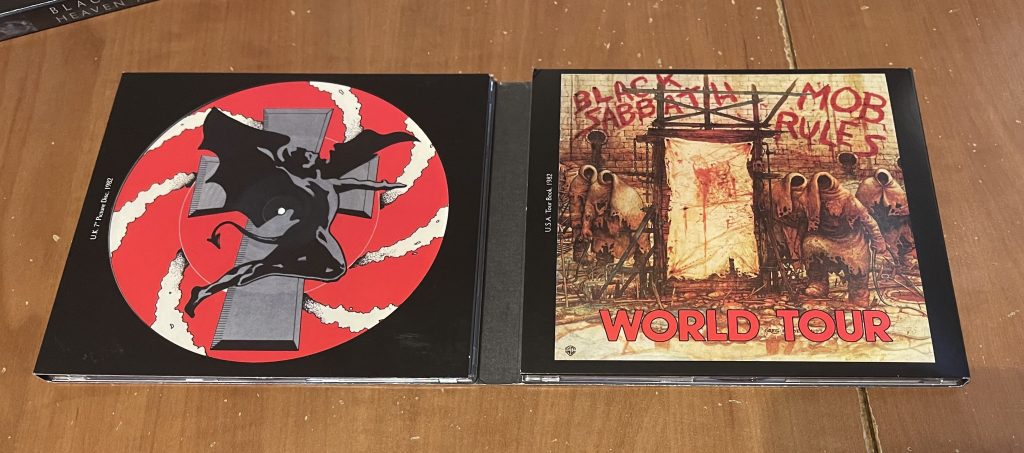 The Base Album
As I said before, if you're reading this, you know the base album.  I've always loved this album, it was my first Black Sabbath record, so I know it well.  It sounds amazing as hell.  Probably better than the earlier versions I've owned when I could hear them clearly.  I'll have more to say on this vs older versions in a section below…
Extra Tracks
There are a couple of extra tracks on this that aren't live.  There's nothing NEW new that we haven't heard before (like "The Fallen" from the Born Again Deluxe Edition), but what is here is cool.   The bonus (non live) tracks are…
The Mob Rules – Heavy Metal Soundtrack version.  We know this one.  It's been on other Deluxe editions before, and of course on the original soundtrack to the movie Heavy Metal back in 1981.
The Mob Rules – New 2021 Mix.  Andy Pearce, who did the remaster of this stuff, also took it upon himself to remix the song "The Mob Rules".  As with the remixes on the Vol 4 Deluxe Edition, I have to wonder why?  I don't think anyone was clamoring for this, but here it is.  I will add this.  As pointless as I think it is, it's not a bad remix at all.  It sounds like he used the Heavy Metal version as a base, and then did some remixing.  To my ears, it sounds like Ronnie's vocals are mixed back just a little, and the bottom end is brought up a bit.  Generally, I don't like these remixes, but this one isn't bad.
Live Tracks
Now, we get to the meat of this release – the live tracks.  There's a few groups of them.
The first group is basically just one.  It's the track Die Young, and was originally a B-Side to the Mob Rules single from 1981.  This track has appeared just about everywhere before, and is nothing new at all.  Nothing wrong with it, just no surprise.  :)
The second group are four tracks from Hammersmith Odeon on 31 Dec 1981 – 2 Jan 1982.  These tracks may or may not be new to you depending on what you bought.  They originally appeared on the 2007 release "Live at Hammersmith".  The four tracks here are Country Girl, Slipping Away, The Mob Rules, & Voodoo.  I'm guessing these are included as only one of them appears on the third group of live tracks, and gives a different flavor.  These songs also appeared on the 2010 Deluxe Edition of Mob Rules, as Disc 2 of that release was the same thing as the 2007 Live at Hammersmith release.  So these are not new, but they've also not been released domestically here in the US before.  That's what I meant by they may or may not be new.
The third group is the new stuff.  All of Disc 2 and three songs on Disc 1 are new.  They've never been released before.  There's a total of 15 songs here, and they call from from Portland Memorial Coliseum on 22 Apr 1982.  Interestingly enough, the next two nights after this (in Seattle) were recorded for Live Evil.  This era of Black Sabbath is one I never witnessed live, so I'm glad to hear new recordings.  One thing about the Portland shows, however.  Geoff Nicholls is mixed REALLY high in some tracks.  You can hear it quickly on Neon Knights.  It's an odd choice for a mix, I'm not sure who did that, or if perhaps it wasn't editable, but it changes the feeling of the songs where it's mixed this way.  They're not all that way, but when it happens, it's very noticeable.  Which is interesting as Geoff is pretty much invisible in the mix on Live Evil, which was the next night from this.
That's about it for the Mob Rules album.  They say you never forget your first, and I never did.  From the opening riff from Turn Up the Night that grabbed me 40 years ago to the closing strands of "Over and Over", I still love Mob Rules.
One oddity here.  The exterior spines of the two CD's both use the font from the Heaven & Hell album.  It's not BAD or anything, just something that I noticed.  The font used on the Mob Rules cover wouldn't work on the spine there, so they had to use SOMETHING I suppose.  Just something that looked a little odd to my eyes.  The brain went "Hey, that's the Heaven & Hell album art font there".  ;)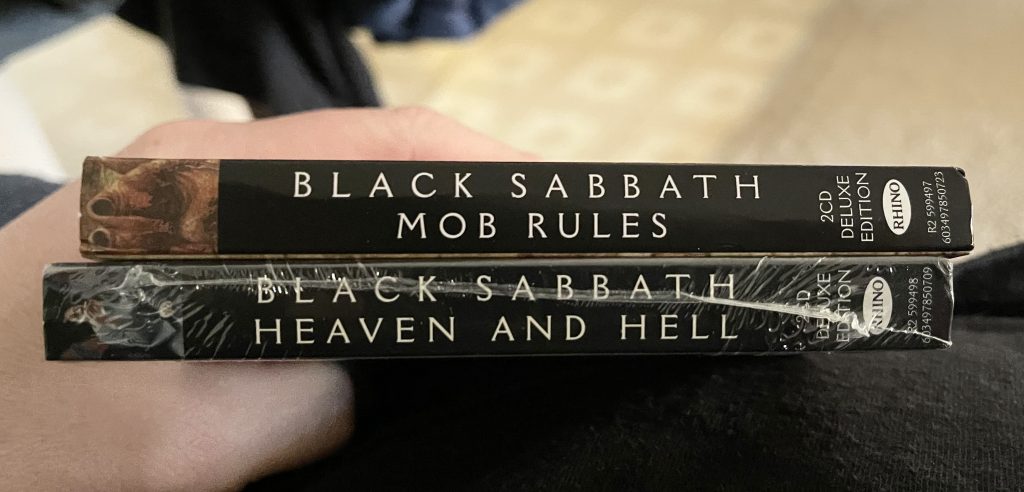 Heaven and Hell
Heaven and Hell CD Packaging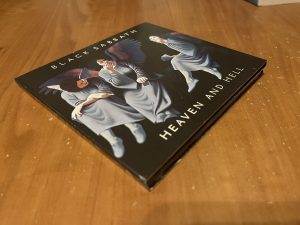 The packaging is pretty much identical to that of Mob Rules, obviously customized for this specific album.  It has the same double folding out digipak.  You open it once, you see artwork, you open it again you see more artwork, and the CD's.   Which is an interesting point – you need to open it twice to get at the CD's themselves.  No real complaint there, but struggling to find something to write about the packaging other than "Well, it's the same as the other one".  ;)
The CD booklet is the same – it would fit inside a jewel case.  It has two stories inside.  The first one is a really long story that takes up most of the booklet.  It talks about the departure of Ozzy and the addition of Ronnie James Dio to the fold.  it's quite long, and quite detailed – was a nice read despite knowing most of this story, anyway.  There was a story about Tony Iommi wanting to have actual monks on the audio for "Children of the Sea" that I'd never heard before – that was cool.  There's also some detail about the arrival of Vinny Appice that I didn't know about either.  So the story is by Kory Grow of Rolling Stone again, and there is also a story by Lynn Curlee about the album's artwork.  It tells another version of a story I've had on my website since 2008.  Back then I contacted Lynn Curlee myself and interviewed him.  You can read yourself if you'd like.
I've also taken pictures of the Heaven and Hell digipak for you to look at.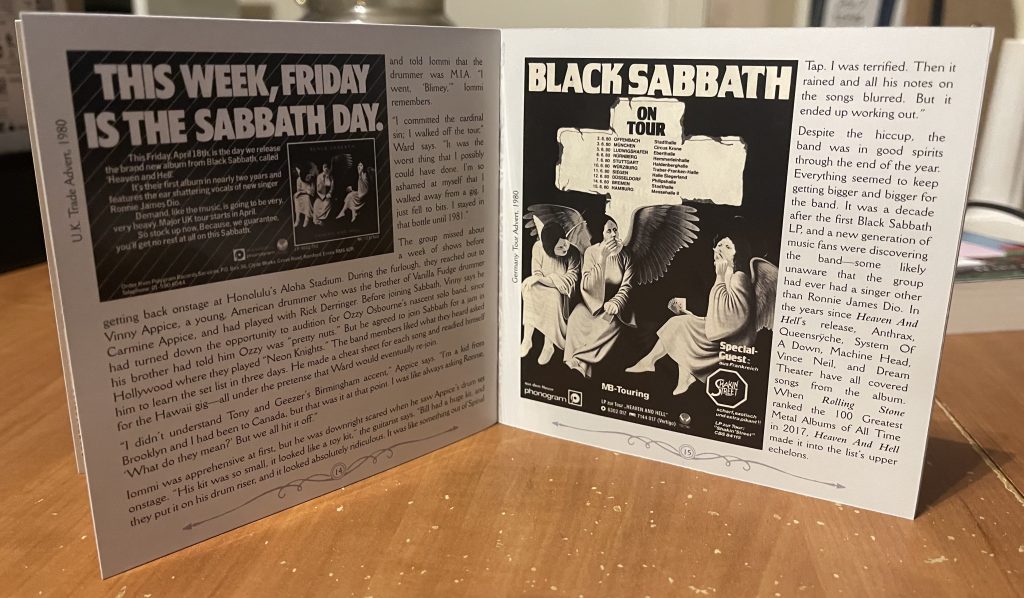 The Base Album
A lot has been written about the actual Heaven & Hell album.  To this day it still sounds like such a radical shift  from what came before it.  When you compare Heaven & Hell to Never Say Die, it hardly sounds like the same band.  Now I know it really isn't in a lot of ways.  But musically, three of the five musicians are the same.  Vocals and keyboards are different, but in a band like Black Sabbath, guitar, bass, & drums being the same should result in something similar. It did not here.
Anyway, this remaster sounds better than the last go around.  The sound of this album was always one I liked.  It wasn't too in your face, it wasn't flat – just a nice, smooth sound, and the 2021 remaster does nothing to change that.  If you loved this album before, you'll still love it now.  :)
It's such an iconic masterpiece, I don't know what else to add to it here.
Extra & Live Tracks
I'm combining both of these together into one here, because well…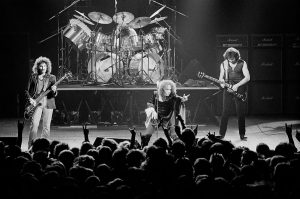 There's no extra studio tracks.  Those recently surfaced tracks from Geoff Nicholls' step-son are not here, as much as we'd like them to be here.  The lone known Oz track isn't here – nor do I think there is ever a chance they'll be officially released.
What is here are a bunch of live tracks.  Which is fine – there's nothing wrong with live Black Sabbath, but if you're a collector, and have bought other re-releases of these things over the years, there's nothing NEW.  100% of the live tracks on this set have been released elsewhere before.
Two live tracks which were B-Sides from singles back in 1980, and a mono edit of Lady Evil are here.  These were on the 2010 Deluxe Edition.
There's four tracks from 10 Aug 1980 in Hartford that were on the 2010 Deluxe Edition.
There's four tracks from 31 Dec 1981 at Hammersmith – which were previously on the 2007 "Live At Hammersmith" album. One of them is E5150 as well, and the press release oddly calls it a "live track", which is wrong, as it was a taped playback.
We end up with three live versions of Children of the Sea with all three of these groups. If you never got these prior releases, then these will be new to you, but for those of us who get most of (if not all) of that release variants, there's nothing new here.
Heaven & Hell is to my opinion the lesser of the two in terms of live/bonus tracks.  Was hoping for something new here, but alas, no.
As I said before, the base album is still damn amazing – there's no arguing that.  But the extras are a bit of a letdown, although had I not had them already I might feel differently about that.

Vinyl
The biggest difference between the vinyl and the CD versions (other than the format) is the fact that there are a lot less extras on the vinyls. Mostly because of less space being available.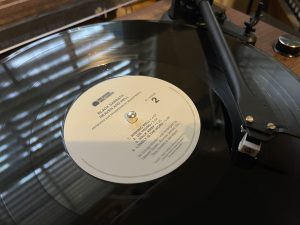 Heaven & Hell: LP1 is the proper studio album, and all the extras are on LP2.  It contains the two live B-side songs and the mono edit of Lady Evil.  It has the four live tracks from Hartford, but none of the Hammersmith live tracks are here.
Mob Rules: LP1 is the proper studio album, and all the extras are on LP2.  That second disc contains the two studio extras (Heavy Metal Mob Rules and 2021 Remix of same), plus the B-Side live track Die Young.  There's ONE live track from the Portland show (Sign of the Southern Cross), and then four live tracks from Hammersmith).
So there's a lot less vinyl wise in terms of the live tracks here – for both releases.
Both Heaven & Hell and Mob Rules have no booklet on the inside (no surprise), but the long stories that I mentioned in the CD booklets are here – they're on the inside of the vinyl gatefold (there are pictures below).
The back cover art for Mob Rules is quite different than the original artwork.  I've included a picture of the new back artwork here, and I was initially wondering why they did that.  However, when I noticed that the original album back cover art is still here (just on the inside now), I discovered why – I think.  On the original Mob Rules art, the songs are in a completely different order than they are on the actual album.  On top of that they spelled Vinny Appice's name wrong.  So the combination of songs out of order and a band member's name spelled wrong probably led to new vinyl back art.  That's just a guess, though.
I'm more interested in the basic albums with the vinyl, though.  In all the years I've known these albums I never had them on vinyl that I can remember.  So that was cool to me.  I personally don't care about the lesser number of live tracks, as I can just play them digitally if I want to hear them.
One other thing on the vinyl.  The exterior spine on the vinyl has the same thing with the font going on that the CD's do.  They use the Heaven & Hell cover art font on the spine of Mob Rules vinyl.  Only here the text is red, not white.  It's a LITTLE hard to see because of that, but not too bad.


Remasters
So, the question I've been asked a bunch on Twitter is "how does this compare to prior versions?" There's a few of them now.
Original 1980's Warner mastering
Original 1980's Vertigo mastering
1996 Castle remaster (using Vertigo masters)
2008 Rules of Hell remaster (using Warner masters)
2010 Universal remaster (using Vertigo master tapes)
2021 Rhino remaster (using Warner master tapes)
To this point, my favorite version has been the Universal mastering.  I'm not one to say "this part is higher", or I have some handle on what the various compression rates are, etc..  I tend to go by a less strict version of how it sounds to my ears.  However, several decades of all this has screwed up my hearing, I suffer from tinnitus.  It's not like I can't hear differences, but some of the really fiddly bits are lost due to a hearing issue.  Having said all that I really enjoyed this new remaster.  ESPECIALLY when using headphones.  I tweeted about Mob Rules during all this saying it sounded better than I can remember hearing it in a long time.  But I can't tell you WHY I feel that way – it just sounds better to my ears.
I decided to ask a friend of mine who is more into the bitrates and various fiddly bits for his opinion on these releases, as he does pay more attention to that stuff.   He definitely qualifies as "audiophile".  His name is "G Paul May", and here's what he had to say about these new 2021 remasters..
1986 Warner Brothers Original:  nice 16 bit digital transfer from master reels, no eq or compression detected.
1996 Castle re-master: mid gain compression, midrange and highs boosted.
2008 Rules of Hell: high gain compression, bass and highs boosted
2010 Universal re-masters: lite compression, maybe some tiny eq adjustments
2021 Rhino re-masters: would bet on 24bit high sample rate intake from master reels. very lite compression and gentle eq applied.
Rating in order of preference:
2021
2010
1986
2008
1996
In all fairness, the most recent would have been given the most funding for the release.  If you want to compare to the sound of the original pressed vinyl. 1986 or 2010 would be the closest. 2021 vinyl will certainly be a treat.
Audiophiles who have a lot invested in their sound system or do any kind of audio post production are more likely to pick up on this stuff.
So there you go.  Which one do I prefer?  It's not like I routinely debate which prior version of an album to listen to here, but if you give me a choice now, I'll probably go with 2021 Rhino, as I really liked the remastering work.  Although 2010 Universal is no slouch, either.

Summary
I've touched on most everything I can think of above, so there won't be much in the summary area here.  I really enjoyed these releases.  While I wish there was a third vinyl to include all the live tracks, I would have been quite satisfied with a 2021 remaster of JUST the album for those.  But anyway, I spun the discs today (11 Mar), and they were damn enjoyable. As Paul said above they sound amazing.  This will probably be my go to versions of these albums going forward.
I'll mention this again, since it tends to get missed.  This is a Rhino/Warner Bros release, and as such is being sold in the US/North America.  It won't be available elsewhere unless you import it.  I'm aware of no plans to release these 2021 remasters elsewhere.
If you want to buy these, here are a few links for ya.   First off is a link to the Rhino store itself, and the others go to Amazon US.
We just passed the 40th anniversary of the Heaven & Hell album last spring, and the 40th anniversary of Mob Rules comes up later this year.  As I've said before, Mob Rules was my first Black Sabbath album.  It still holds up well for me.  Heaven & Hell gets all the credit for being a legendary album (as it should), but don't forget Mob Rules.  An amazing as hell album one I've found myself REALLY enjoying as I've digested these new remasters over the last week.
To quote two late people I used to watch on TV a lot – Gene Siskel & Roger Ebert..
Two thumbs up!