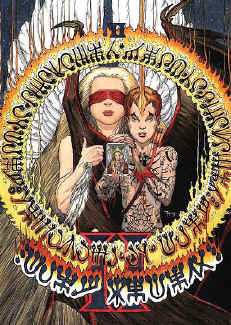 Back in 1994, there was a Black Sabbath Tribute album released entitled "Nativity in Black". Coming this summer is the sequel, oddly titled "Nativity in Black II". :) Anyway, I was contacted by someone from Priority Records, the folks who are putting out the album with some information about the album. The release date is June 6, 2000. The final track listing for the album is:
GODSMACK-Sweet Leaf
MACHINE HEAD-Hole In The Sky
STATIC-X-Behind The Wall Of Sleep
MEGADETH-Never Say Die
SYSTEM OF A DOWN-Snowblind
PANTERA-Electric Funeral
PRIMUS with OZZY-N.I.B.
SLAYER-Hand Of Doom
SOULFLY-Under The Sun
HED(PE)-Sabbra Cadabra
MONSTER MAGNET-Into The Void
BUSTA RHYMES with OZZY-Iron Man (This Means War)
I already have a page set up for the album, you can check that out here. It has the artwork that will appear on the album on it (the artwork shown here is supposed to be the cover art.