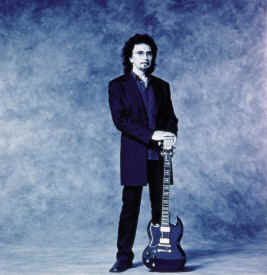 Tony Iommi is starting to make the promotional "rounds" for his solo album. Here's some details:
1) Tony Iommi to appear on Rockline – The Prince of Darkness will be the featured guest on the nationally syndicated interview program 'Rockline' Monday, September 18. For a listing of stations, go to http://drchuck.net/rockline/stations.html.
2) Tony Iommi to appear on VH1's The Rock Show – Tony will guest with host Kane on the VH-1 Rock Show September 29. Point your browser to VH-1.com for more information.
3) Tony Iommi to be on KNAC.com – Tony will appear in the KNAC studios on October 19th at 4PM PST. Check it out.
The album is due soon, I should have cover art for it shortly.
From Joe: Since when is Tony Iommi Satan? I like Black Sabbath, and I like the music, but the lame ass satanic references are just that – lame.