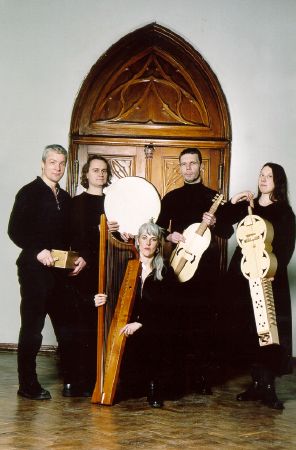 Some of you have mentioned the Sabbatum disc on the last issue or two of the newsletter. I haven't covered it yet, because I was waiting on something to come in from the folks who made this disc. For those of you who haven't checked it out, Sabbatum is a disc of Sabbath covers unlike ANY other you've ever heard before.
I got some copies of the disc in today from the guys in Estonia and gave it a listen. While I'm not entirely sure how to describe it, it is good, and it is MOST DEFINTELY DIFFERENT – it's unlike any other Black Sabbath album you've ever listened to – I guarantee it. It's not my usual cup of tea musically, but for some reason I felt compelled to listen to it. It's actually quite good – but in a completely different vein than I'm used to. I expect people's reactions to it will be strong – you'll either love it, or think it's crap. However, I think if you have an open mind, you'll probably like it. More info and some song samples are available at http://www.sabbatum.com.
I'll just take some text from their own site about what this disc is:
Can You imagine what Black Sabbath would have sounded like if Ozzy Osbourne, Tony Iommi, Geezer Butler and Bill Ward would have formed the band in the 14th century? Would "War Pigs" or "The Wizard" have been as powerful if played on medieval instruments like lute, fiddle and harp?

Curious? So was Rondellus, the renowned Estonian medieval music band. They took 12 Black Sabbath classics and turned them into something totally unheard.

You don't have to take history lessons to get the feeling. It's all on the the new CD Rondellus recorded – "Sabbatum". An amazing collection of Black Sabbath tunes played on medieval instruments and sung in Latin language.
Also, I got this email from one of the folks (Mihkel Raud) involved in the production of the CD, here's what he has to say about the disc in response to my remark that I spent a lot of my time listening to it trying to pick out the known melodies of the songs.
In fact, that is what we were determined to achive. As a long term die hard Sabbath fan I always knew I wanted to explore their music from some unexpected angle. It just took me a couple of years to figute out what that was. On the other hand, now it seems only natural that the "medieval key" was the way to go. When I listen to "Sabbatum" now, after 9 months of labor and research, the idea of "medieval Black Sabbath" seems all of the sudden so natural to me. As if Sabbath was in fact medieval music, just reincarnated in the 70's. This was a thought that we were playing with and I do hope that Sabbath fans can cope with it or at least find it entertaining.

As far as the lyrics are concerned, the Latin translations are 99,9 % exact, line by line. The translator that we used was really surprised herself that she was able to keep the thing so tightly loyal to the originals.
And in honor of this album's release, I have secured some copies of the CD to give away. I am announcing right now. I have four copies of the new CD I will give away. Usually, I run trivia contests, this time, all you have to do is send me an email with your name and address to:
I will pick four winners at random from the entries – I will pick the winners next Monday the 18th, so get your entry in quickly. Please send me your address, so I can get them out right away. I do not save any of the emails in case you're wondering. I pick four, all the others are deleted, and the ones I send to are also deleted after I send the prizes. I do not retain any addresses, sell them, or any other bullshit like that.
So if you're interested in picking up a free copy of the disc, drop me an email at sabbatum@black-sabbath.com and I'll pick the winners next week.