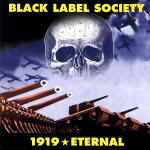 As promised a few issues ago on my newsletter (sorry for the delay, been terribly busy at work and with my new house), I'm here to give away some copies of the new Black Label Society CD "1919 Eternal". This is Zakk Wylde's band, if you didn't know.
And in honor of this album's recent release, I have secured some copies of the CD to give away (with more on the way – I'm not sure of the exact number, but I believe it will be somewhere between 8-10 copies). Special thanks go out to Rob over at Spitfire records for helping out in obtaining the CD's to giveaway. Usually, I run trivia contests, this time, all you have to do is send me an email with your name and address to:
I will pick winners at random from the entries – I will pick the winners next Wednesday the 24th, so get your entry in quickly. Please send me your address, so I can get them out right away. I do not save any of the emails in case you're wondering. I pick four, all the others are deleted, and the ones I send to are also deleted after I send the prizes. I do not retain any addresses, sell them, or any other bullshit like that. Duplicates are weeded out, so don't try and send in more than one. Besides, it saves me work in having to weed out duplicates if you don't do that.
So if you're interested in picking up a free copy of the disc, drop me an email at 1919eternal@black-sabbath.com and I'll pick the winners next week.
More giveaways are coming soon, including the new Dio CD "Killing the Dragon".