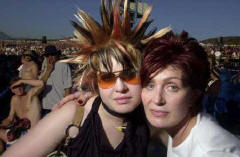 Ozzy Osbourne's teen-age daughter is following in her father's musical footsteps, but don't expect her to bark at the moon.
Kelly Osbourne is recording a cover of "Papa Don't Preach," a No. 1 hit for Madonna (news – web sites) in 1986, with Incubus members Mike Einziger and Jose Pasillas II.
The guys in Incubus have been friends with the Osbournes since first playing the Ozzfest concert tour in 1998, Incubus spokeswoman Melissa Dragich said Thursday. Einziger, the guitarist, and Pasillas, the drummer, agreed to back Kelly up before the band begins a U.S. tour next week.
But Kelly says she didn't choose to sing Madonna's rebellious pop song, which will appear on the soundtrack to the hit new MTV series "The Osbournes," due out in May.
"My mom did and asked me to do it," the pink-haired 17-year-old told MTV News this week. "I'm kind of (worried) because I don't think I'm a very good singer."