Big update today, so let's get started.
As several folks have told me, Ozzy Osbourne played the Queen of England's Golden Jubilee celebration. My wife had called me on the phone at work a couple of days ago to tell me that she saw Ozzy on the NBC Nightly News in a clip saying he looked more cleaned up than usual, and he was looking like he was trying hard not to screw up in front of the Queen. After watching the news show my wife saw, I also spotted Tony Iommi in the crowd, too. I emailed Tony Iommi's management folks and inquired as to what happened, and they told me that Tony was there to play Paranoid with Ozzy (apparently the only song he played). I asked who played with Tony & Ozzy, and got told this:
Ozzy Osbourne – Vocals
Tony Iommi – Guitars
Pino Palladino – Bass
Phil Collins – Drums (Yes, THAT Phil Collins)
I'd love to find a picture of this group, but I haven't yet. If anyone has any pictures, let me know. Ozzy Osbourne almost stole the show when he stormed onto the stage while host Lenny Henry was still making his introductions. "I've got to bloody introduce you first," Henry said, according to the BBC. "Oh, sorry Lenny," Osbourne replied, and stopped running along the stage. Osbourne behaved himself after that, even saying, "God save the Queen. I love you all," after he finished doing "Paranoid."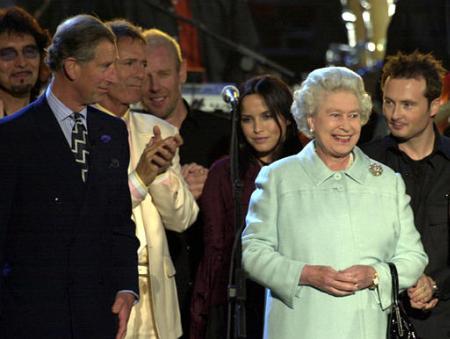 Here's another news article about Ozzy and the Queen (that originally appeared here):
LONDON – Rock wild man Ozzy Osbourne said he'd promised to behave himself at Queen Elizabeth II's Golden Jubilee pop concert at Buckingham Palace. And he kept his word, sort of.

"I'm on my best behavior. I don't want to spend the rest of my life in the Tower. I mustn't drop my trousers, no bad language or perhaps a trap door will open," the former Black Sabbath star told the national news agency Press Association before he performed Monday night.

The heavy metal idol, who found new fame with a hit American TV show "The Osbournes," was once notorious for having bitten the head off a bat during a 1982 concert.

But the much tamer concert at Buckingham Palace was the highlight of his career, he said Monday.

"Absolutely, this means more to me than anything. These last six months, I've had such good fortune land my way. I keep thinking that sooner or later the bubble will burst. My wife, Sharon, keeps saying 'you're one of those guys who's not happy unless you find a dark cloud'."

He said he thought it was a joke when he heard he had been invited to play at the palace.

"I'm more surprised than anybody else that I'm here. My wife told me and I thought you're pulling my leg. Heavy metal at the palace? I'm not sure whether the queen is a fan, but obviously she must be."

His performance Monday night was certainly one of the most boisterous of the evening.

As comedian Lenny Henry began to introduce Osbourne, he suddenly appeared on stage screaming "Rock 'n' roll, rock 'n' roll" to the crowd.

Soon, he was performing the Black Sabbath anthem, "Paranoid," to booming guitars. Racing back and forth across the stage, he chewed gum while singing.

As his song ended and fireworks exploded around the stage, Prince Harry and Prince William, Queen Elizabeth II's grandsons, could be seen clapping above their heads and smiling from the royal box.
It had to have been a personal career highlight for Ozzy to be on stage with Paul McCartney (see picture below). If you didn't know, The Beatles are/were one of Ozzy's favorite bands, and he directly credits them for his getting into music in the first place.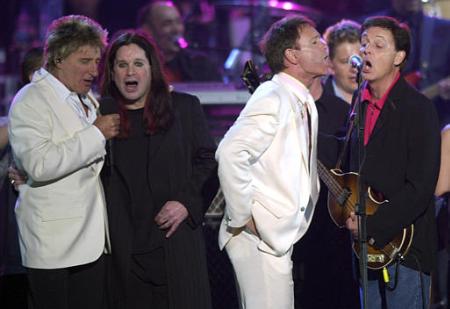 I got a big laugh out of this quote I saw in a NY Times article..
Young Princes William and Harry, who politely applauded the earlier acts, suddenly began shaking their heads and clapping in time as Osbourne and Black Sabbath guitarist Tony Iommi roared through their anthem to madness. Charles, no fan of heavy metal, watched his sons with a puzzled look on his face.