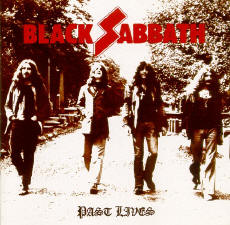 Today, the new Black Sabbath album, "Past Lives" is out in the US/Canada (it comes out everywhere else Sep 9th). To commemorate the release of the new album, I'm here with one of my contests to win a free copy of the CD. I've got several copies to give away, and I'm running one of my trivia contests. Whoever answers the following five questions correctly will get put in a drawing to win. Here are the questions:
What previously released (unofficial) Sabbath album contained the same material that is on Disc 1 of Past Lives?
Who is the only other member of Black Sabbath (besides Tony Iommi) to have worked with everyone who has been in the band in it's entire history?
How many and what are the names of all the live Black Sabbath albums (not counting bootlegs) that have been released?
Who was the only person ever to play a guitar solo on a Black Sabbath album besides Tony Iommi?
How many former members of Black Sabbath have also played in Deep Purple and who are they?
Please send your answers to pastlives@black-sabbath.com – Please note that ANY EMAILS SENT ANYWHERE ELSE THAN PASTLIVES@BLACKSABBATH.COM WILL NOT BE ELIGIBLE FOR THE CONTEST, AND WILL BE DELETED. The contest will run till Wednesday, August 28th.
FYI, all these questions were generated by looking for the info on the web, either on my site or elsewhere. The answers are out there, they're not that impossible to find out. :)
As I said above, I've got several copies – a total of 6. 5 of the regular release, and one copy of the "Limited Edition", which includes a Black Sabbath guitar pick, a poster, and some really cool packaging. What I will do is take the 6 winners, and one of those will be picked at random to get the Limited Edition package. The contest starts NOW, and runs till Wed, Aug 28th at roughly 6PM Central Time US. It's open to everyone, you don't have to be in the US to enter. It would help me out if you send your address with your entry, so if I pick you, I can get the prizes right out. Please be aware that I do not save any of the information at all. It's solely for hte content, and once the contest is over, I delete all emails and address records, so there's no worries about me "selling info" or any garbage like that.
You can also purchase the CD from these links below:
[ Order CD from CDNow ]
[ Order Limited Edition CD from CDNow ]
[ Order CD from Amazon.com ]
[ Order Limited Edition CD from Amazon.com ]