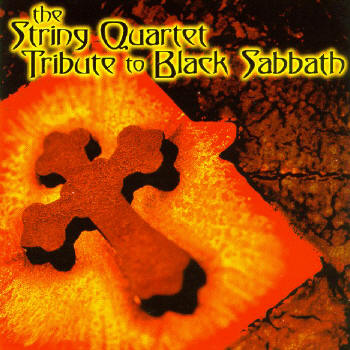 Today I'm here to announce another giveaway on my Sabbath site. This time I've got five copies of the String Quartet Tribute to Black Sabbath to give away. There's no trivia contest this time, just send an email with your name and address to stringquartet@black-sabbath.com. Please note that ANY EMAILS SENT ANYWHERE ELSE THAN STRINGQUARTET@BLACKSABBATH.COM WILL NOT BE ELIGIBLE FOR THE CONTEST, AND WILL BE DELETED. The contest will run till Monday, October 21st. Please also note if you don't include your address, your submission will be rejected. The reason for this is that when the contest is over, I want to get all the prizes out immediately, and if your address isn't sent, I can't do that. Please be aware that I do not save any of the information at all. It's solely for the content, and once the contest is over, I delete all emails and address records, so there's no worries about me "selling info" or any garbage like that.
Here is some info on the CD for you to check out:
A few weeks back, I received a new Black Sabbath Tribute CD in the mail. This one I hadn't heard of before, it's called "The String Quartet Tribute to Black Sabbath". In their own words, here's some info from the back of the CD:
The raw emotion of the most important heavy metal band of the 20th century is harnessed here on this powerful homage to Black Sabbath. This amazing Czech string quartet has re-created the songs of Black Sabbath with incredible performances on violin, viola, contrabass, & cello. Both haunting and intense, these compelling versions maintain great respect to what Sabbath is all about.
I listened to it back and forth on the way to work in my car, and I have to say, it's quite good. These are all instrumentals, and it's quite easy to pick out the melodies here and follow along with the song in your head (at least that's what I did). They also include one original composition on the CD. Here's a track listing:
Sabbath Bloody Sabbath
Sweet Leaf
Iron Man
Changes
Electric Funeral
Paranoid
Solitude
Supernaut
Into the Void
Sacrament (the original song)
There's some more info available on the home page for the album over at http://www.thetributeto.com/blacksabbathstring – check it out. They have mp3 samples of three of the songs on that appear on the album, so you can give 'em a listen. If you'd like to buy the CD, you can do so either on the website for the album, or via this link from Amazon.com.