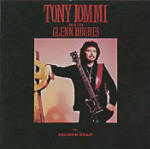 Monday morning here brings some very welcome news, and something that when I found out about it came as a shock, as I was not expecting this to actually happen, tell you the truth. I got word that Tony Iommi intends on releasing what's commonly known as the "Eighth Star bootleg". This material was recorded back in 1996 for what was then to be a Tony Iommi's first official solo album. It was later abandoned for what eventually did become Tony's first official solo album, "Iommi".
The album featured former Deep Purple & Black Sabbath singer Glenn Hughes on vocals and bass, former Sabbath & Ozzy and current Deep Purple keyboardist Don Airey, and former Judas Priest drummer Dave Holland on drums. I've heard the album, and I have to say it shows that Iommi can play more than just Black Sabbath riffs. There's some great bluesy stuff here, some awesome vocals from Glenn Hughes, and some good heavy stuff, too. Here's some facts about the release of the album.
Tony will be going in and mixing the album with the intent of releasing it later this year
No details yet as to a precise release date, other than "later this year"
No details as to the final track listing or track order
No details yet as to what form the release will take (Internet download, a CD, etc)
The sound of the existing bootleg will be crap compared to the final, finished album. :)
No details as to what the actual name of the album will be upon release (8th Star is a bootleg name).
The image shown here will not be the final cover art, as it is a bootleg image.
The reason for the track listing comment is that there's one song on the existing bootleg that Tony isn't even on at all! This is a wonderful development, and over the years I've been wishing that Tony would release this album, as I've personally thought it was a wonderful album, and for it never to see the light of day is a crime. Properly cleaned up, I'm sure this album will be widely accepted by Iomi & Sabbath fans everywhere!
Once I get more details on the release, bet your ass I'll pass them on. :) If you want to read more about the existing 8th Star bootleg, you can visit Alexander Rack's bootleg database page for it here.