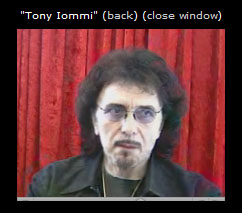 There is a really great new interview with Tony Iommi up on the Rhino website. Rhino as you know are the folks who put out Black Box, the totally awesome new Black Sabbath box set.
In this interview which is a streaming media file from the Rhino website, Tony talks about a lot of things. He talks about a few things that most people have heard before (early days, playing the song Black Sabbath for the first time, etc, etc). However, he does talk about a few subjects you don't hear talked about a lot, and some that haven't gotten attention in awhile. Some of the things I jotted down watching the interview myself were:
The Stonehenge set & Spinal Tap
Other lineups besides Iommi/Butler/Ward/Osbourne
Sabbath's Influence on music
Other guitarists he likes
What equipment he uses
His daughter's band
It's a good long interview – you absolutely should check this out. If for no other reason than to hear Tony Iommi say "Britney Spears". ;) Seriously though it's one of the better interviews I've heard in awhile, if for no other reason than to hear them talk about other times in the band's history.
Speaking of Rhino, if you haven't picked up their Black Box set, you really should. Click here to read my review of Black Box, and if you haven't already done so, you can order your copy from Amazon.com right now.