In going through my email this morning, I ran across one from one of my site visitors, Annette Smith from Victoria, Australia. She had quite a few updates on what's going on with Bob Daisley. Instead of me just translating her email, I'll just post it as is. Check it out.
---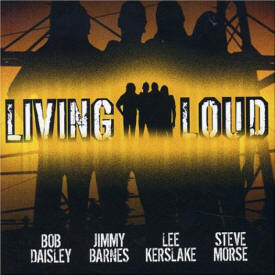 Joe,
I've just been looking through the latest news section on your website and can let you know a bit more info about Bob's projects. (There seem to be plenty at the moment!)
The (now self-titled) Living Loud CD has been released in Australia (and possibly New Zealand). Deep Purple toured here a few weeks ago and the launch coincided with that tour.
Living Loud is Daisley/Kerslake/Barnes/Morse, as in your news item – but the special guest on the cd is Don Airey, who is now playing keyboards for Deep Purple, since Jon Lord left. With Don and Steve Morse in the country, and Jimmy Barnes a bit of a legend out here it was good timing for the launch.
At the Purple concert I was handed a flyer advertising the two Living Loud shows, which were on the same nights as the final Melbourne & Sydney Purple show. (Late gigs – sort of an after-party). Billed as a "World first, exclusive Australian release Living Loud CD available Monday April 26". Both bands also appeared on TV – one week Purple, the next week Living Loud.
www.bobdaisley.com www.livingloud.com.au (listen to track snippets)
liberation music catalogue LIBCD6094.2
I don't know if the cd's available through amazon.com yet, which is your preferred online seller.
I got mine through www.sanity.com.au When they say it's available to ship straight away they really mean it. I think they are able to supply to overseas buyers – check the website. I've bought stuff readily available and stuff on import from them. (Some Brian May cd's that they had to order in from europe took less than 4 weeks, even though they say it may take 45 days). Note – they will charge your credit card as soon as your order is accepted.
In regards to the Blizzard of Ozz / Diary of a Madman "situation" with Ozzy – the sleeve notes (cd liner) show the following :
"In 2002, Daisley's and Kerslake's performances were removed from the original 'Blizzard of Ozz' and 'Diary of a Madman' albums after they sued the Osbournes for non-payment of royalties and 'lack of credit' issues and those original classic versions were lost. Bob Daisley and Lee Kerslake wish to highlight that this album is in no way any kind of retaliation to what the Osbournes did to the originals, as Daisley intended to re-record some of those songs when the time was right. That time is now!"
Hopefully, if you mention this info on your website, you can mention Bob's disclaimer.
My favourite track is the third one – Every Moment A Lifetime (Barnes/Daisley/Kerslake/Morse). It has a really bluesy feel – Gary Moore fans should love it. Which brings us to…
Gary's website lists a June release date for "Power of The Blues" – 2 tracks co-written by Bob Daisley. (I think he played on them all???)
Hope you enjoy the Living Loud CD – I really like it.
Kind Regards,
Nette.
---
The Living Loud CD is actually available through Amazon.com, but it's an expensive import.
Click here
or on the CD cover art shown above to order it from Amazon.com. Amazon's UK store also has it available for sale
here
. If I find more details or another good link for the CD, I'll report back. As was said in the email above, you can listen to sound clips from this album
here
.