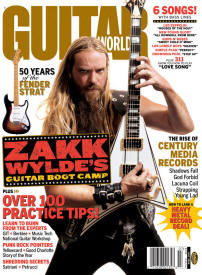 GUITAR WORLD INVITES YOU TO DESIGN YOUR DREAM GUITAR
Contest To Be Judged By Guitar Greats Tony Iommi, Joe Perry And Tom Morello; Fender To Build Winning Design
New York, NY (May 10, 2004) Every guitarist dreams of designing his own guitar. But unless you're blessed with the fame, talent or money of a rock god there isn't an axmaker on earth that would consider custom-crafting your amateur ideas. The July 2004 issue of Guitar World (shown here) wants to make your guitar dreams come true with its first-ever guitar design contest. Wait, it gets better.
Guitar World and premier guitar-makers Fender Musical Instrument Corporation are not only offering the chance to design a guitar, but also to have it judged by three true hard rock icons Black Sabbath's Tony Iommi (#1 on GW's list of the Greatest Metal Guitarists), Aerosmith's Joe Perry, and Rage Against the Machine's Tom Morello.
Relax, you don't even have to be able to draw. Scrawl your design on a cocktail napkin or map it out on graph paper via CAD engineering. One winning design will be built to spec by the Fender Custom Shop.
Some of the entries will appear in Guitar World during the next several months. The winner will be announced in the October 2004 issue, with the winning entry appearing in the magazine in January 2005.
Submit your entry by August 1, 2004 to: Guitar Design Contest, c/o Guitar World, 149 Fifth Avenue, 9th Floor, New York, NY 10010. Entries will not be returned.