From Joe: This event has already happened, but I wanted to post it here because of the pictures, and because of the fact that it's something the mainstream press would never want to cover – a band named "Black Sabbath" doing some good charity work.
Legendary rocker Ozzy Osbourne joined guitarist Tony Iommi in an all-star signing of an Epiphone Tony Iommi Signature G-400 electric guitar. All of the members of Black Sabbath, including Osbourne and Iommi seen in the photos below, signed the Epiphone guitar which will be auctioned at the Huntsman Cancer Institute Golf Classic to be held in Salt Lake City, Utah August 12-13, 2004.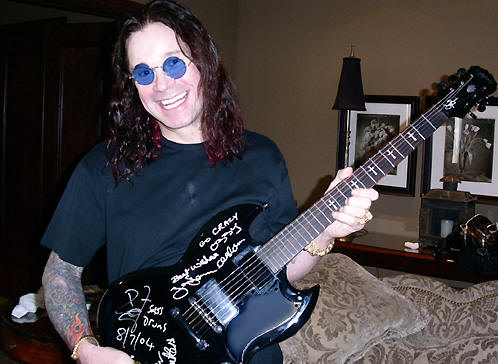 Legendary rocker Ozzy Osbourne with the Epiphone Tony Iommi model guitar.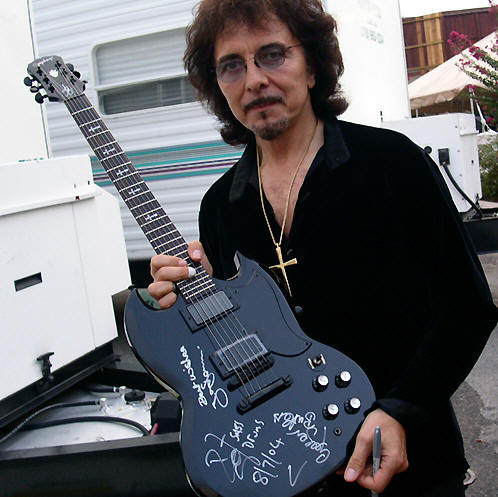 Black Sabbath axeman Tony Iommi with his signature model Epiphone guitar.
All proceeds from the event are used to further Huntsman Cancer Institute's mission of expanding the understanding, treatment and prevention of cancer. Research at the Huntsman Cancer Institute ranges from sub-cellular studies of the way cells communicate with each other to populate studies that track the incidence of certain forms of cancer across large populations. Organized into specific cancer-focused teams, the Institute's physicians and scientists are able to share different perspectives on the causes, treatment and prevention of these diseases. This approach results in a more rapid translation of laboratory discoveries into improved treatments.
For more information on the Huntsman Cancer Institute, visit www.huntsmancancer.org. This news story originally appeared online here.