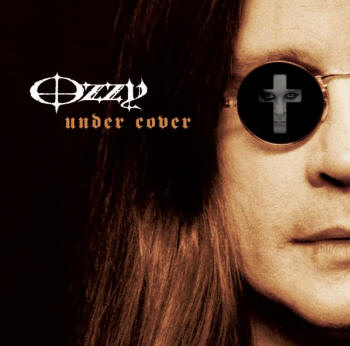 Ozzy Osbourne has a new release out this coming Tuesday (in the US, it's coming out Nov 21 in the UK). It's called "Under Cover", and is essentially Disc 4 of the Prince of Darkness set released on it's own with a few other track changes.
The version on Prince of Darkness has 10 tracks, and the Under Cover one has 13. Only one track is not here from the POD version, that being the duet Changes with his daughter Kelly. The ones that are new to this version are "Go Now", "Rocky Mountain Way", "Sunshine of Your Life", & "Woman".
There are two versions of this being released. One is a standard CD version, and another is a DualDisc edition. Side 2 of the DualDisc has a video for the song "In My Life", a half hour segment where Oz talks to his friends about stories from his life, and some other things including footage of Oz trying to light Bill Ward's beard on fire. A complete list of the DualDisc extras is below in the press release.
Here's the full track listing for Under Cover:
Rocky Mountain Way
In My Life
Mississippi Queen
Go Now
Woman
21st Century Schizoid Man
All the Young Dudes
For What It's Worth
Good Times
Sunshine of Your Love
Fire
Working Class Hero
Sympathy for the Devil
I'll have more to say about this once I actually get a copy, but in the meantime, if you're interested in purchasing a copy, you can use the links here:
Regular CD: [ Amazon.com | Amazon.co.uk ]
DualDisc: [ Amazon.com | Amazon.co.uk ]
Here is the original press release (warts and all, it has a few mistakes):
OZZY OSBOURNE is going UNDER COVER to pay tribute to the songs he covets most on a new DualDisc coming out November 1 on Epic Records. Titled UNDER COVER, the audio side of the 13-track disc features newly recorded versions of OZZY's personal favorites–including "Woman" (John Lennon), "Rocky Mountain Way" (Joe Walsh) and "Go Now" (The Moody Blues)–plus songs he recorded for 2005's gold-certified box set Prince Of Darkness, such as "In My Life" (the Beatles), "21st Century Schizoid Man" (King Crimson) and "For What It's Worth" (Buffalo Springfield).
The DVD side of the UNDER COVER DualDisc contains the video for "In My Life," a stirring collection of archival footage spanning OZZY's career. Other highlights include the half-hour presentation "Dinner With Ozzy and Friends" where OZZY, as only he can, tells some of his favorite stories to guests who include son Jack Osbourne and Motorhead's Lemmy Kilmister. In addition, there are classic moments showing OZZY's repeated attempts to light Black Sabbath drummer Bill Ward's beard on fire and his encounter with a group of nuns at an airport.
35 years into a massively successful music career–with over 90 millions albums sold–the Grammy Award-winning legend told Revolver (3/05), "For many years now, I've thought that it would be great to do some covers, old songs that mean something to me…It's just me having a bit of fun with some songs that are already proven." In his Esquire feature (1/05), OZZY clarified the basics for interpreting other artist's songs, saying "If you're going to do a cover of a song that has a great melody, don't change the melody."
Rolling Stone's David Fricke reacted to the new cover songs that appeared on OZZY's four-CD, 52-song Prince of Darkness box set by noting (3/24/05) "…the greatest shock is the authentic force that Osbourne, who was born into poverty and never finished school, brings to his whispered-goth reading of John Lennon's 'Working Class Hero.' 'If you want to be a hero,' Osbourne sings in a searing whine uncannily like Lennon's, 'well, just follow me.'" Revolver's J.D. Considine raved (5/05), "…[covers of] King Crimson's '21st Century Schizoid Man,' for instance, or Mountain's 'Mississippi Queen' are pure genius."
OZZY recorded the new songs with producer Mark Hudson, a powerhouse band–Mike Bordin (drums), Jerry Cantrell (guitars) and Chris Wyse (bass)–and guest musicians that included Ian Hunter (vocals on "All The Young Dudes"), Leslie West (guitar solo on "Mississippi Queen") and Robert Randolph (pedal steel on "Symphony For The Devil," guitar solo on "21st Century Schizoid Man").