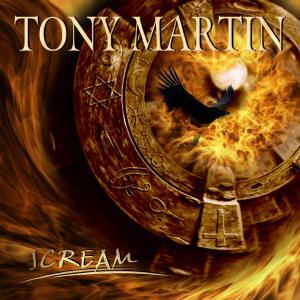 We've got a good update about Tony Martin today over a few subjects. First is his new album, "Scream", which is due out in the US/Canada on Nov 8th, and will be out in the UK on Nov 21st. This has been in the works for a very long time, and you're about to get a taste of Tony's vocals again real soon. It's going to be on MTM Records in most of the world (it will be on Avalon in Japan).
I got my pre-release copy yesterday, and while I"ve only listened to it twice since I got it, I have to say it's really killer stuff, especially if you were a fan of the Headless Cross / Tyr era of Black Sabbath and some of the other projects he's appeared on lately (Cage, Empire, Rondinelli). It's a blast to hear Cozy Powell behind the drum kit again (even if it's only for one song). Tony sounds great, and there's some nice crunchy guitar work on this disc. I'll have a proper review later once I've had a chance to give it a good listen, but you definitely won't want to miss this. I'm also calling on the "If it ain't Ozzy, it ain't Black Sabbath" fans to take a chance on this one, too. Long time (1980-2004) Black Sabbath keyboardist Geoff Nicholls is also on the disc as well. Tony's son Joe handles most of the guitars. I'll have a complete lineup list once I get a production copy with proper credits.
If you want to check it out right now, you can download sound samples from all the songs on the CD over here at melodicrock.com in mp3 format. If you want to pre-order the disc, you can do so with the following links:
I have more information about Scream on the discography page for it on my site.
In other Tony Martin news, he's announced some concert tour dates. They're all in Europe for now, but here's what he has listed:
Nov. 09 – Graz, AUT – Explosiv
Nov. 10 – Wien, AUT – Planet Music
Nov. 11 – Ried, AUT – Kiek
Nov. 12 – Moscow, RUS – private event
Nov. 13 – Moscow, RUS – B2 club
Nov. 15 – Pilzen, CZR – Rockclub
Nov. 16 – Budapest, HUN – A38
Nov. 18 – Bassano del grappa, ITA – Transilvania
Nov. 19 – Firenze, ITA – Ministry
Nov. 20 – Roma, ITA – Stazione Birra
Nov. 23 – Latina, ITA – Transilvania
Nov. 24 – Como, ITA – Black Horse
Nov. 25 – Torino, ITA – Transilvania
If there's any more that are to be released, I'll be sure and cover them here as well. You're going to want to check out Scream when it's released in a couple of weeks, that's for sure. If you manage to catch Tony in concert in one of these gigs, please send in a concert report, I'd love to cover that.