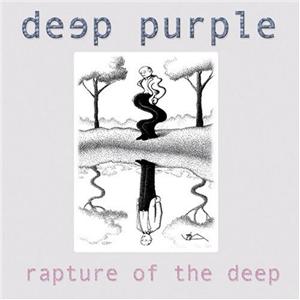 This is a Black Sabbath site, right? What am I doing talking about the 18th studio Deep Purple album? Well, it's a damn good piece of music, and it comes out tomorrow. If you haven't pre-ordered a copy, then good lord you should do so. This is a great album. This now marks the fourth studio Purple album since Ritchie Blackmore left the band for good. Personally I feel it's awfully close to being the best of that group (Purpendicular is the best of the Morse era albums, I think). As a side note, all four of these albums have been released since Black Sabbath last released a studio album in June of 1995.
ALBUM ORDERING INFO: First are some links you can use to order the album.
US: Amazon.com's Rapture of the Deep Page
UK: Amazon.co.uk's Rapture of the Deep Page
UK: Amazon.co.uk's Rapture of the Deep Special Packaging Page
WIN A FREE COPY OF RAPTURE: Second is a giveaway I'm doing. As per my contests in the past, you'll need to answer a few trivia questions about Deep Purple. If you get them all right, you'll be put into a drawing for a copy of Rapture of the Deep. Here are the questions you need to answer:
Which former Black Sabbath members are on Rapture of the Deep?
Which Deep Purple song did Black Sabbath play live in 1983?
What is the most recent project that involved both Ian Gillan & Tony Iommi on the same album? Hint: It's not out yet.
Who briefly played guitar for Deep Purple inbetween Ritchie Blackmore's departure & Steve Morse's arrival?
What is the air speed velocity of an unladened swallow?
OK, that last one is a joke; you don't need to answer it – I figure I'd toss in a Monty Python joke for a British band. :) You need to send your answers for the first four questions and your name and address to rapturedeep@black-sabbath.com. There's two important things here. First the email must go to this address. Second, you have to include your name and address. If you don't do either of these, your submission won't be considered. The contest will run through Monday the 7th of November at noon (my time, which is the Central Time Zone in the US). You don't have to be in the US to be eligible to win.
A few personal notes:
I saw Deep Purple back in 1994 when Steve Morse had just joined the band (the gig I saw with him was his third ever). In that review, I wrote this.. "Very good concert by a band who surprised me. Well worth the long trip to see them, and I hope they continue." Boy have they continued, and they're like a good wine, they're getting better with age. Their last few albums havent' done well sales wise in the US, which is a damn crime.
Purpendicular was spectacular, one of the best of Purple's entire catalogue.
Abandon I didn't care for, but some did
Bananas was a wonderful album, but I think suffered from the perception from the goofy title.
Rapture of the Deep is very much a traditional sounding Deep Purple album, and when I started writing this review, I planned on doing a track by track review of it, which is something I generally do. The problem I have is that the album is so universally solid, I'd end up saying most the same thing for every track. This is a great album from start to finish. Even the tracks that others feel are weak in some other reviews I've read I like. It's been said Ian Gillan isn't the screamer he used to be, and that's for sure. He can't wail like he could when he was in his 20's, but his "modern voice" fits the material perfectly. There's rockers, ballads, and everything inbetween. A great piece of modern music from one of the bands that defined hard rock. The lyrics in the song "MTV" are fairly amusing, and when I saw Purple turn up on Eddie Trunk's show on VH1 this weekend, that's all I could think of. :)
I'll probably have an updated review later on, but for now all I can tell you is that you should buy this album. Use the ordering links above.
If this isn't enough about Rapture of the Deep, you should check out The Highway Star's Rapture of the Deep page. It contains sevral reviews, several band promo pictures, and is a great page about the album. In fact, if you're a fan of Purple, you should spend some time poking around their site. The Highway Star has existed longer than I've been running this Black Sabbath site, and their site was my original inspiration for doing this one. Lots of purply goodness there.