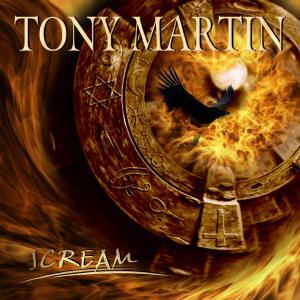 Tony Martin, who was the vocalist on six Black Sabbath albums (5 studio, 1 live) has a new solo album out. It's called "Scream", and if you haven't already gotten a copy then you should. It's out in Europe now, and is due to be out in the US right about now as well. It's been awhile since Tony has had his own solo album – the last was in 1992. He's been on numerous projects since his tenure in Sabbath came to an end in 1996. He's been involved in M3 Classic Whitesnake, Empire, Rondinelli, Dario Mollo's Cage project, & Aldo Giuntini's project. He's actually been the most prolific, except for mabye Ronnie James Dio.
Anyway, Scream is out, and it's fabulous! When I first wrote about it a couple of weeks ago, I hadn't totally warmed to the album, but now I have. This thing is pretty solid from front to back. It's an awful lot heavier than his previous solo album attempt was. There's lots of brilliance on the album. Some of the highlights are "Raising Hell" (with the late Cozy Powell on drums), "Bitter Sweet" (with GZR guitarist Pedro Howse), "I'm Gonna Live Forever", "Surely Love is Dead", and "Field of Lies". But that's not all. To me, the best track on the album is the title track, "Scream". It's just powerful, great riffs, and it has a killer violin solo in the middle. Yeah – violin solo. Sounds odd, but man does it work bigtime. Additionally, Bitter Sweet really sounds like a Black Sabbath track. There's only one track I don't much care for, that being "Wherever You Go", it's the slow/soft track of the group, and after the heaviness of the rest of the album, it sort of feels out of place to me. But that's it. The rest of the album is damn great.
If you were a fan of Tony's time in Black Sabbath, or even if you weren't, you owe it to your ears to check out this album. As I said earlier, it's out in the UK, and US release date info says it came out yesterday (Nov 29th), but as of the moment, I can't find an online retailer that has it in stock. Be that as it may, here's some ordering links for you.
When I find the time, I'll do a track by track review of the album, but understand that doesn't mean I'm not enthusiastic about it. I just don't have the time at the moment for a detailed track by track review. :) There has been another review posted of the album over at rockdetector. Check that out here.
Additionally, someone from my forums saw Tony Martin's live band in Moscow a couple of weeks ago and posted a review of the concert, as well as having sent in 21 pictures he took at the show. Make sure and check that out, especially the pictures, as they're really good quality. I also have additional information about the album on my own discography page for Scream, plus an interview I did with Tony back in 2002 for this site here. All good. All worth your time to check out.
I'm also here with this update to give away two free copies of Scream that I've gotten from the publisher in Germany. I'll be doing one of my usual giveaways here, but for those who don't know the rules, here goes.
As per my contests in the past, you'll need to answer a few trivia questions about Tony Martin. If you get them all right, you'll be put into a drawing for a copy of Scream. Here are the questions you need to answer:
Which Black Sabbath song did Tony cover on his first solo album?
What other former Black Sabbath members are on Tony's new album, Scream?
What band was Tony Martin most known for when he was chosen as Sabbath's vocalist in 1987?
What other bands was Tony in with Cozy Powell besides Sabbath?
You need to send your answers for the first four questions and your name and address to scream@black-sabbath.com. There's two important things here. First the email must go to this address. Second, you have to include your name and address. If you don't do both of these, your submission won't be considered. The contest will run through Wednesday the 7th of December at noon (my time, which is the Central Time Zone in the US). You don't have to be in the US to be eligible to win.
But don't wait on the giveaway. Go buy a copy. If you do win, you can give a second copy to a friend. This album needs all the support it can get.