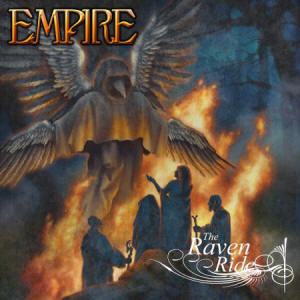 Those of you who follow Tony Martin's career will be interested in this one. As you know, Tony has been one of the more active Sabbath members in terms of recording and releasing. Outside of his own second solo album Scream which was released last year, he's kept going elsewhere. His latest is the new Empire album, entitled "The Raven Ride". It's due out in the Spring of 2006, and while I don't have a lot of details on it yet, I do have some stuff to bring you on it. One is this picture of the Empire band from 2006. The other Black Sabbath connection besides Tony Martin is Neil Murray who plays bass. The drummer is Andre Hilgers who played in Axxis & Silent Force.
The Empire project is of course headed by Rolf Munkees who plays guitar as well as keyboards on the new project. Here's a few websites for you to check out regarding Empire:
Empire's last album was entitled Trading Souls (in 2003), and also featured Martin & Murray on it. It also had Don Airey as well (Sabbath, Purple). You can still buy Trading Souls on Amazon.com. If you liked the Martin era of Black Sabbath, you should check it out. Even if you didn't, you should still check it out.
Below some early pre-release press on 'The Raven Ride'. Once I get more information, I'll be sure to pass it along. But for now, make sure and check out the free mp3 sample download from the new album linked to in the press text.
Empire – new album The Raven Ride!
Guitarist Rolf Munkes is one of the busiest guys in the German metal scene right now. After two very much high-profiled releases with his band Empire, he now with The Raven Ride delivers his ultimate masterpiece which also features Tony Martin and Neil Murray. Enjoy a preview of the title track here (1:31 min).
Vocals Tony Martin (ex-Black Sabbath); Guitars & Keyboards Rolf Munkes (Majesty); Bass Neil Murray (ex-Whitesnake, Black Sabbath u.a.); Drums Andre Hilgers (Silent Force, Axxis). To be released in May.