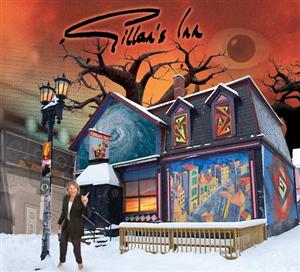 Earlier today I posted the winners and answers for the Black Sabbath / Dio CD giveaway. This afternoon, I'm here to continue the trend with the new CD from Ian Gillan, "Gillan's Inn". In addition to the giveaway, I wanted to tell you a few things about it, too. But before we get to the contest, here's some order links for you (which I urge you to do):
I have to say this is one of the more enjoyable releases in awhile. I don't know how into Ian's solo material you have been, but if you've never checked it out before (like me), then this is a good place to start. Read what I wrote about the disc in my review of it for Amazon.com:
Ian Gillan is someone I've known for a long time having sung on numerous Deep Purple albums, as well as his connection with Black Sabbath. However, I've never gotten any of his solo or "Gillan" albums. No particular reason, it's not like I had a dislike for them, I just never got any.
Last year (2005), I got word that Ian was putting out a new solo album entitled "Gillan's Inn". What's intersting about this is that it was created to honor his 40th anniversary as a recording artist, so the songs on here aren't just all new material. There's covers from his past. There's a few Deep Purple tracks on here, but what's most interesting to me as a Sabbath fan is the inclusion of the track "Trashed". This is from the Born Again album that Ian recorded with Black Sabbath – an album that gets largely ignored now. Tony Iommi came in and played guitar on this track, so it was nice to see it revisited.
The rest of the album is pretty cool too. Since it's Ian it sorta sounds like Purple (what with the same voice and all), but the music isn't as "Purply", despite the appearances of the rest of Purple's band members in places. No particular track stands out, it's pretty consistant to me.
This is one of those DualDiscs – which I've railed on in the past. However, this one is by far the best I've ever gotten. First off, all the previous DualDiscs didn't play in the CD players in my home theatre system, or in my truck, so that's a strike against them. This one did. I don't know why – you would THINK they would all be made the same way, but obviously not. Secondly, the content on the back of this disc is extremely good. Normally it's a couple of music video,s a 5.1 mix of the album, mabe a picture or two, and that's it. This one has all of that, and then it goes into discographies, lyrics, commentaries by Ian on the tracks, etc, etc, etc. This is by far the most superior DualDisc additional materials I've ever seen.
If you're a fan of Deep Purple or Black Sabbath, then you should definitely check this out. Very highly recommended.
— [ End of Review ] —–
Something I forgot to put in my review in the commentaries section, Ian goes into the story about how he joined up with Black Sabbath after meeting Tony & Geezer at a bar. I cannot stress strongly enough how well put together the DualDisc extras are on this set – it's by far the best set of extras like this I have ever seen – by anyone. Here's the official list of the DualDisc extras from the Gillan's Inn website:
Complete album in 5.1 surround sound and stereo.
Smoke on the Water choose your own mix with your choice of Joe Satriani, Steve Morse, Jeff Healey and more.
Making of Gillan's Inn video featuring in-the-studio footage of Ian Gillan, Jon Lord, Ian Paice, Roger Glover, Joe Satriani, Ronnie James Dio, Michael Lee, and Jeff Healey.
Bootleg basement-amateur, audience shot footage lifted from unauthorized bootleg DVD's. Tracks include "Speed King" and "When A Blind Man Cries" by Deep Purple (with Joe Satriani on guitar) from Flanders Expo, Gent, Belgium on June 18, 1994.
Discography.
Hand written song lyrics by Ian Gillan.
Track commentary by Ian Gillan.
Liner notes written by Jeff Miers, Music Critic for The Buffalo News.
Witness Protection Program – a selection of never before seen photo's featuring the bonus track "Can I get a Witness".
Special DVD Launcher ROM features that enable fans to access another version of "Smoke On The Water" featuring Steve Morris.
Pre-ripped AAC and WMA files for the unrestricted uploading of personal surround mixes to portable devices from computer ROM drives.
And as an added bonus in this giveaway, the CD insert has been autographed by Ian, too – so this isn't my usual contest, you'll get Ian's autograph with your copy, too. A special thanks goes out to Nate over at Immergent who has helped out by supplying me with the copies for the contest.
As per my contests in the past, you'll need to answer a few trivia questions about Ian. If you get them all right, you'll be put into a drawing for the CD. Here are the questions you need to answer:
What two Black Sabbath albums does Ian appear on?
What member of Iron Maiden used to be in Ian's band?
How many studio albums has Ian recorded with Deep Purple?
What two non Black Sabbath songs did Sabbath play on the Born Again tour?
You need to send your answers for the questions and your name and address to either gillansinn@black-sabbath.com (make sure and remove the NOSPAM when sending in). There's a few important things here. First the email must go to ONLY this address. Second, you have to include your name and address. If you don't do these things, your submission won't be considered. These are simple requests – I'm quite frankly stunned at the number of people who ignore these requests and send anyway. If you do ignore thse simple requests, your submission goes in the bin. I have enough going on in my life w/o sorting through people's incorrectly submitted emails. The contest will run through Wednesday the 10th of May at noon (my time, which is the Central Time Zone in the US). You don't have to be in the US to be eligible to win.
Thanks again to Nate, and if you don't win the contest, I urge you to buy a copy. Albums like this need all the attention they can get in a world dominated by things like Britney Spears, boy bands, and Christina Aguilera. Ugh. Shame a great album like this won't get the sales it deserves, so help out and buy a copy.
Finally, there's a dedicated website available for Gillan's Inn over at (shocker) http://www.gillansinn.com/. You can listen to song samples, view video clips, basically get a good feel for the album. Whether you buy it or not (and hopefully you do), check out the website. It's great stuff.
Video Trailer for Gillan's Inn
Ecard for Gillan's Inn