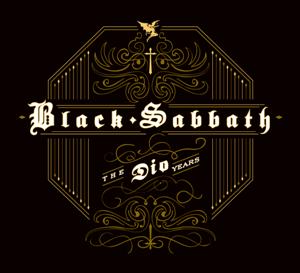 It's giveaway time again! Unless you've been living under a rock on another planet, you know that the new Dio Years compilation is out now, and that's what I'm here to give away. I've got five copies of the Dio Years here that are being given away. I'm going to have a trivia contest like I've done with giveaways in the past. First off, I wanted to thank Janda over at Rhino for sending over the copies to be given away. If you don't win these contests, please go support the label and the band by buying copies. In fact, before we get to the contest, some order links for you:
As per my contests in the past, you'll need to answer a few trivia questions about Sabbath & Dio. If you get them all right, you'll be put into a drawing for the CD. Here are the questions you need to answer:
The Dio Years is the second (official) Black Sabbath compilation CD that the track TV Crimes appeared on. What was the name of the other one?
Two Dio-era Black Sabbath songs have appeared on movie soundtracks. Name the songs and the movies they appeared in.
During the early days of the Dehumanizer sessions, Ronnie was in Black Sabbath with drummer Cozy Powell. What other band were the two in together?
If you count the forthcoming (unnamed) live album from the Heaven & Hell tour as a "Black Sabbath" album, the Dio era of Sabbath will have released seven official albums (studio, live, or compilation) by the close of 2007. Name them all.
You need to send your answers for the questions and your name and address to thedioyears@black-sabbath.com. There's a few important things here. First the email must go to this address. Second, you have to include your name and address. If you don't do these things, your submission won't be considered. These are simple requests – I'm quite frankly stunned at the number of people who ignore these requests and send anyway. If you do that, your submission goes in the bin. The contest will run through Wednesday the 11th of April at noon (my time, which is the Central Time Zone in the US). You don't have to be in the US to be eligible to win. But don't flood the inbox with requests – when I go through the submissions, any duplicates will be deleted.