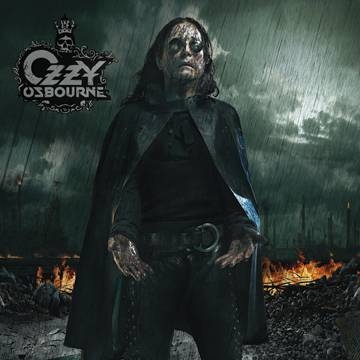 Tomorrow marks the release of the first new studio album of material from Ozzy Osbourne in almost six years. The new album is called "Black Rain", and will be released worldwide tomorrow. I've had a promo copy for a little while now, and I have to say I've very much enjoyed the disc. I'm not ready to write a full review, but the release of a complete new studio album is something worth taking time to talk about.
I've seen the single take some hits online, particularly over on Eddie Trunk's XM radio show – I listened to that a bit last week, and in it, he (and several callers) were saying that they didn't like it, saying things like "it doesn't do anything for them", but I don't know if I agree with that. While "..don't wanna stop" might not rank up there with the all time greatest of his solo tracks, the track makes me want to stomp my feet, and I enjoy it, so that's ultimately what matters to me. The single does sound a lot more commercial than the rest of the album does. Back in the 80's Ozzy gave an interview which I've talked about before. In it, he says "The only thing that should matter with a song is if it makes you want to get up and stomp your feet", and I think that a lot when I'm listening. I enjoy it, want to bang my head and all that, so yeah. It's good. The rest of the album has a heavier feel than his last album (which I really enjoyed when most people did not). Outside of the single, my favorite tracks right now are "Civilize the Universe", and "Trap Door", which is probably my favorite on the album. There's a slow ballady song which kind of reminds me of "So Tired" from 1983 in that it's got a strong piano feel to it. There's some good riffs, and I have to say it's a "good" album. Although my gut feeling tells me it might get slagged off the same way that Down to Earth did. We shall see.
Speaking of keyboards, I was told that Zakk Wylde plays all the keyboards on the album, but Adam Wakeman is handling keyboards for Ozzy's live shows.
Anyway, as is the custom these days, there's a bunch of extra tracks, and something that will probably irritate a lot of fans, the concept of "exclusive" bonus tracks has reared it's head again. The basic album contains 10 songs. Those 10 are:
Not Going Away
I Don't Wanna Stop
Black Rain
Lay Your World on Me
The Almighty Dollar
11 Silver
Civilize the Universe
Here For You
Countdown's Begun
Trap Door
The first of the bonus tracks is Nightmare, which will be on the Japanese CD, and will also be a bonus track if you buy the album through the iTunes music store.
The second is called I Can't Save You, which will also be on the Japanese CD, and will be a digital exclusive to MSN music in Europe.
The final one is one called Love to Hate, and is an iTunes exclusive, but is ONLY available as a pre-order. Which means that after tonight when the album becomes a "released" album, you won't be able to get that – it's iTunes pre-order only. So if you want Love to Hate, you will need to order Black Rain through iTunes immediately (as in Monday night the 21st of May).
I know how Internet reactions work. Usually in comments sections of music news sites whose posters are notorious for knee-jerk no thought reactions. "What? Three bonus tracks, two of which I'm unlikely to ever be able to get? – THIS ALBUM SUCKS". I hope people don't get into that. It's Irritating, yes – but the album is good. The exclusive track issue shouldn't be something that people use as an attack against the album, because it's an enjoyable album for sure.
One other thing is about the cover art. I've gotten a few emails asking what the deal with the "grey" image is. The image shown above (with Ozzy on it) is apparently only for the European market. The "grey image" (shown below) is what the actual cover art is for the US release only. Why? What's with that extremely boring cover art? That doesn't make much sense to me. The European art is well.. It's art. The grey cover looks like something I could put together, and I can't draw worth a darn. That's a bit disappointing.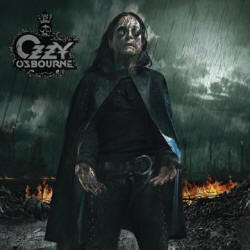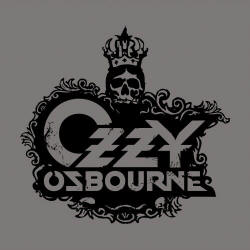 Still, the album behind it is pretty strong, so check it out. Here's a few ordering links should you want to order it.
There is a "limited edition" version of Black Rain that comes with a "ticket code" which will allow you a "first chance" at tickets for this summer's Ozzfest. How limited this version is I don't know, but if you're interested in that, I have an ordering link for that version, too.
Go buy it. It's a good album, if it has a weird cover art choice for the US.