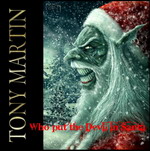 The Dark seems to stretch out forever
And the cold soon gets to your bones
You'd think he'd get tired of materialistic junk
He has to sneak into peoples homes.
While the people of the war torn desert
Get nothing but wishes at best
It seems Saint Nicholas only gets time to take
Riches and dreams to the west

So start the lyrics to a track called "Who Put the Devil in Santa?" It's a Christmas track recorded by Tony Martin. It's quite an odd piece, it's an unplugged Christmas song by the former lead vocalist of Black Sabbath. That alone is an odd sentence to type in. Anyway, I'll let you read what Tony wrote about it himself.
Y'know,….. I love Christmas. Which is a kind of strange thing concidering i dont believe there's a Christ. I get a lot out of it as a celebration… and as a message of hope and peace… which is ALSO wierd cause i just wrote a Christmas song that says NONE of it works!!!! Man!!! sometimes i worry about my head!!!!! Its ALSO a worry that i wrote a damn Christmas song!!!!!!
That's just a bit of what he wrote. If you head over to his blog entry about this track, you can read a few more tracks, and also read the lyrics. Tony has told me that everything on the song is him. All the instruments and vocals. With one exception, the kids background vocals are his youngest daughter. But the rest is all Tony Martin.
If you go to Tony's Myspace page, you can listen to the track via the streaming media player there.
UPDATE: When Myspace launched a new version, all links to old content were apparently broken.  I've embedded the song below from Youtube.  Let me know if it doesn't work.  Tkx.