Last night, I got an email from Tony Martin with some remarks about the cancellation of the Headless Cross Tour. Before you read Tony's words, I suggest you re-read the press release announcing the cancellation.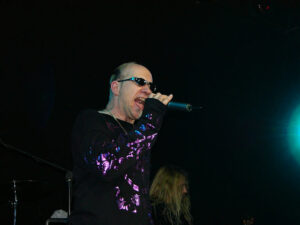 Tony's email:
Hi Joe, yeah sadly, the US tour is off. I beleive the wording they want us to use is irreconsileable differences.  And dont that sound like the biggest load of bollocks!!! ……But it really was irreconsileable!
I can tell you this though… it wasnt differences between the band!!! We spent the last 2 days in rehearsals with the songs and it sounds awesome!!!! Rolf has captured Iommi's spirit wonderfully. Danny is drumming like a demon and Jamie really thunders on bass!! Cool guys, I love ya, you really are the best!!!
Black Moon is just a killer track, Born to Lose and Lost forever really rock!!! Put those in with Lawmaker and Headless Cross and Man!!!! It flys!!!!
All the guys in the band wanna just convey our misery and dissapointment that we werent able to get there and play it to ya…. We are still packed and ready to rock but we just couldn't get the rules of engagement agreed!! And beleive me we tried to the last minute!!!!
Well, it aint over yet, there are others knocking on the door wanting to know if they can help now so we'll be back..
Thanks to all the families for hanging in there and supporting us, you matter to us more than anything.
And you fans have been sending great words…. thanks guys… and girls!!! Get ya tickets refunded, re-group, and live to rock again, We know you want us there and we wanna come so…
Dont worry…. we havent given up!!!!! I refuse to unpack untill i'm in the States!!!
Tony Martin
UPDATE: Tony's bassist, Jamie Mallender also has a comment on the cancellation. Taken from his website, Jamie had this to say:
Jamie is deeply disappointed and would like to add the following statement, "It was a very sad moment when we had to make the decision not to fly to the USA. I extend my sincerest apologies to the fans who have already made plans to attend the gigs and have purchased tickets. Judging by the volume of e-mails I have received over the past couple of months, there was a lot of interest in this tour and that just saddens me more deeply. I have never toured the USA and I can't tell you how excited I was about going there. Lots of people are trying to get a statement out of me about the tour cancelation, but I really don't feel like discussing it right now. This has hit me very hard, and has left my family in financial difficulty. I have 2 children to provide for, so I have to pick myself up and find some work to try to replace the lost earnings. I gave up all my other work to free me up to do this tour and many months of hard work went into putting an awesome show together. In rehearsals this week I have to say that I have never heard a tighter, more powerful sounding band. Tony's voice was in unbelievably good shape and it is a crying shame that America and Canada will not get chance to experience this now.
The other bad news is that I will not be able to go Brazil in September to play the shows with Tony, Danny and Geoff, as cancellation of the US dates means it is no longer financialy viable to take me there. This situation I have to say, is in no way the bands or the organisers of the Brazil dates fault. It is just a knock on effect from losing the USA tour."