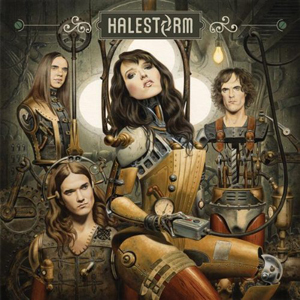 The next in our video series from the Atlantic City gig is tonight, on the opener, Halestorm.
For most of the US tour that just concluded, the opening band was Coheed & Cambria. Except for the final date. The last date (August 29th) in Atlantic City, the opener was a band called Halestorm. To be perfectly honest, I had never heard of them before. However, since they were opening for the Sabs, I thought I'd check 'em out. I was rather surprised at what I heard. Their story is quite interesting in that the band was formed about 10 years ago (there's more on Wikipedia). The lead singer is (in 2009) just 23 years old. You do the math.
Anyway, the lead singer was cool enough to spend some time with Damian, who was there covering Heaven & Hell, and we also got some good performance video to go with the interview. You can see that video below.
They also put out a new album this past April, which has a pretty good song called "I Get Off" (which according to iTunes was the most purchased song off the album). Anyway, check out the interview below, and if you're interested in buying the album, you can click on the cover art above, or listen to some song samples below. Thanks to Lzzy for the time!