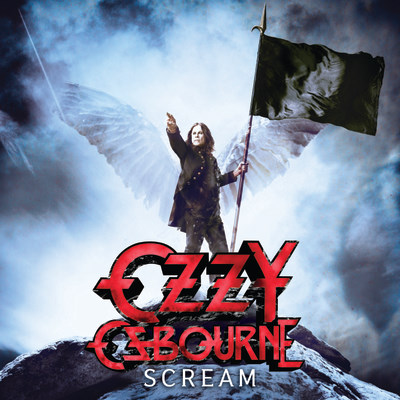 Coming next month is Ozzy's 10th studio album, entitled "Scream". Fortunately renamed from the awful working title it had (Soul Sucka), this album is the first with a new guitarist in over 20 years. As you may recall a few years back, Ozzy toured with a guy by the name of Joe Holmes, and tried recording with Steve Vai, but neither was released. It's been Zakk Wylde since around 1988, and now it's a guy by the name of Gus G (a Greek guitarist, whose real name is Kostas Karamitroudis).
Anyways, the album comes out in the US on June 22nd (and in Europe on June 14th, according to Amazon's UK site). The track listing is below, and as with the last studio album isn't without some controversy. Here's the track listing:
Let it Die
Let Me Hear You Scream
Soul Sucker
Life Won't Wait
Diggin Me Down
Crucify
Fearless
Time
I Want it More
Latimer's Mercy
I Love You All
That's the standard disc track listing. However, it doesn't end there. There are two additional tracks that won't be as widely distributed. They are:
One More Time – This track will only be available if you pre-order the album through iTunes. Once the album comes out, that track goes away. This happened on Ozzy's last album, too. Black Rain had an iTunes pre-order track called "Love to Hate".
Jump the Moon – This track will apparently only be on the Japanese version of the album, and nowhere else. Now every time I bring up Japanese CD's I get a fresh round of emails on this, so I'll try and answer the question first. Why does that happen? Well, it's apparently way more expensive for Japanese consumers to buy their own native product than import it from elsewhere. To avoid that, the Japanese record labels have struck deals for ages for bonus material to appear on the Japanese only versions to make them more palatable to local customers. That's why.
One other thing about these two tracks. They probably will be available later in the year. If Ozzy/Sharon follow the pattern they had with Black Rain, they'll show up later. About six months after Black Rain was released, there was a two disc "Tour Edition" come out – and on Disc 2 were all the pre-order and Japanese tracks. Now I have no idea if this will happen with Scream too, but I can't rule it out.
I'm hoping to be able to do my usual giveaway for the album, but my contact at Sony Records just quit, so I'm hopeful I'll get hooked up again with someone new who will take care of me (us). Whether that happens or not, here are the pre-order links you can use.
Buying the album from either Amazon.com or Amazon UK give me a small (very small) cut of the sale, so I'd appreciate it if you could order through there. It's particularly important to me now as I'm still unemployed from losing my job last year. Sigh.
Oh yeah, almost forgot.. You can hear a full song streaming version of the first single, "Let Me Hear You Scream" by clicking play below.