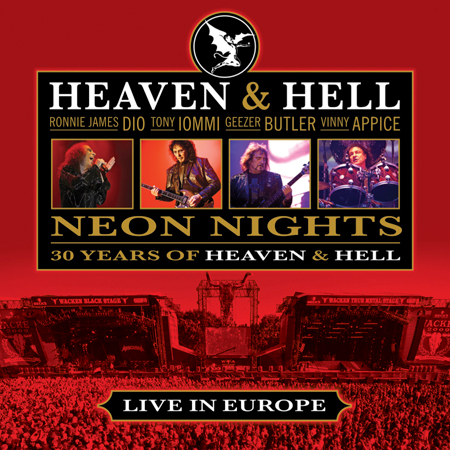 In this day of press releases, comes a release that's more "modern" and isn't a re-release of something. It's a live CD & DVD from Heaven & Hell, and is the last professionally recorded appearance of Ronnie James Dio. Oh, we'll see other re-releases of things, but in terms of his life and the final tour he appeared on, this was the last professionally released thing Ronnie did. It wasn't his last performance, though. His final performance was Aug 29, 2009, of which Damien & myself released footage recorded back in June.
Anyway, this gig was recorded in Wacken, Germany on July 30, 2009, and will be a great testament to the power of Ronnie, who was by all accounts suffering from stomach pain during this tour. Factor that in when you listen to what he delivered. It's amazing. Anyway, the track listing for the CD and DVD are similar, and is:
E5150 (DVD only)
Mob Rules
Children of the Sea
I
Bible Black
Time Machine
Fear
Falling Off the Edge of the World
Follow the Tears
Die Young
Heaven & Hell
Country Girl (DVD only)
Neon Knights
The DVD contain some special bonus features: 30th Anniversary Interviews: Interviews with all four band members reflecting on 30 years from the release of Black Sabbath's "Heaven And Hell" album. Ronnie James Dio Tributes: Newly recorded personal tributes from Tony Iommi, Vinnie Appice and Geezer Butler in memory of their friend and colleague.
NOTE about the DVD: This is a DVD only release – there is no Blu-Ray HiDef release planned. Also, the DVD cover art I was sent by the label appears to be slightly different than what I've seen online elsewhere. The difference is that the "Live in Europe" version is for the US/North America, and "Live at Wacken" is for Europe.
The release date for both of these is Nov 16, 2010, and both can be pre-ordered today with the links on this page.