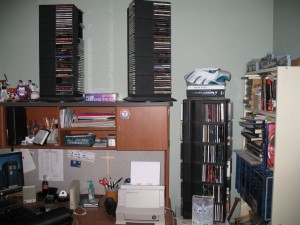 Early on in this site's life, I was called a "data crazed fanatic completist" by someone reviewing my site. That's one of the more inventive things I've been called, so that phrase has always appeared on the site since I first heard it. It's part of the reason why I was driven to make sure the timeline page was so complete and cover everything. It's that drive that has kept the site going all these years, and also extends over into other parts of my life.
I've been a CD collector for longer than I've been doing this site. Got my first CD in 1984 (Bruce Springsteen's Born in the USA). I actually didn't get my first CD player until a Christmas present in 1987. The first CD I bought after getting a player for Christmas was Black Sabbath's "Eternal Idol" album. Since then, my CD collection has grown rather a lot. Over the years, I've had a few purges, where I sell them off, but I still have a pretty sizable collection. If I never purged, I'd probably have double what I have now.
Some years ago I made this series of pages, where I catalogued my CD collection. An old friend of mine (Hi Baskinator) suggested that. It was cool, but a pain, since it was all manually created (again, hello Frontpage!). I upped the ante a bit later on and made it a blog in Movable Type. That worked well, the automation was nice, but it was still lacking the level of detail I was wanting to put in there.
So I started looking around for software that could do this. I happened upon an ad banner for the Collectorz.com music catalog software. They actually have several pieces of software, ones for music, movies, books, videogames.. But in this case I was interested in music. So I grabbed the demo to check out. I was quite pleased with the stuff. I immediately purchased it, and set upon putting my CD collection in there.
This is one of those pieces of software that's brilliant and shallow at the same time. What I mean by that is that you can go simple, and just catalog your CD's, and that's it. But the depth of information available for entry is just staggering. If you want to be that deep, you can. It's actually beyond my level of "data anality" <g>, but obviously someone will go that far, because it's in there. Here's what I mean.  Look at this screen capture of the entry for the recent Deluxe Edition version of the Heaven & Hell album from my collection, and then I'm gonna delve into some of the features of this software…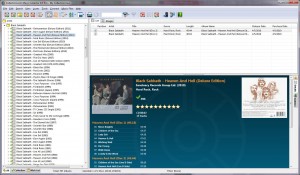 As you can see, pretty basic catalogue information.  Album, cover art, track listing.  But that's about the end of "shallow".    Take a look at the first page of album detail for this.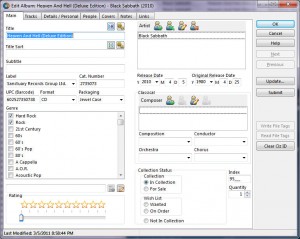 Just on this page, you can see a level of detail that goes way beyond what I've run into in other cataloging software.  Just about every list can be customized with your own data.  The software can handle the concept of Wish Lists – stuff you want but don't have.  It also has a "Not in Collection" option, which I use for things I sold and no longer have.  That way you can have a record of what you got rid of.  Wish I had that feature years ago.  You can get down to individual track listings with customization.  Each track can have its' own data – That's especially useful if you're talking about a compilation and it's all different artists.  There's lyrics, you can link to audio files and play them from the program.    There's also a lot of personal information you can put in here too.  Check out this screen.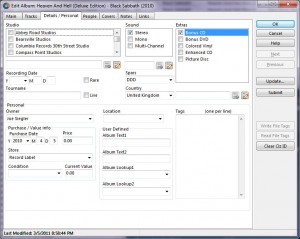 This all reminds me, this program is not just for Compact Discs – this program catalogs mp3/m4a/whatever (just not iTunes old DRM files).  Which is cool in this day when more purchases are digital, and not physical media.    I still prefer physical media myself.
Which brings up another thing.  The way you get data into the program.  You can either manually enter it (ugh), or use the databases out there.  You can scan a barcode (if you have a scanner that can do that), or you can enter the UPC code.  The folks who run this software maintain a pretty good back end database of CD data to use when populating entries.  Goes way beyond simple Gracenote track listings.  However, the way I found that works best is to physically put the CD in the drive, and it will scan it, grab the CDID#, and match from THAT.  That way you can get your precise version (if they have it ).  This is useful when there's something that has been pressed on CD a ton of times, and you want YOUR version, not that one from 10 years previous.   I prefer that method of data entry, although I've used 'em all.
Once you get your data in there, you can do some cool reporting, provided you bothered to populate your entries with the right info.  For example,  it should be pretty obvious who I have the most CD's from by band name.  Look at this chart.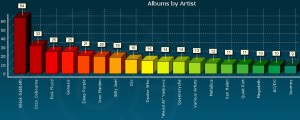 It shows you in a bar chart (or a pie chart if you want) who the most purchased artists are.  But you can sort any data field that way.  Going down to recording studio, release year, composer, genre, conductor, record label..  You name it, it can be reported on.  But again, if you don't bother to fill out the data, you're gonna get some strange reports.  Look at this pie chart.   Shows you which is the most purchased CD for me by "record label".  Other is winning that one by a wide margin.  :)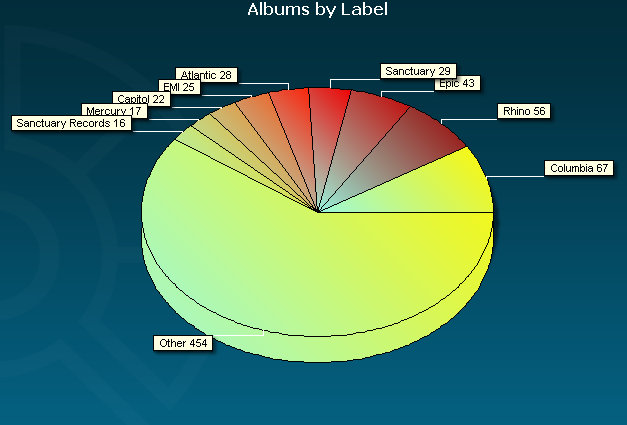 The depth of information possible in this software is staggering.   If you want to read more about the features and the data and all that, head over to the CLZ Music site, where you can read a lot more.
But that's just half of it.  Once you have them all in there, what do you do with it?   In this day and age, you share it!  Nobody keeps anything to themselves anymore, so the CLZ guys came up with an online place to share your collection.  It's called "Collectorz Connect".  Basically it's a web interface for their catalog, showing what you have.  There's a sync button, it will upload changes, and then you can show it to the world.    The online collection doesn't use the staggering level of detail in the local database.  It is less detailed.  Here, take a look at the entry for the Heaven & Hell Deluxe Edition in my collection.  You'll see it has the basic information, and not a whole lot else.  I have some sort of comment for almost every CD/album in my collection, and those personalized notes are here.  But for the most part the online connect site uses their database.  It makes sense, you don't need every bloody user uploading their own individual version of Dark Side of the Moon, eh?  :)   It's definitely a cool way to share your database with others.  But it's an option.  You don't have to use that.   Also, if you want, go and view my entire collection.  Laugh at some of the entries.  Go ahead.  I don't mind.  :)
These folks make similar cataloging software for other things, too.  Movies, Books, Comic Books, Videogames, mp3s, & a photo collector.   I bought and use the music & movies ones.   The movies one is mostly a DVD collection, but you can use it for things like digital video, too.  If you want to see my DVD collection, head on over here.  Remember – I have a six year old daughter.  That explains some of the entries.  :)
I can't say how much fun this is for me.  I've entered all my CD's & DVD's/BluRays into this system, and I like the organization of it.  It speaks to my need to keep data in order.  It might seem weird to some people to ENJOY this kind of data structure.  But I know I do.  Even if you don't want to fill out every last data field (and good Lord, there's a ton), it still helps keeps things together.  They also have iPhone & iPad apps to help you access your collection on the go.  They have scanner apps, check it all out at their site.
I really love this software, and when I was putting the site together, I thought about how I could run some promotions.  The contest giveaways are a usual item here, but I wanted to do something with this software, mostly because I'm personally a fan of it.  Not like some places that are paid to push things.  I really honestly use this stuff, and paid for it out of my own pocket.  So I contacted the folks at CLZ and told them what I had in mind.  Said I'd write a review on the software, and they were quite gracious to extend an offer to you, the site visitor here.  Through February 1st, 2012, if you order CLZ Music through them, you can get $10 off with the coupon code CLZPARANOID.  Just order the software, and when you check out, use the coupon code for your discount.   You can go grab a free trial version now to check out – click the banner image below.  But if you decide to buy, do so by Feb 1st, and you'll get $10 off your purchase using that special coupon code.
Thanks a ton to Sytske & Alwin for graciously allowing my site visitors a discount.  Hope I send you a few customers!  You can read more about the people behind the software on this page.

Admin Note: One of the things I intend on doing with this new version of the software, is write more music articles on my own.  Not strictly Black Sabbath "news", but items of interest.  Hence the category "From Joe's Mind".    I'm leading off this concept with this review.