As some of you might remember, last November, Tony Iommi released his autobiography, "Iron Man: My Journey Through Heaven and Hell with Black Sabbath", and this site dispatched our intrepid reporter Damian to the sleepy little hamlet of Ridgewood, New Jersey to cover the signing.  Damian produced a three and a half minute video which had interview segments with both Tony himself, as well as folks who were waiting in line to see Tony.   You can view that segment on our site's story from last fall here, which also has my book review.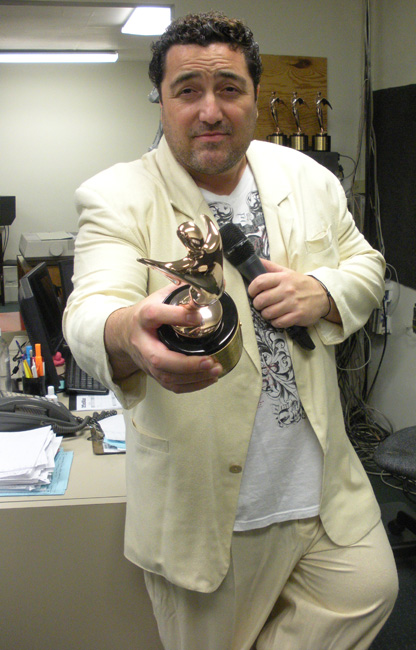 Why am I bringing this up again?  Well, I wanted to send some love Damian's way by telling everyone that the segment he produced has won an award!  Specifically, the "Telly Award".   The precise category of the win was "Live Event (segments) for Internet Broadcast".    Here's a bit about the awards themselves..
Founded in 1979, the Telly Awards is the premier award honoring outstanding local, regional, and cable TV commercials and programs, as well as the finest video and film productions, and web commercials, videos and films. The Telly Awards annually showcases the best work of the most respected advertising agencies, production companies, television stations, cable operators, and corporate video departments in the world. The Telly Awards is a widely known and highly respected national and international competition and receives over 11,000 entries annually from all 50 states and many foreign countries.
This is the first time they've expanded their awards to include internet video, and Damian won in the "Online Video" category specifically for the segment he produced for the Iommi book signing.  The Telly Award site has not been updated yet with this category, but we have proof here.  Check out the picture of Damian WITH the trophy he received.
Eagle eyed viewers will see more than one of the trophy he's holding in the picture – Damian has won this award before in other categories for television production work he's done.
To celebrate this award, Damian and myself have decided to release a treat.  It's the full interview segment he did with Tony back on that day.  The video segment released last November only has bits from that, but this is the full interview with Tony.   Thought folks would like to see that.
An interesting point to the interview is that Tony talks about a possible "new album" with Ian Gillan.  This is interesting given the news from earlier this week about the WhoCares album being released.   Additionally, this interview was done just about eight weeks before he publicly disclosed he had cancer.   I don't know when he was formally diagnosed, but if he had been at the time this was done, he's a trooper for coming to the states to do all of this.
Anyway, congratulations to Damian for the award, and make sure and enjoy the full interview segment here, as well as the original award winning video segment below.