Here's something special.   Most of you know of the Dio Disciples band, carrying on the legacy of Ronnie James Dio.  Heck, I wrote about their concert last Sunday night.  However, they're not the only band out there doing that right now.   Earlier this year, I wrote about "The Southern Cross", a band that's doing much the same thing, but is lesser known.  The pedigree of that band has Rowan Robertson, who was Dio's guitarist on the "Lock Up the Wolves" project.   Additionally, longtime Black Sabbath keyboardist Geoff Nicholls is also playing with them (as well as doing the same duty with Tony Martin's Headless Cross project).
Anyway, "The Southern Cross" played live in Bergen, Norway on Thursday the 8th of November, and much to my surprise this morning, Sabbath fan and site visitor Jens Nepper sent me a concert review as well as a couple of pictures from the show.  Given I wasn't there (I'm about 4600 miles/7400 Km) away from there, you don't want to hear me prattle on about this.  We'll get straight to Jens' review, which is quite glowing…..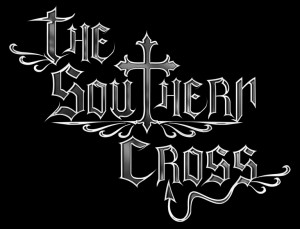 Band: The Southern Cross
Date: November 8
Venue: Garage
City/Country: Bergen, Norway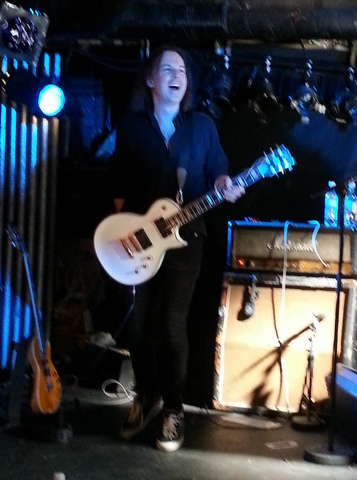 I was extremely excited when I heard that The Southern Cross would be touring Norway and hitting the rainy city of Bergen on the 8th of November. When Joe Siegler posted the news regarding The Southern Cross on black-sabbath.com a while back, I thought to myself "Rowan Robertson and Geoff Nicholls touring together and playing songs by DIO and Sabbath…what more could a DIO/Sabbath fan ask for?". Well, Thursday evening came and my girlfriend and I went to the show at this rather small venue in Bergen named Garage. We were actually the first ones there and for a second or two we wondered whether there was only going to be a handful or two of people there, which would have been a damn shame. The reason for me stating this is that the gig was rather low-key and it wasn't promoted that well in my opinion, but just before show time some 80-100 people showed up, which wasn't much, but since most of them were totally into it felt as if there were more people there.
Seeing Geoff Nicholls and Rowan Robertson enter the stage was downright phenomenal. "Lock up the Wolves" is by far my favorite DIO album and it's criminally underrated in my opinion. Geoff Nicholls helped create and write some of finest and most brilliant albums ever from 1979 up until 1995 (yes, I dig "Forbidden" as well), and he was right there alongside Iommi all those years and helped keep the Sabbath banner flying. Let's not forget that he played on some of the Black Sabbath reunion tours post-"Forbidden", had a couple of writing credits on Ozzy's "Down to Earth" album, played on Tony Martin's "Scream", and so on. The man deserves praise and respect!
The band used "The Gates of Hell" (from the "Headless Cross" album) as an introduction as they set up some stuff on stage and got ready to play. The first four songs were "Neon Knights", "Letters from Earth" (I was pleasantly surprised that they'd chosen that one), "Hey Angel", and Children of the Sea". They all rocked and sounded very, very powerful, especially "Letters from Earth" and "Hey Angel". The vocalist, Nils Patrik Johansson, did a very good job singing those songs, perhaps due to the fact that he didn't try to sound like Ronnie James Dio. You might say that he put his own touch on the songs, which worked out pretty well in my opinion. The drummer, Rick Hagan, kicked ass as well and had a very dynamic and awesome way of playing the material. He was very energetic and totally into it. The bass player, Gogstead, was grooving away and damn tight from what I could hear.
Now, most people assumed that the show would be all about Ronnie James Dio, but the band totally surprised us when the vocalist suddenly stated "Geoff Nicholls helped write this when he was in Sabbath" and they then launched into…wait for it…wait for it…"The Shining" followed by "Headless Cross". I was in heaven. I never thought that I'd be able to hear those songs anywhere near a stage somewhere in icy Norway ever. The guy next to me actually leaned over to me during "The Shining" and said something along the lines of "Dio didn't have anything to do with that song, but it's an awesome song". People were definitely surprised by those two classic Martin-era songs entering the set list and quite a few of them seemed to be familiar with the lyrics and all, which was good. The band didn't play anything by Rainbow, but that didn't seem to matter that much to the audience. Having heard DIO perform Rainbow classics numerous times in the past I didn't really miss them that much even though I love them, but I guess I was just so psyched about hearing songs off "Lock up the Wolves, "The Eternal Idol", and "Headless Cross" live that I didn't really give the Rainbow songs that much thought throughout the show.
Other songs that were played were the melancholic "Born on the Sun", the epic and haunting "Lock Up the Wolves", the brilliantly creepy "Voodoo", the fan-favorite "Rainbow in the Dark", and last but not least a rather short version of "Die Young" that went straight into one of the very highlights of that evening, namely "The Sign of the Southern Cross". "Don't Talk to Strangers", "Heaven and Hell", and "Holy Diver" were also played, the latter two serving as encores. It seemed to me that people were really into all the songs and not just "Rainbow in the Dark" and "Holy Diver" for instance. The band got a lot of applause in-between songs and a lot of people in the front row were singing and screaming along all the time. You could tell that the band was having a really good time. They were laughing and joking from time to time, and although they weren't that tight in the sense that the vocalist forgot a few lines from time to time and some songs sounding a little like jams in places, there was something very charming, loose, and cool about it all. A great atmosphere, if you will. It was such a treat to see Geoff Nicholls and Rowan Robertson on stage together, but praise must go to the other members who were really cool to watch and listen to as well.
On a final note, Geoff Nicholls looks and sounds like the nicest guy ever and said some pretty funny stuff in the microphone from time to time. For instance, the vocalist announced that they were going to play a song that Geoff helped write back in the day, but Rowan and Geoff cut in and said "Ehmmm we're playing "Born on the Sun" now", and then Geoff said "I probably shouldn't take credit for that one…I could take credit for it though?" or something along those lines and smiled and laughed.
I really hope that The Southern Cross will continue to tour from time to time! It was truly a night to remember.
By J. Nepper