Bill Ward was in and and out of Black Sabbath during the 80's a few times before finally popping up in 1990 with his (severely underrated) first solo album, "Ward One: Along The Way".   For the most part what he was up to over the years inbetween his appearances in Black Sabbath was mostly unknown.   Over the years I'd heard of a couple of smaller projects he was attached to during the 80's.   One was called "Blue Thunder", and the other one was "The Mezmerist". As far as I know, Blue Thunder never recorded.  However, The Mezmerist did record.  With Bill Ward.  That's what this article is about.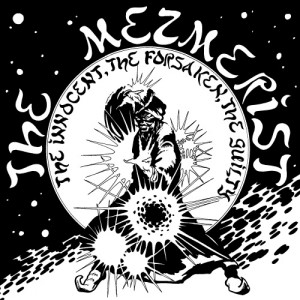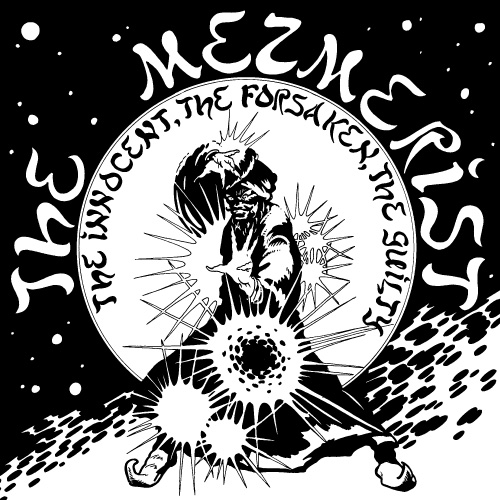 Back in 1983, Bill Ward became involved in the Mezmerist project, and together they recorded an EP entitled "The Innocent, The Forsaken, & The Guilty".    This was also the same year that Bill Ward recorded Born Again with Black Sabbath, too.  I did inquire with Bill as to whether he remembered in which order they were recorded, and he didn't recall.   We know what happened with Born Again, it came out in the summer of 1983.  The Mezmerist album, though didn't come out then.  In fact, it didn't come out until 1985, and even then it was only a limited edition of like 500 copies.  Because of that, it became really rare, due to the appearance of a Black Sabbath member on it, and the scarcity of copies.  As time went by, that never changed, it was never released widely, and it became fairly obscure.   In fact, I'd wager so obscure, that most fans didn't even know Bill did this.  I know I didn't for the longest time.
In fact, the story of how Bill hooked up with this project/band is detailed on the disc.  The second disc here is a DVD, and on it is a long interview segment detailing the entire history of the band.  In short, the lead singer of the Mezmerist had caught Bill at some local gig he was doing in the Seal Beach area, and just basically walked up to him at the end of the show and said "Hey, you available for any studio time?"  There's some more detail than that, but I'll leave that to the DVD – you can watch that yourself.
They did say that the entire first EP was recorded in 3 days.  That harks back to the earliest days of Black Sabbath, when they'd record quickly.
Anyway, earlier in 2013, I got word that the original Mezmerist EP with Bill was going to be released, and not just the songs from that, there was a second Mezmerist EP recorded (without Bill, he was just on the first one) that had NEVER been released, so you put the two together, and you had a proper length album that could come out.  And out it came.
Package
What came out was quite a nice package.  A lot of these kind of albums that don't have the marketing weight behind something like "13" tend to use lesser materials to save some money.  That is not the case here.  This is a full jewel case with nice heavy paper on the booklet insert.   There's two discs here, a CD and a DVD.   The booklet has its own high quality.   Lyrics to all the songs, lots of pictures, as well as a short version of the Mezmerist story.   It has a CD booklet quality that some AAA titles don't have.
Music
What does the music sound like?   The first thing I thought of when I listened to it is the vocals reminded me of King Diamond.   When I mentioned that to the press guy who hooked me up with the CD, said that it was a comment that's been heard before, but this was recorded before Diamond really got going, so it wasn't influenced in that way.   The tunes have a raw sound to them, and as I mentioned it has a very high pitched falsetto vocal sound.   While it was recorded in 1983 & 1985, the "sound" has a late 70's Rush kind of feel to it.   That's not to say it sounds LIKE Rush, but that kind of production value of early Rush I can hear in here.  Might call me nuts, but that's what it feels like.   Like the tunes are from 10 years previous to when they were recorded.
So if I put these feelings together, it's like King Diamond singing for 1974 era Rush.  That's what the Mezmerist sounds like to my ears.   Now obviously, this isn't Rush, this isn't King Diamond.  It's the Bloody Mezmerist, and if you liked either of those examples I talked about, then you should check this out, you might like it.
If you like the tunes, you'll definitely want to listen to the DVD, because Thomas Mazmercardo goes over it track by track and tells you what the songs were written about, and the meanings before the songs.  Check it out.
Summary
He says he doesn't care if he makes a penny off of this, he just seemed happy in the documentary that this was coming out.   Well, it's out, and it's definitely enjoyable.  I won't lie, Bill Ward was the hook into this, but I took the hook, listened, and enjoyed what I heard.  So Tommy if you read this, yeah, I did enjoy it.  So mission accomplished.
To the rest of you – go take shot, buy a copy, and check it out.   Let me know what you think in the comments below.

In the documentary, I found this comment from Tommy to be one that I had to stop and rewatch.   In the segment where he talks about Bill Ward, Tommy was asked how Bill was doing during recording, and he said "Well, you show Bill what you have going, and he just does his thing – you don't TELL Bill Ward how to play the drums.  No one this planet has the right to tell Bill Ward how to play drums".
That last line is true.
Finally, I found this interview regarding the Mezmerist release.  I didn't have anything to do with it, but it's a good interview with Tommy, and is worth your time to read.