Today has been an odd day for me.  I woke up to an email from Tony Iommi's management telling me that Geoff Nicholls had died.  After I got the word out there, I started contacting others.  Former Black Sabbath band mates, and other people I knew that knew Geoff.  One of which was Jamie Mallender.  Jamie played with Geoff in Tony Martin's solo band some years back.  The last time time Tony Martin put out a solo album (Scream), Jamie played bass on the tour and live shows around that time.  So Jamie knew Geoff well.
Tonight after a gig that Jamie played, he shared a very awesome reflection on Geoff and his time with him.   This is an great story, take some time to read it, it was most kind of Jamie to share.  All the pictures come from Jamie as well.

Geoff Nicholls. 28.02.1948. – 28.01.2017.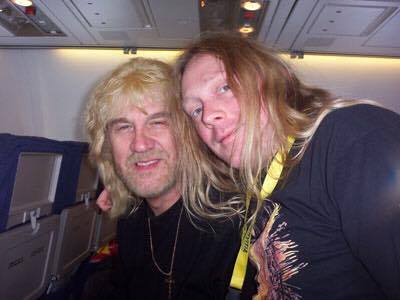 Musician, Funny Man and Friend.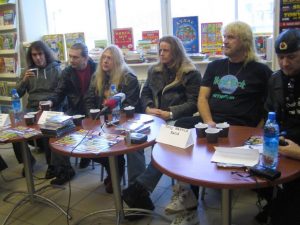 When I was a teenager and suddenly all I was interested in was music, Ozzy Osbourne was a solo artist and Black Sabbath had Tony Martin on vocals and of course, Geoff Nicholls was the invaluable offstage extra band member. So to me, that was what Black Sabbath sounded like. Tracks like The Shining and Headless Cross, resplendent with the gloss Geoff's musicianship brought to the band were always on my stereo at that time. I discovered the other Sabbath stuff later. So for me, to suddenly get to be in a band with Tony Martin and Geoff Nicholls and be up there, playing those songs on tour on stages all over the world was like a dream come true. Now, they say you should never meet your heroes, and I've met many of mine, even worked with some of them. But I can tell you truthfully that knowing and working with a Geoff was nothing but a pleasure. Geoff was a big hearted, kind guy – a big softy. He loved music and he loved to make people laugh. The jokes never seemed to stop coming, he could really be the life and soul and if he wasn't joking around he was telling us one of his many many road stories. Sometimes I really wanted him to shut up because my sides were hurting.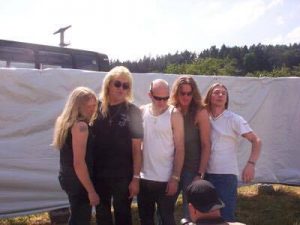 People tend to think of Geoff as a keyboard player, but essentially, he was musician. He could turn his hand to a lot of different instruments, he could sing, he had an amazing ear, he was a great writer – and he did it all with and endearing humility. It didn't matter who he'd worked with, he was just Geoff.
Danny Needham and I once spent a day at Geoff's where he fed us and showed us some music he'd been working on for a TV show, beautifully constructed instrumental stuff. He showed us some of his old instruments, platinum disks and tour shirts from old tours. He also told us about some of the pitfalls of the industry and gave us some advice of how to survive when the nasty stuff happens. And when Danny and I headed off into the city at night to sample a few beers, he gave us directions and a key, and told us to be careful like a loving parent.
When the band ceased to be, Geoff and I kept in touch with the occasional e-mail or phone call. He sent me funny stuff and always asked after my family. He used to remind me that Birmingham wasn't actually that far from Sheffield and that if I was playing out that way I should call for a cuppa and a catch up. I always said I would and of course, I intended to. But I'm sad to say that I never got on with it. When you're in about 15 bands and you've got kids and responsibilities it's always next time I'm out this way…. Next time I'll make sure I make time. There's a lesson to be learned there.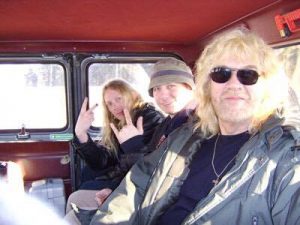 When you're on the road with a band, there are always experiences you share that result in certain catchphrases, band sayings and maybe in-jokes. When we were in a restaurant with Geoff, he would always ask (no matter what the meal was) for some chips (fries) with it, orange Fanta and ketchup. I think he had ketchup on just about everything. Whenever Danny and I speak of Geoff we always say, "can I have some fries with that," or simply shout, "ketchup!" I dunno, maybe that's not even mildly amusing to read, but if you'd ever been on the road with Geoff it would be.
So anyway, another stellar musician has left us. I wish I'd known him longer, I wish I'd worked with him more, I wish I'd called for a cuppa. My life was very much enriched for having known him. I thought of Geoff onstage tonight with The John Verity Band. We were playing, "The Devils Music," from the "My Religion" album. I remember when I recorded the bass, thinking Geoff would have really liked that line. Anyway, goodbye Captain Ketchup, you'll be sadly missed. So raise a glass to Geoff people, stick Headless Cross on and pay your respects.
Jamie Mallender 28.01.2017.