10 years ago today, was the last time that Ronnie James Dio took the stage for a concert.  I was fortunate to be able to send a couple of guys to film video of the last show on that tour (in my name – I wasn't there), and y'all have seen the product of that before – I've posted the video many times since. What hasn't really been told before is the story of how that video came about.   That's what this post is – a story by my friend Damian who did the nitty gritty work of filming at the show.
As today is the 10th anniversary of that Heaven and Hell concert, Damian whipped up this excellent story looking back on the events of that day.  Enjoy….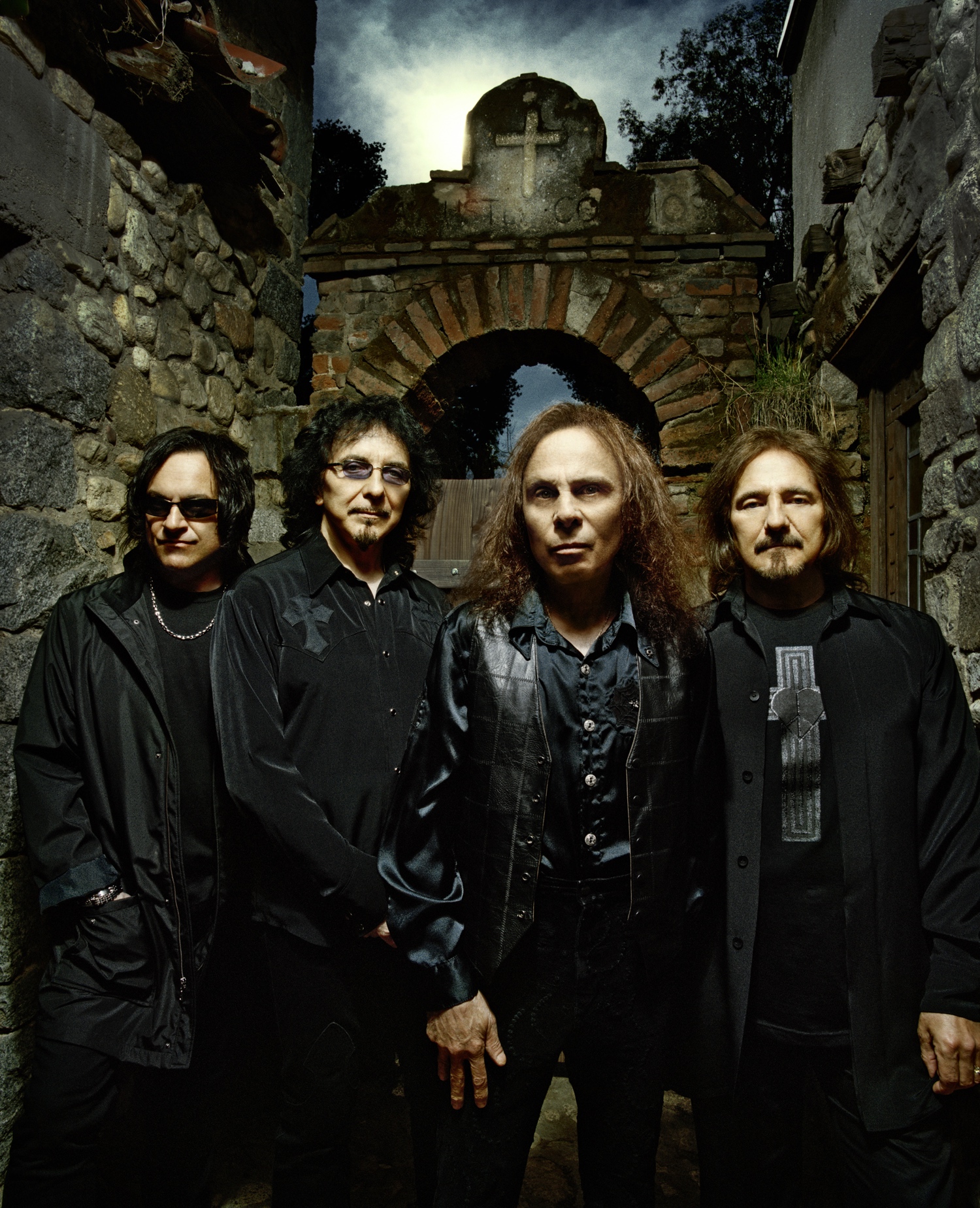 August 29th, 2009 is yet another heavy metal milestone day. It's the 10th anniversary of the final concert performance of Ronnie James Dio. And it was also the last hurrah of the Mach II Black Sabbath lineup (or IIA for Bill Ward loyalists).  I've recapped this monumental and bitter-sweet event a couple of times on black-sabbath.com over the years from the standpoint of a reporter, but today I want to share some personal memories of that night, and of Ronnie's impact on my life.  And the 10th anniversary of his death next year will no doubt be filled with many testimonials and remembrances from so many people all over the world that I feel like this is a better time to share mine.
I got into Black Sabbath in a very similar fashion as Joe Siegler, during Ronnie's first stint with the band, in the very early '80s. When he left to form Dio, I was crushed that Sabbath was changing, but also very curious to hear his solo work, I wanted clarity on how much of Black Sabbath's successful second act could be attributed to his input. My high school years were bookended by the Holy Diver and Intermission releases, which covered Ronnie's most successful period as a solo artist. For reference, my high school senior yearbook attributed my favorite phrase as "We're off to the witch!"
Now, to be honest, I have followed and pretty much adopted as family everyone involved with Sabbath over the years.  I took personal pride in Ozzy's breakout success, as it exposed Black Sabbath to a new generation of fans, and helped to alter the negative zeitgeist of the time against the band.  Heavy Metal had a following, to be sure, but in many ways, it was a black sheep of the music world.  Lots of people today have no idea how reviled Black Sabbath was in the '70s and '80s.  They had a gigantic stigma attached to them due to misunderstandings and misjudgments of those in the industry, music critics who let their inflated egos get in the way of impartiality, religious and civic leaders who used the band as scapegoats in their closed-minded crusades, and radio stations who shunned any music that could be considered controversial or could lead to public judgments about their own beliefs, political convictions, and corporate motivations.  Not to mention the fans, and if your high school hallways in the '80s were anything like mine, electro-pop, soft rock, and boring solo artists ruled the day.  Sabbath and Zeppelin fans were there, but more often than not, they were counted among the misfit kids, the burnouts, and the troubled.  They were savagely outnumbered by students who were generally more popular and probably got better grades who thought that Duran Duran, Talking Heads, and Depeche Mode were the gospels of music.  That was fine by me.  I had always hoped that Black Sabbath would grow more popular and accepted by the world but I still wanted them to be mine.  When Quiet Riot's "Metal Health" album hit number one on the Billboard charts, and all of those "smart" kids began singing those songs in the hallways, it actually pissed me off a little.  A tiny bit of our solidarity with that heavy sound was lost.  So I changed my mind.  Sabbath was the property of the ignored, the forgotten, the abandoned, the rejected, and that was how I began to prefer it.  I wore Black Sabbath like a chip on my shoulder and never looked back.  Fuck em.  So when Ozzy blew up as a solo act I still thought of him as part of Black Sabbath.  Same with Dio.  And that goes for Ian Gillian, Tony Martin, solo Iommi with Glenn, Geezer's solo work, Bill Ward's solo work, all the way down the line.  They are all healthy branches of a giant fucking oak tree.
But if there was one branch that epitomized the status of what Black Sabbath had to go through in the '70s, for me, it was unquestionably what Dio did by himself in the '80s.  Ugly, short, older, ignored by most of the music world, a non-starter for the lion's share of female music fans, Ronnie had an uphill battle to fight constantly, and the underdogs who identified with his fan base were cut from the same cloth as those a generation earlier who dared to wear a Black Sabbath shirt in 1971 and walk down the street.  As a fan, I saw Dio perform a lot in Philadelphia, but also in NJ, NYC, and even in Las Vegas.  I sat in the front row at the Beacon Theatre in New York for his first reunion with Sabbath on the Dehumanizer tour.  In Las Vegas on the Magica tour I sat in the first row of the mezzanine of the House of Blues at Mandalay Bay Resort and actually got a thumbs up from Ronnie, at that moment when "Stand up and Shout" stops abruptly and everyone shouts "Aaargh", I was the only person up there to actually stand up with arms raised just as the spotlights hit the audience.  Ronnie got distracted, looked up at me, pointed, and then he gave me a thumbs up and a smile.  I've been holding onto that memory for nearly 20 years now.  Then I found myself front row again in Manhattan for the taping of "Live From Radio City Music Hall" in 2007 at what was being promoted as a "Heaven and Hell" performance but the musicians were still Ronnie/Tony/Geezer/Vinny on stage.  In the DVD you can see me receiving a handful of guitar picks from Tony Iommi after their encore, and shaking Ronnie's hand.  Mind you, none of this privilege had anything at all to do with my association with Joe or black-sabbath.com, it was just my own obsession and fandom taking over.
When "The Devil You Know" tour dates were announced in 2009, I noticed that the final stop was in New Jersey.  Since Joe had already established himself as webmaster for Geezer Butler and was a kind of insider with the band since way before the final Heaven and Hell tour was announced, I asked him to reach out to Ralph Baker, Tony's manager, to see if we could get permission to shoot some exclusive content for the website on that last date, at the House of Blues inside the Showboat Hotel and Casino in Atlantic City.  I had acted in dinner theatre shows there before, so I knew some of the people who worked inside. The idea at first was that we could shoot backstage footage before the show, then film the entire concert with a dual-camera setup, and then have exclusive interviews afterward.  At the time I was freelancing as a TV reporter for a station in Philadelphia and talked with a studio cameraman there named John and learned that we owned similar video equipment, so I asked him if he would mind helping me shoot a Black Sabbath concert (Like Joe, I can't actually give that "Heaven and Hell" moniker any weight, these were the same four men who played in Black Sabbath when I got into them, they would always be Sabbath to me if they played together.).  He immediately accepted and seemed very eager to help out.  On our way down the Atlantic City Expressway to film the show at the Showboat, he told me that he was a really huge Ozzy Osbourne fan.  I told him I was too, and that it really sucks about the lawsuit.  He said "What lawsuit?".  I told him that Tony Iommi was being sued by Ozzy and Sharon over the financial share of the merchandise being sold under the Sabbath banner.  He looked really confused and said, "Ozzy is suing Iommi but they still tour together?".  It was at this point that I finally understood that when I said we would be filming Black Sabbath, this poor guy thought that he was going to meet Ozzy himself that night!  I think he was getting ready to tell me to forget about the whole thing but I told him that Dio was amazing too and the show would be awesome, a great experience for a cameraman to have, etc.  Maybe it was better that one of us was not a fanboy anyway, I wanted to make this as professional as I could, even though I had no budget at all to work from.  Anyway, we were already almost in Atlantic City when he found out the truth so it was too late to change his mind.  Maybe Ozzy and Sharon had a point with that lawsuit after all!
Upon arrival at the House of Blues, I was told to report to Ralph Baker and we were issued all-access passes to wear.  Ralph is a very interesting fellow, and once you establish a bit of trust with him he is beyond gracious.  I went over a few ideas I had with him.  I thought maybe if we could shoot some footage before the show with the band that it would free them up afterward, but he told me in no uncertain terms that interacting with the band before the show was forbidden, and that Ronnie, Tony, and Geezer would be arriving 30 minutes before the event and would be sequestered in their individual rooms until showtime.  The three of them were staying at The Borgata hotel, on the marina side of town.  I also learned that due to a scheduling conflict, the tour's regular warm-up band, Coheed and Cambria, were canceled and that Halestorm would be the opening act.  Ralph did say that the stage was already "pre-set" with Heaven and Hell's gear and that I could film everything on stage as long as we didn't touch anything.  And Halestorm was fair game to film and interview, too.  So, with a couple of hours left before the doors opened, we went on stage and I did a quick segment, babbling about Vinny's drum kit with his shrine of trinkets set up nearby.  
Geezer had a photo collage set up by his basses, and his Ampeg stacked amps (with Henry logos!) looked absolutely menacing up close. 
Iommi's guitars were racked and ready for action stage left.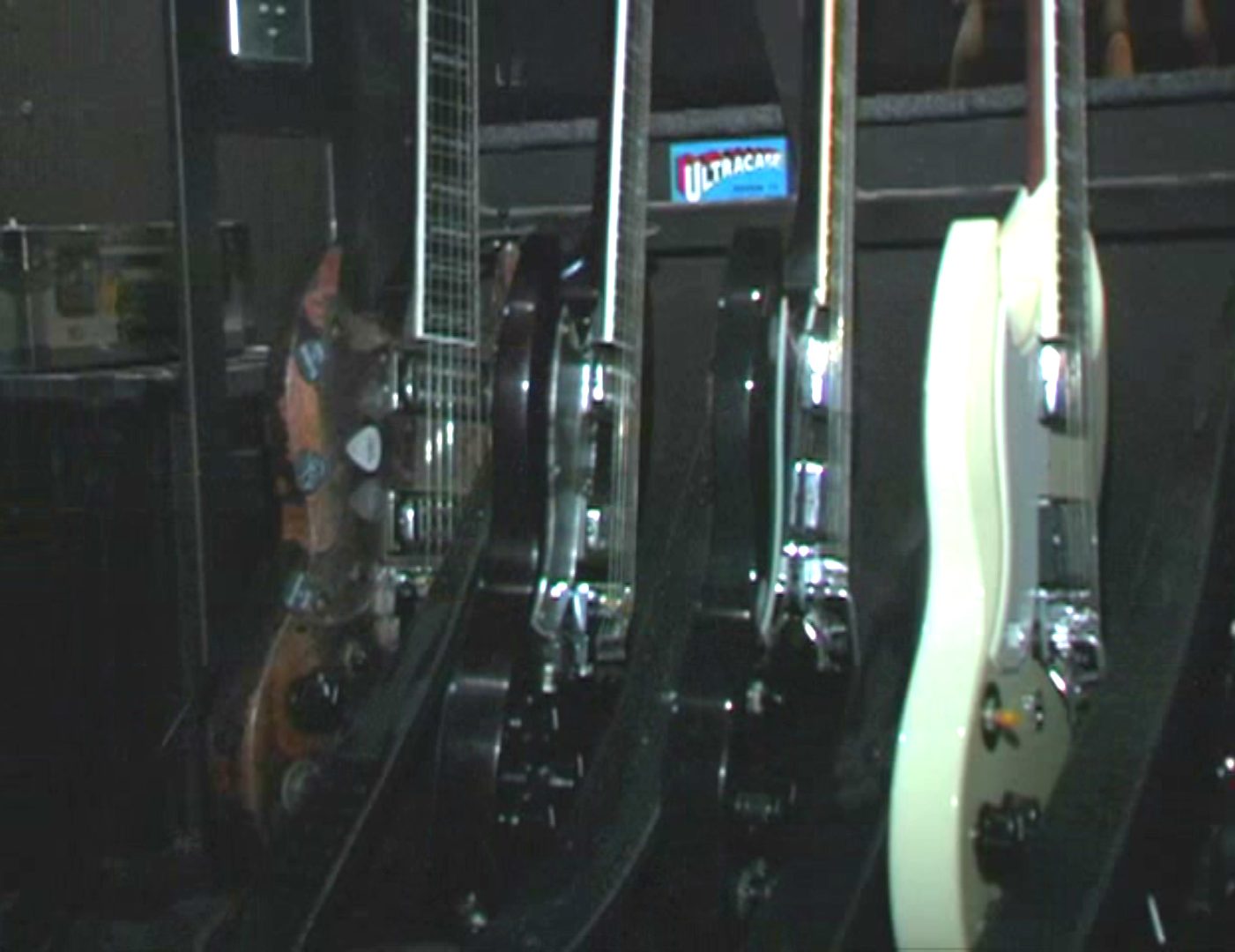 The stage set looked like a scaled down version of the spooky chains and haunted house motif they used on their previous tour.  I remember actually going up to the microphone center stage and holding it like I knew Ronnie was going to in just a couple of hours, looking out at an empty and spotless rock club.  
Over the next 30 minutes or so, John and I toured the rest of the House of Blues, scouting out locations to film from.  There was a five-foot-wide canal of sorts between the stage and the crowd railing.  We were told that we had total access to that area and that we would only be sharing it with event security guards and then also for a few songs with the pro photographers who were working the event.  Other than that, there would be nobody closer to the band than us.  I had to nod seriously as if this was no big deal at all, but inside I was doing cartwheels.
We caught Halestorm's soundcheck, and then Lzzy was gracious enough to let me interview her for a few minutes. 
At the time, Halestorm was still pretty new, they hadn't really blown up yet and I could tell that opening for Black Sabbath was really important to her, she came off like a very real and classy rocker chick who was beyond thrilled to be a part of that night.  I've heard some recent interviews that Lzzy has given and she still talks about that show with reverence.  I can't verify what Halestorm did after they performed their set or where they went off to that night, once they left the stage I never saw any of them again.  
Anyway, the doors were about to open so we decided to check out the line of fans outside who were waiting to get in.  I did a couple of short interviews and found a few people who agreed to talk to us more, but I wanted to speak with them inside right before the show started to get a more energized reaction from them.
We suddenly got very rushed for time so a lot of this stuff became comedy improv filler crap, but watching these interviews 10 years later got me a little sad, since none of these people knew that this was the LAST time they or ANYONE would see this lineup together forever.
With the doors open and the club filling up with rowdy fans, John and I set up our game plan. The media pit canal right in front of the stage was such a perfect spot to film from, we decided to set our cameras up stage right-center and stage left-center and then planned out the shot placements ahead of time so we would always be capturing something different from each other.  We decided to test it out on Halestorm's set so when they took to the stage and began the concert we filmed their first three songs while they played and the footage, in my opinion, looked pretty damn good.  We decided to retreat backstage to review the tapes and make adjustments for the Sabbath set.  This was going to be the coolest thing in the world.  Right before Halestorm left the stage, Ralph tapped me on the shoulder and motioned to follow him out to the hallway so we could talk without yelling over the music.  He told me that he saw us videotaping Halestorm and we were too close to the action.  He did NOT want us filming Black Sabbath "right up their bloody noses" was the term I think he used.  We now had to find a new location to set up our video cameras somewhere among the capacity crowd.  Even harsher news was that Ralph was only permitting us to film ONE song, the opening number, "The Mob Rules", and then we would have to turn over our equipment until the end of the show.  I felt like someone shot me in the chest.  "Ralph, I totally understand", I said, not understanding, "But the place is jam-packed out there.  Without event staff and guard rails, where are we supposed to set up our cameras?".  "I don't care where you set up at, but you're NOT filming from the media pit!", was his final verdict. 
Now we were in trouble.  Sabbath was taking the stage in less than ten minutes and John and I were now forced to split up and fight our way through the crowd, with security guards stopping us to check our access passes every 30 seconds, because we looked like a couple of crazed fans that had stolen professional video equipment and were running off with it.  I told John to set up dead center in front of the stage at the back of the General Admission floor on a makeshift riser so he could shoot above the crowds' heads.  I then headed upstairs to the house-right mezzanine where I found unused seats that were just slightly obstructed from house-right view but would give me great overhead shots of Ronnie and Tony.  I got my tripod set up just as the lights went out but John was getting jostled all over the place down on the floor and had to go strictly handheld for the song.  Somehow, it came out ok, and other than a few very poor cellphone recordings from the crowd, what we filmed was the only footage that survived to document Ronnie's last show ever.  Just as an aside, the timing of this event is what helped secure its legacy.  I'm sure it's tough for younger fans to believe, but there actually was a time when you could go to a concert and NOT see 100 cellphone screens in front of you filming the show.  Even though this phenomenon was just over the horizon, in 2009 it was still a novelty.
"The Mob Rules" went along great, but toward the end of the song, something happened.  I had a perfect viewpoint from my perch as some kind of object came hurtling out of the crowd near the stage and was arcing toward Ronnie's head.  I guessed it was either a towel or T-shirt and Ronnie instinctively ducked to avoid it, but he was pissed off about the incident, you could tell.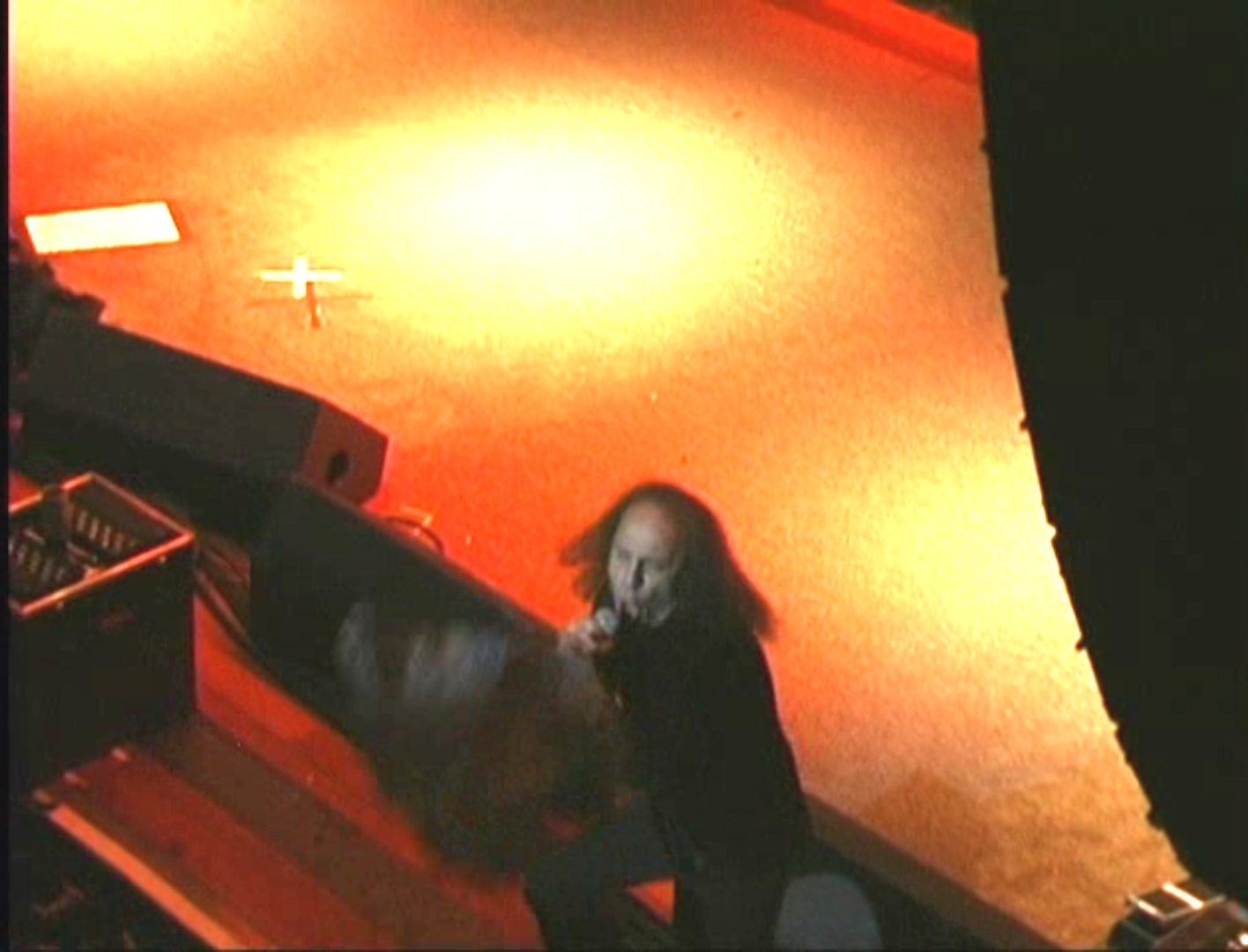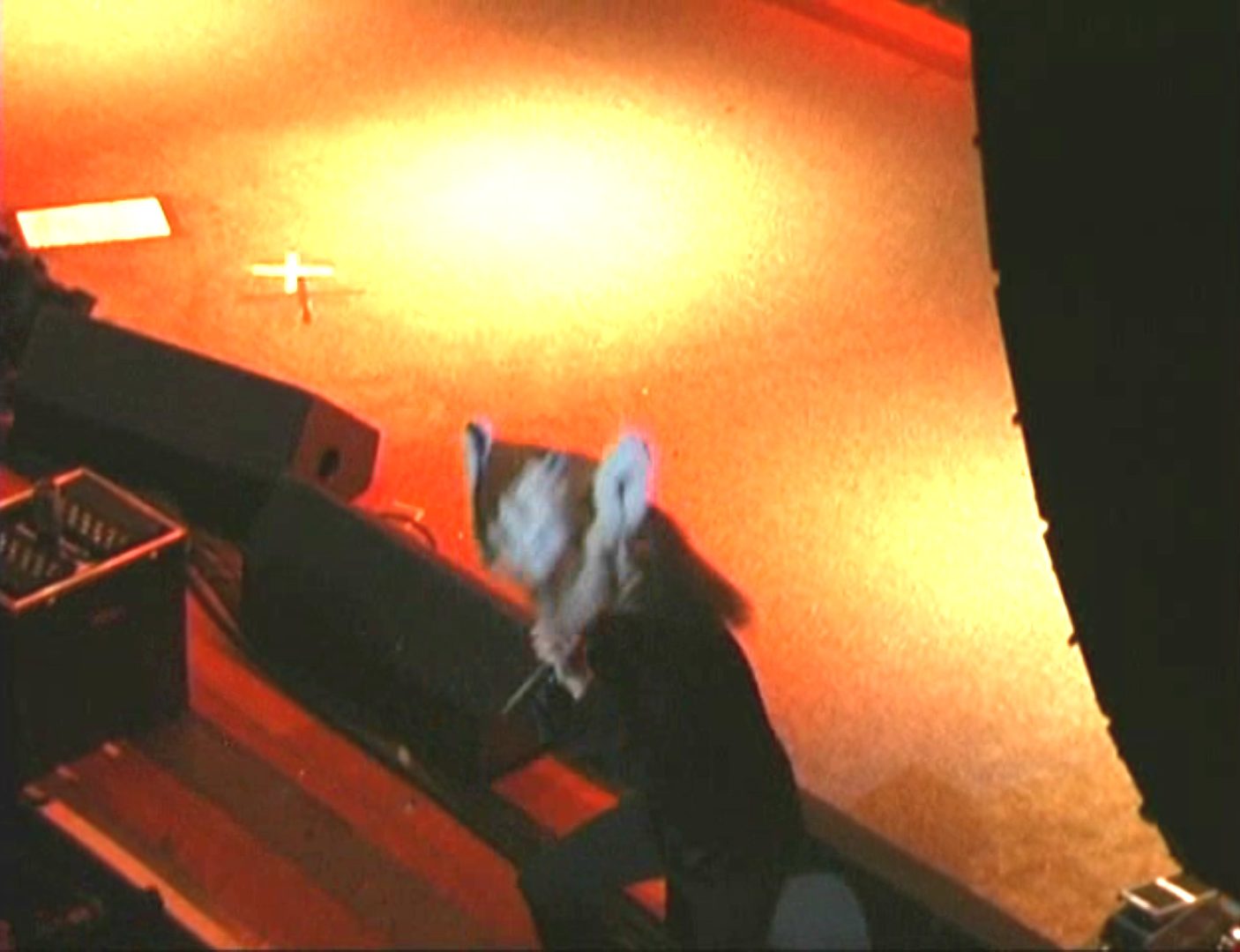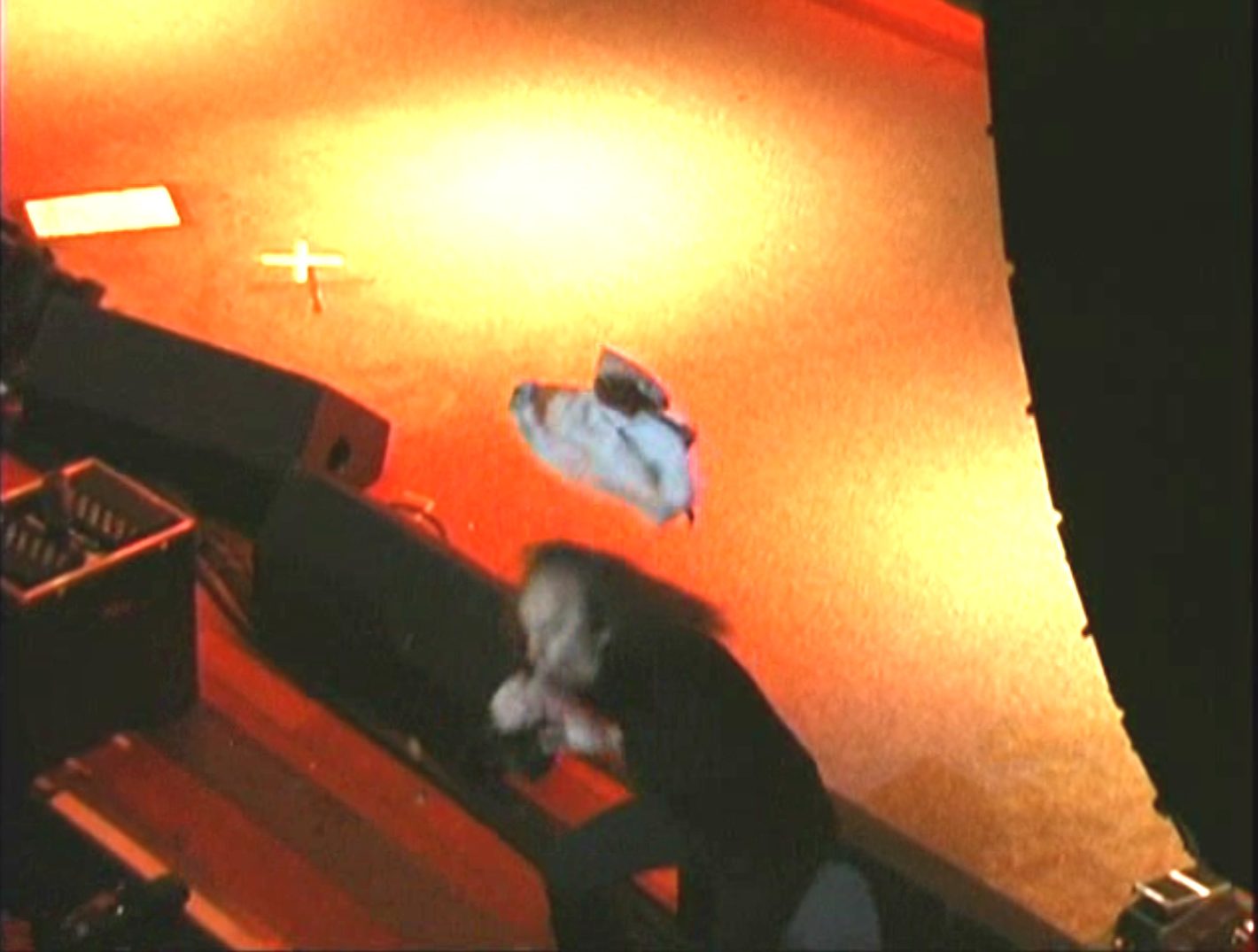 He retrieved the shirt and then opened it up to the crowd to reveal that it was a green and gray T-shirt promoting Merrill Reese, the long-time 94.1 WYSP play by play announcer for the Philadelphia Eagles NFL team.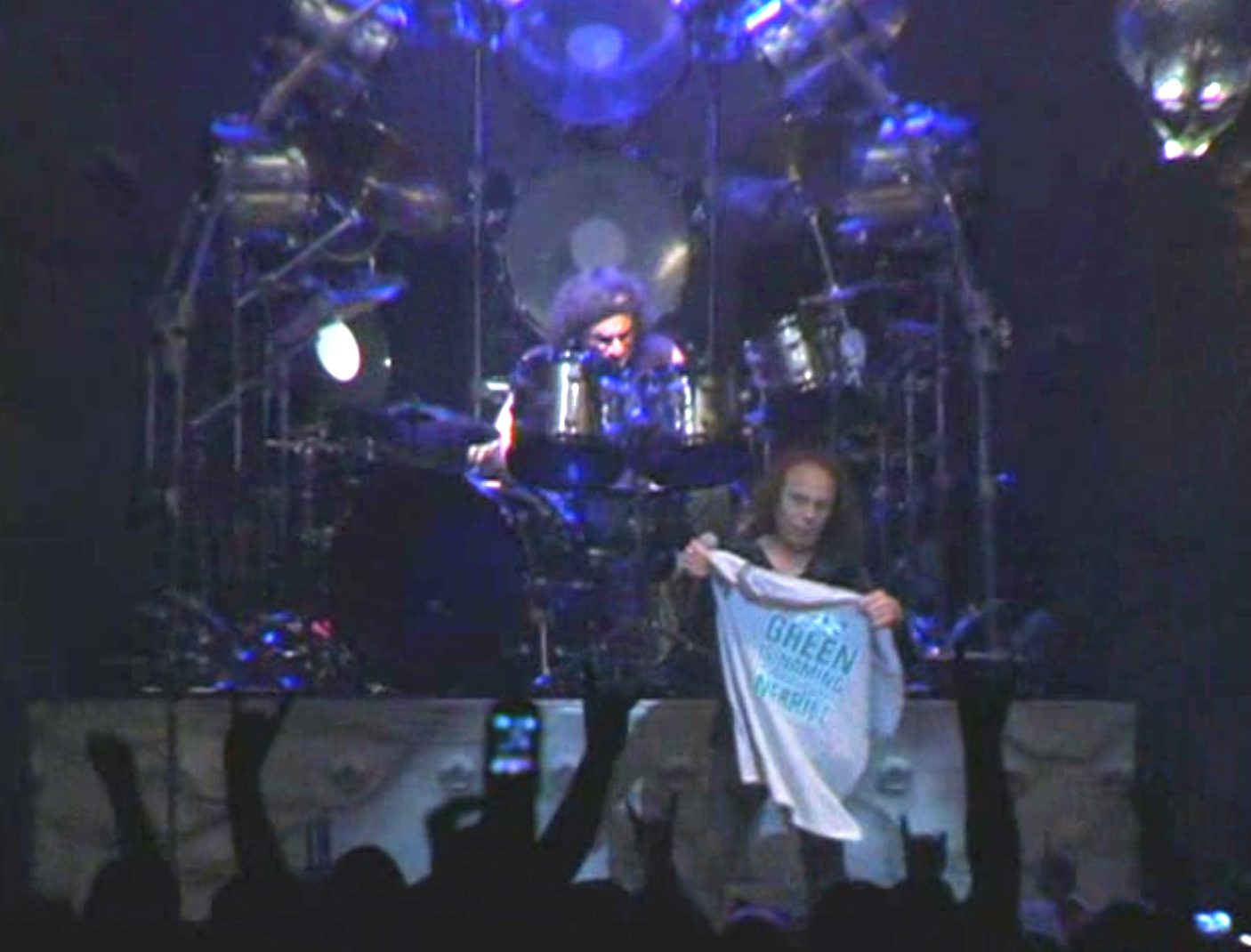 The specific text of the shirt read "Green is naming your first born son Merrill" on the front side and 94WYSP on the back.  In a trademark move that he could have made in his sleep after nearly 5 decades of stage work, Ronnie balled up the shirt and theatrically threw it down, kicked it to the side of the stage, and then threw up the U.K. "fuck you" fingers in the general direction of where the shirt was launched from.  A spitfire to the end.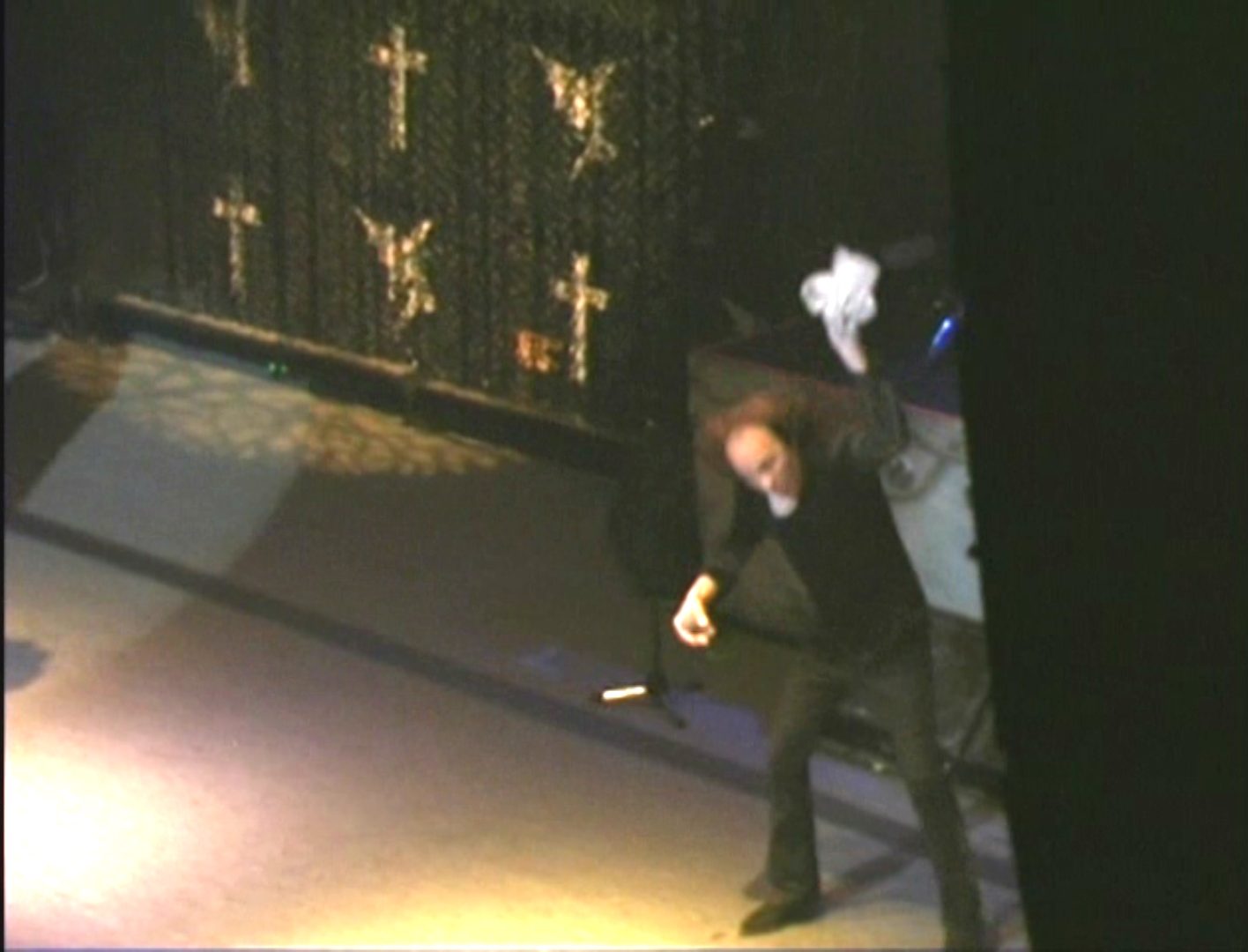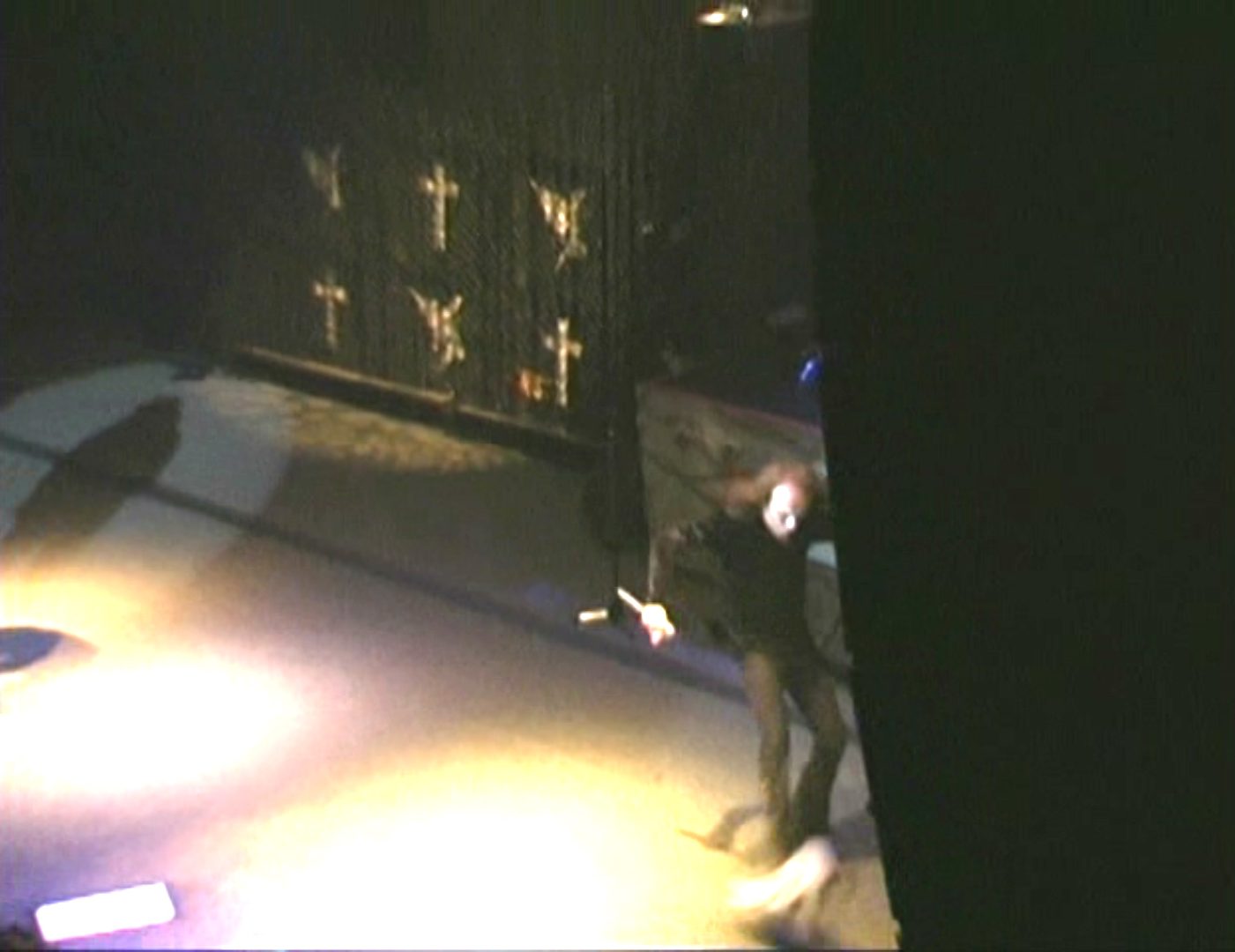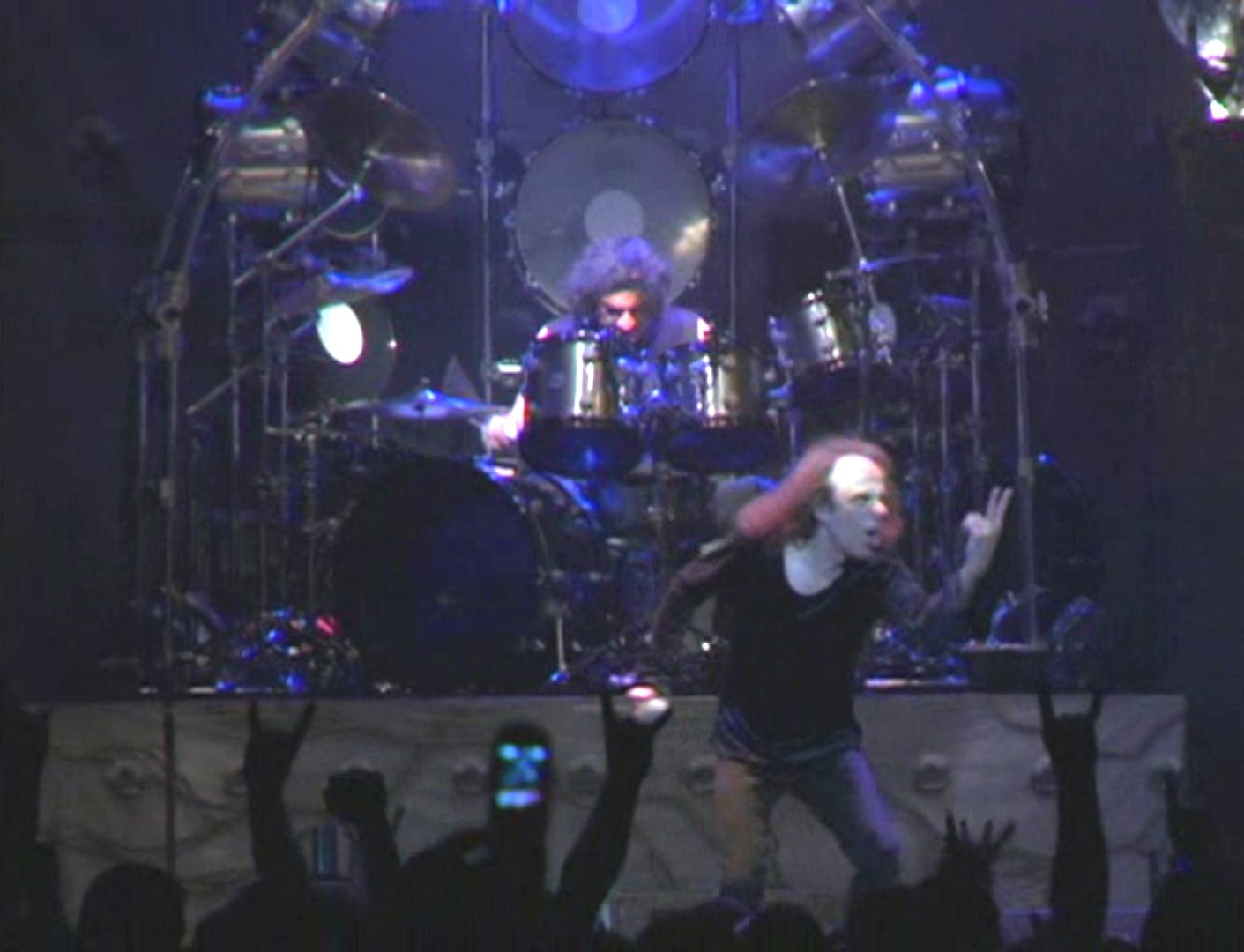 Much has been made of this little blow-up by commenters over the years.  The official stance at black-sabbath.com is that since Ronnie was apparently a NY Giants fan, he was angered by the division rival shirt and that was the motivation for his outburst.  I'm not totally convinced of this, but I was curious so I looked up the last time the Giants played an NFL Game before this concert.  It was against the Eagles.  It was in the playoffs.  The Giants were the number 1 seed in the NFC and favored to go to the Super Bowl.  The Eagles were a wild card and came into Giants Stadium and crushed New York 23-11 and did not even allow the Giants to score a touchdown.  I can say if I was a Giants fan maybe I would carry a grudge around after a game like that too.  So maybe seeing Eagles green on that T-shirt triggered him a bit.  And if he had opened up that shirt and it said something like "We Love You Ronnie!" on it instead, maybe that would have softened him up somewhat, I can see that possibility.  But I'm more inclined to believe that he was just primarily pissed off that somebody tried to take his head off with a flying missile.  And then I think he picked it up because he wanted to know what was so important that he had to instinctively duck to protect himself over this foreign object shooting toward him and then saw that it was just a random radio station T-shirt.  Plus, what nobody in the audience knew or saw at the time, and not very many have taken into account since then, was that Ronnie was really tired.  He was suffering from severe stomach pains during the last few weeks of touring.  Maybe he sensed that this might be his last show for a while.  I feel like he just wanted to get through this last stop on the tour without any problems, and here during the opening number somebody tried to take his head off.  He clearly was still flustered while continuing the song, and when it ended, after his "Thank you, thank you so much" reply to the cheering crowd, he clarified his response by telling the audience, "That gesture was not to WYSP, it's not their fault.  It's just to the idiot who threw the shirt.".  To me, that sounds like blaming the messenger, not the message.  Ronnie knew that both WYSP and the city of Philadelphia had been very good to him over the years, promoting the crap out of Dio tours in the 80's, including two home videos, "A Special from the Spectrum" and "Sacred Heart: The Video", both shot in Philly.  He knew he made a bit of theatre out of the ordeal and did the right thing by trying to ensure his gestures were not misinterpreted.  
From Joe: A word about the T-Shirt toss in the video… as long as this is current, here's my logic. I checked with Damian before inserting my opinion here, so I'm not editing without permission.   Here's my thoughts… Geezer told me several years back that Ronnie was a big NY sports fan, in particular the NY Football Giants.  If you don't know, the Eagles & Giants are big rivals, which extends to fans.  Given the T-shirt text Damian mentioned above, I was always under the impression it was an Eagles thing.  The way I see it, if he was pissed off at someone for merely throwing the shirt on the stage, he would have flipped them off right away without bothering to see what was ON the shirt.  Perhaps not at the exact moment, since he was still singing, but he wouldn't have taken the time to stop, pick up the shirt, read the contents, and THEN flip off the guy in the crowd.  That's why my feelings are strong that it's about the content of the shirt, and not the shirt itself, or the throwing of the shirt.  There, that's my peace on it.  Back to Damian's story..  ;)
However, that action on stage, viewed just behind the transom by Ralph Baker, set off alarm bells.  He hustled out into the audience to try and find me and John to have us immediately stop filming the show.  "The Mob Rules" was nearly over anyway, and we knew we had to stop the cameras when it ended, but he ran up to John anyway, making that "cut!" motion running his index finger across his neck repeatedly, while approaching him on the floor.  "Where's Damian!?" he yelled.  "I have no idea, Ralph, we split up and then the lights went out" John replied.  Ralph then went off to try to find me and make sure I was not filming any longer.  I packed up my gear and then went back downstairs and found John, who told me that Ralph looked very upset.  We had no idea at the time that it was over the T-shirt incident.  I thought maybe the band was now pissed that I was filming from OVER their bloody noses now and we had to move again.  I couldn't figure out why Ralph would be personally hunting us down in the audience, it felt like something was seriously wrong.
I decided that we needed to find Ralph right away to make sure there was not a major problem.  We ducked into the production hallway (all-access passes really mean all-access, apparently!) and went from room to room to try and locate him, while I was simultaneously calling him from my cell phone.  He didn't answer, so I called again.  Just at that moment, we found him in an office talking with a member of the crew.  His phone was ringing, and he casually raised it to look at the screen just at the moment we walked in.  I smiled and said, "Don't answer it, Ralph, it's just me.".  I think that took some edge off the interaction, he seemed calm now.  I offered to show him what we filmed in our camera viewfinders to prove that we stopped taping at the correct time, but he waved the offer off, saying, rather serenely, "Yes, yes, that's fine, did you both enjoy yourselves tonight?".  I said:  "Oh, well, yeah, sure!  I was hoping we could get some reaction from the band after the show is over though".  Ralph's mustache turned downward. "Oh, no, I don't think that can be accomplished, sorry.".  I was devastated.  So that's it?  This event is over, just like that?  I tried to give myself a bit of wiggle room so I said, "Well, maybe if the mood lightens up later, we would love to just get a word or two with the band."  He said: "Well, just sit tight for now, we'll see."  John and I left to pack up our gear backstage in a safe area out of the way of people.  While doing so I literally bumped into Rudy Sarzo, a heavy metal "six degrees of" bass player if there ever was one.  He was just hanging out, watching the show from the wings.  I had never met him before so I introduced myself and told him I was a big fan of his.  He thanked me but his Cuban accent was kind of hard to make out over the band playing.  I asked him if he made a special trip to see the band for the end of the tour and he replied: "I just got done with B.O.C.".  Oh, shit, that's right.  Rudy was playing bass with Blue Oyster Cult at the time and THEY were also performing tonight at the other end of Atlantic City at the Tropicana Resort.  They had just finished their show and then Rudy ducked out to see Ronnie.  Very surreal.  Coincidentally I had finished reading his book "Off The Rails" like a week before.  Sabbath was by now well into their 4th song of the night, "Bible Black".  John and I went back into the crowd, no more cameras or equipment to weigh us down.  I was feeling a little melancholy but then I realized that we still had the all-access passes!  I immediately led the way to return to the front of the stage and security let us into the five-foot-wide gap between the crowd and the stage where we had the entire area to go crazy in.  Ronnie shook my hand, Tony flicked a small handful of guitar picks in my face, and the rest of the setlist felt like a personal concert performed just for me.  It was a hugely moving experience in my life.  These 4 men WERE Black Sabbath when I began to listen to them in 1981, and here we all were, reunited 28 years later, with me so close and separate from the crowd I felt like a roadie, ready to reach up and fix a mic stand or hand out a towel.  Of course, the real impact came months later, when it began to slowly dawn on me that the experience I had could be the last of its kind for anyone forever with this lineup.  But the cherry on top of the evening was yet to come.
They had this rule backstage that non-essential personnel had to clear out for when band members entered or exited the stage and during the drum solo.  I knew that we might as well stay put through the encore songs because until the band left the stage for good, I would not be able to get through backstage.  Sabbath finished up with "Country Girl" (A treat to finally see it played live in person) and "Neon Knights".  Ronnie gave me a parting high five as he made his way across the stage to wave goodbye to everyone.  We waited a few seconds and then began to make our return to the backstage area.  I told John to follow my lead so when we got back there, we located our gear, and sat down quietly next to it, keeping Ralph Baker in my sights at all times.  The band was already in their dressing rooms, getting ready to sign autographs for the "meet and greet" crowd, VIPs of the casinos, and fans who shelled out some serious coin to meet the boys.  Every minute or two Ralph would look over and see us, just two polite men sitting silently, awaiting instructions.  At one point John leaned toward me and said "Dude.  What are we doing?".  I told him to just give it another few minutes.  I wanted to show Mr. Baker as much respect as possible in the hope that we might get to access the band.  Finally, Ralph walked over to me and gave me an option.  "OK, you can go in.  But don't interfere with their autograph session, do NOT talk to Tony, and do NOT under any circumstances bring up Ozzy to anyone."  Understood.  I was disappointed as I had a bunch of stuff I wanted to chat with Tony Iommi about, but the impending litigation with Ozzy was a very recent wound at the time, not to mention I suspected that he might be a little put off by being essentially forced to tour under a name other than Black Sabbath.  They still sold tickets, but not like the genuine article would have.  And this was the same foursome that recorded authentic Black Sabbath songs for The Dio Years black box set AS Black Sabbath just a couple of years prior.  I digress.
In the very darkened signing room, there were a couple of dozen fans mingling about.  Some had swag for the band to sign.  Ronnie, Geezer, Tony, and Vinny were seated at a banquet table.
 I knew we were going to have problems filming in there because no one was allowed to turn the lights up and I didn't want to piss people off by using my camera light, so we tried to get one-on-one interviews near accent lighting whenever possible.  I caught up with Pedro Howse, who is Geezer's nephew and was on the tour as his bass technician, but he is possibly better known as a talented musician in his own right and a member of Geezer's side bands over the years. 
Vinny wandered over and I had a short animated chat with him about his last name.  What he didn't know was that his niece used to work with me and told me everything she knew about the Appice clan, so I was prepared for him when he tried to prank me. 
With Tony being off-limits and the "meet and greeters" dispersing I knew that I had a very limited window left to speak with Geezer and Ronnie.  Geezer stayed seated while the other members got up to wander around so I approached him and identified myself as being with "Joe Siegler's team". "Who????!!" Geezer bellowed.  I think he had a couple of beers already by then.  What a rich and compelling interview this would be.  
"Joe Siegler.  You know, your webmaster, right?  Joe Siegler?"  
"Ahh," (speaking into the camera now) "Hi Joe, hello Joe, you shirt lifter!  Ha ha ha!". 
"I think that means tossing off?  I don't know, I'm not exactly sure"  
"I'm not even going to tell you what it means."  
OK, well, great not really talking with you, Geezer, thanks man.
We were just about out of time now.  I saw Ronnie talking with a family of people nearby.  There was a little child that he picked up and kissed and put back down, I wanted to find out who they were but they left in the opposite direction and then Ronnie himself started walking my way.  I passed the handheld microphone off to John, who was filming all of this stuff, and met Ronnie in the middle of the room empty-handed and just said, "Excuse me, Ronnie, my name is Damian with black-sabbath.com, great show tonight, would it be ok to chat with you for a minute or two for the benefit of your fans?"  He smiled and said, "Yes, of course, come over here."  We went back to the signing table, with the unfortunate bad lighting, but I went with it because I didn't want to derail this opportunity.  Geezer had walked away, leaving half of his beer on the table and Ronnie picked it up and said "This must be Geezer's.  Let's just move it out of the way here".  So I grabbed the mic, we sat down, and I kept the dialogue very brief and simple.  Ronnie admitted that the tour was tiring and spoke confidently about what he would be doing in the upcoming weeks, plans that never came to fruition.  He predicted another future tour with Black Sabbath that would never happen.  Solo tour dates in the fall that ended up canceled.  He admitted that Tony was having upcoming surgery on his hand that might keep him sidelined for a bit.  But he never mentioned his stomach problems and never gave any indication that he might be hurting inside.  At the end of the interview, he gave the camera the horns sign while I reached out to shake his hand, it was a bit of an awkward moment that he broke by just hugging me. 
I think back on that talk now, and I remember that Vinny had earlier remarked on the logo we used for my microphone.  I took a silhouette of Ronnie's horn sign
and used it for the "h" in black-sabbath.com.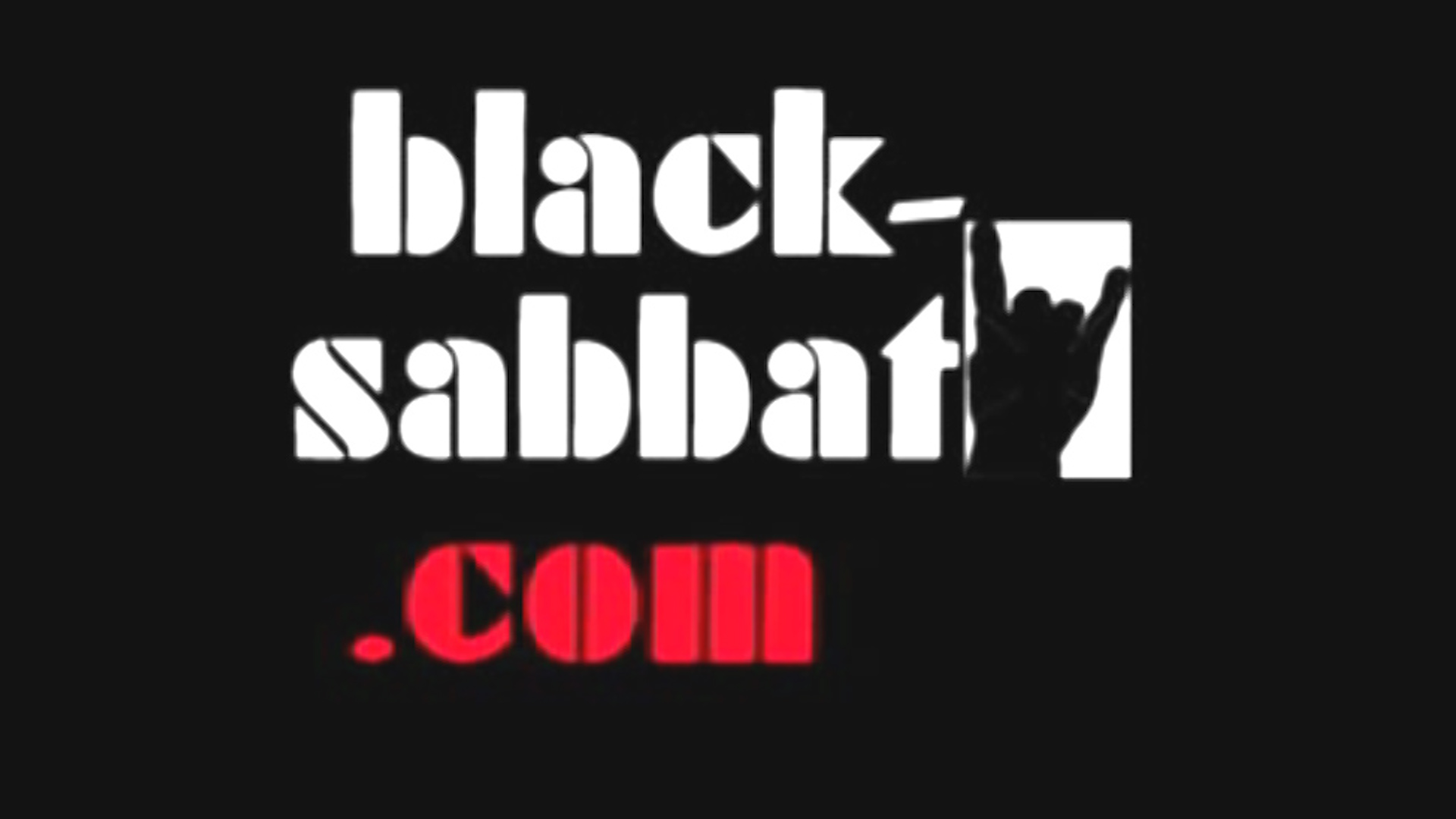 I think maybe Ronnie took note of that as well.  I'd like to think that his hug was to someone who acknowledged his contributions to the greatest band in the world and that if the logo could be attached to any one member over the years, that it was to him.  I never really thought about it before, but people have asked me a few times over the last decade "Why did he hug you?".  And I would always say that Ronnie hugged lots of people.  But now I think maybe he saw us as friends, people who appreciated his art and wanted to help share his work with the world.  Maybe I'm way off, but when I think about what that man went through shortly after that interview, to such a severe extent that he left the planet less than nine months later, I want to believe that he was happy that night.  Whatever, I stand by my interview.
Ronnie got up from the table and walked out the door and that was the last time I ever saw him.  Just for the hell of it John and I went back to the main hall and filmed a closing bit from the stage looking out at the now empty, litter-strewn floor of the House of Blues.  I wanted to take in the moment one more time, one last view from the spot that Ronnie stood at on stage, for what ended up being the last time in his life, front and center.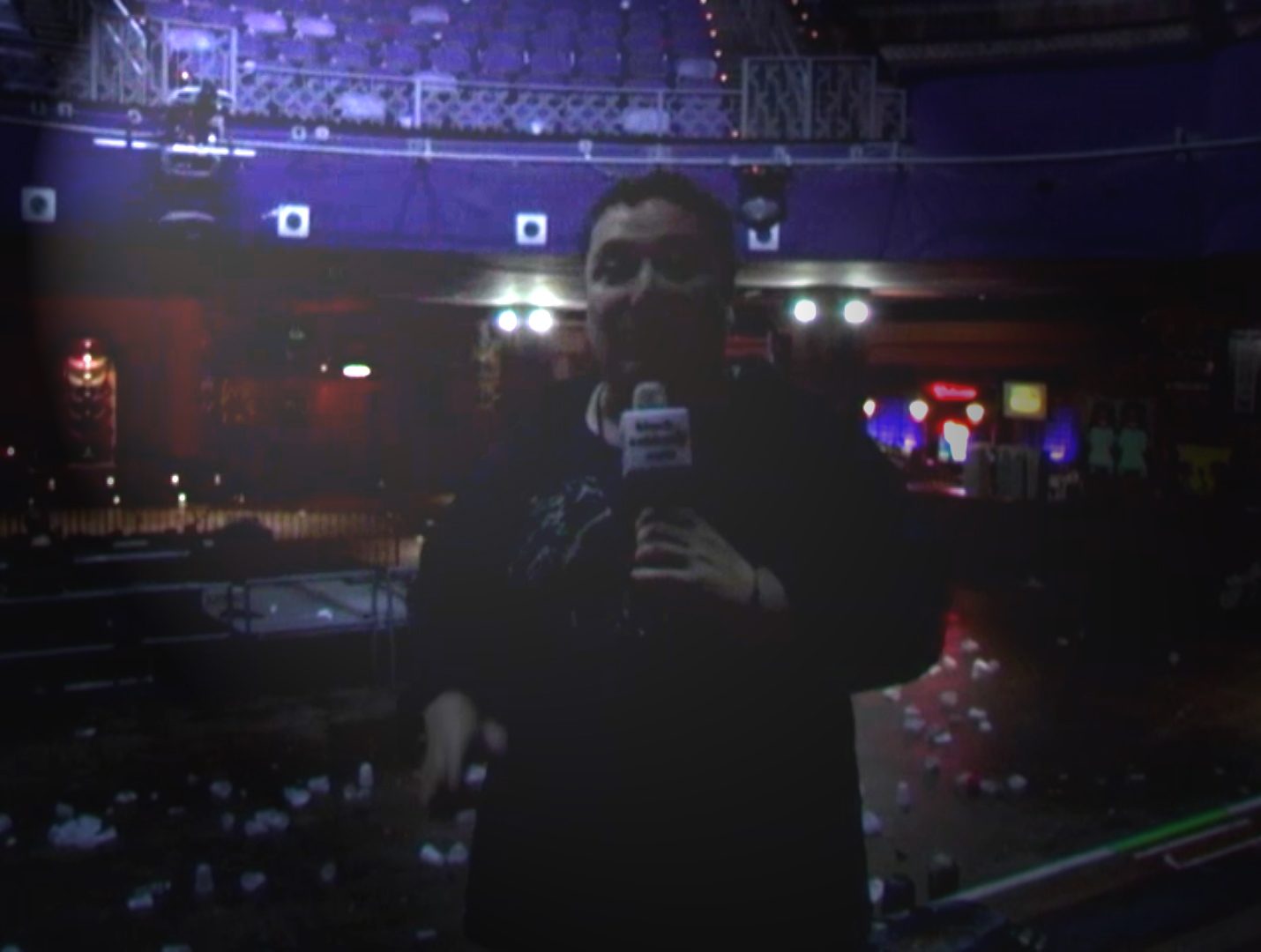 So in the weeks that followed that show, I edited and released to Joe nearly all of the footage that I took at the House of Blues.  I really liked how the Halestorm video turned out because I was able to get sound bites from Lzzy Hale and then show her playing and singing on stage up close.  It would have been awesome to get that same result with Black Sabbath but it just didn't work out that way.  How it DID work out was the band's management told Joe that they did not want my video recording of "The Mob Rules" to be shared, at all.  We suspected that it was because of the shirt throwing incident but I don't know (or can't remember) if that was officially relayed to us or not.  All I know is that I was very bummed to not be able to share our hard work with visitors to Joe's site and YouTube page.
Then we started to get some really alarming news.  First, rumors came out within two months that Ronnie was not feeling 100% and his upcoming fall solo tour was in jeopardy.  Then, the tour got canceled completely in early November of 2009.  Finally, Wendy Dio put out a press release that confirmed the worst, that Ronnie was diagnosed with stomach cancer.  I couldn't help it, I began to think of the Atlantic City show again and wondered if that truly was going to be Ronnie's last stand.  I don't remember getting a lot of updates over the next few months but I think at some point in the early months of 2010 I asked Joe that if Ronnie were to actually pass away, maybe Wendy would permit us to release our recording of "The Mob Rules" as a kind of tribute.  In the meantime, I went back and re-edited the video of the song to put as much of a focus on Ronnie as possible.  Then there were some discrepancies about whether August 29, 2009, was his absolute LAST performance or not.  This was because Ronnie's canceled fall Dio solo dates had not been removed from some websites, so this was misleading people into thinking the shows actually happened, which they most certainly did not.  During April and early May, there were several erroneous reports of Ronnie's passing.  I hope he was never made aware of them, I can't imagine someone hearing that they died on the radio one day, while they were still clinging to life.  After he passed away we ended up getting the green light to share "The Mob Rules" with everyone. 
I'm not sure who gave us the final blessing, whether it was Ralph, Wendy, or someone else, but I felt proud to have put my heart and soul into documenting what was supposed to be just the end of a tour, which turned out to be the end of an era, and then be able to share it.  The video on Joe's YouTube page has around a half million views and there are postings of it elsewhere as well, and I feel incredibly lucky that I got to meet and then share Ronnie's last show with every fan of his and the members of black-sabbath.com.
Sorry, I guess this turned into a mini-novella, but thanks for reading.  We're off to the witch!
— Damian