I was fortunate enough to see the Cross Purposes tour live twice.  Once in Philadelphia on 18 Feb 1994, and again in Dallas on 8 Mar 1994.  Both were excellent, and had one of the best setlists I'd seen in any live Sabbath show ever.  The Philadelphia show was technically at a venue called the Tower Theatre in Upper Darby, PA (I also saw the Dehumanizer tour there).  It was a great show, but I'm here to write about something I recently found from that show.
When I was in the lobby waiting for them to open the seating area, some employees there were handing out a local newspaper.  It was produced by the venue I think, and was called "Inner View Magazine".  It was small, about a dozen pages, but contained an interview with Tony Martin in the leadup to the show.  A lot of folks didn't keep theirs, I saw many on the floor, in the trash, etc.  But I kept mine.  I never threw it out, but it was missing for ages, but I found it again late in 2020.  I wanted to get it out there, so I've gone and taken the paper and typed in the entire Tony Martin interview.  It is below.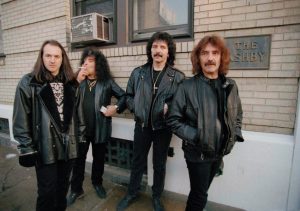 Before I get to that, I wanted to briefly talk about this Cross Purposes era photo.  It's been seen many times before, it's not new.  But what some might not know is it was taken right outside the Tower Theatre when Sabbath was in town for the gig I was at.
Immediately behind the Tower Theatre is an apartment building named "The Ashby".  I'm assuming Sabbath took the picture there simply because it was literally the next building to the venue they were playing.  Just walked out the back door of the venue's loading dock, and the apartment building is just a couple of feet away.   I even pinned down the location of the spot using latitude/longitude coordinates.  They are: 39°57'40.4″N 75°15'28.8″W. You can also see what the place looks like more recently on Google Maps:
Anyway, enough about the photo.  Here's the interview from the newspaper.  I took a couple of pictures of it on my desk here so you can see what it looks like in January 2021.  it's a bit frayed around the edges, but you can definitely still read the entire thing.
Heavy Metal's Children of the Grave return
Inner-View with Black Sabbath's Tony Martin – by Dave Maida
Black Sabbath's Tony Martin knows there isn't one SABS song he can't sing! The seven year vocalist of Black Sabbath geared up for a ten day rehearsal at their home base in Birmingham, England. Black Sabbath is ready to begin their six month plus world tour supporting their new riff bashing IRS Records release "Cross Purposes". The Children of the Grave – Geezer Butler, Tony Iommi, Tony Martin and former Rainbow kinsman Bobby Rondinelli managed to pull out some of the most unusual tracks from Sabbath's history for the tour, some songs of which are never been heard on stage before, even by Ozzy. I tried to persuade Tony Martin in telling me just one of the surprise tunes that are planned for their Feb 18th Tower Theatre concert.
He said "No leading questions, (laughing). I don't want to spoil the surprise. With the show we've come up with, it's quite good." Tony touched on his role as a frontman, "I'm not the madman that Ozzy is, my asset is mainly my voice. I tend to stand up at the front of the stage, look people square in the eye, and say this is it, this is the music, this is how we're going to do it. I tend to perform with my voice rather than an act or a show. We're not taking a stage set out with us. Very little back drops, no laser beams, no spiders. It's just going to be set up the gear, stand on stage, and play for the people."
After Ronnie James Dio departure after last year's Dehumanizer tour, the thick atmosphere that had plagued around the group departed also. They once again called on their seasoned vocalist, and (no fantasy) lyricist Tony Martin to bring the band back from the grave with new really good riffed record "Cross Purposes". Yeah, we know that Ozzy has retired, and yeah, we know that the Heaven and Hell and the Mob Rules days are of the past, but there is a whole new generation of SABS fans ready to keep the term "Heavy Metal" alive.
"The music always comes first with Black Sabbath. Its' always been that way from day one, like when Ozzy was in the band. The lyrics go on top. We got some really crazy time change and tempos on the new record. They purposely gave me this stuff because they know that I'm able to put an angle on top of these riffs and I really enjoy that challenge. I'm hoping that one or two people will pick up on half the tracks I put together."
Geezer and Rondinelli play some really great rhythmatic parts and crazy time counts on the tracks Virtual Death and Immaculate Deception. WARNING: (Listen with headphones at a low decibel). The opening track I Witness is written about the life of exile that the Pennsylvania Amish live, and Psychophobia is really written about David Koresh and the cult horse that occurred in Waco, TX added Martin. "Some people think that song is about Ronnie, but I absolutely deny that (laughing)."
"I just don't understand the logic of asking for something, like as important as the aid that they need, then, killing people. I just don't understand it. Basically people are just dying for love out there." Martin commenting on the war-torn Yugoslavia lyrics of the balled "Dying for Love" where Martin shines his strengths as a natural, when it comes to singing.
"With the music coming first, that give me a good idea of the sort of song I'm going to write. Once the music is together, I've got a good idea what direction I'm going in. Then it's selecting the subject I'm happy working with and then I purposely decide not to give it a message or a specific name even though I can write about specific subjects – like the Waco, Texas thing."
The artificial tipped fingers of Iommi – the inventor of the real "Heavy Metal" guitar comes to the Tower Theatre February 18th, with his wall of Laneys, maybe what Tony Martin wouldn't too me, SABS fans should be in for a real treat. I'm pulling out my copies of Paranoid, Volume 4, and Cross Purposes right now!