Saw this story come across the wire today, and thought I'd pass it on. It originally appeared online here.
Sharon Osbourne, the take-no-prisoners matriarch who effortlessly deals with her rebellious kids and a zoned-out husband on MTV's The Osbournes, is in for her toughest challenge yet: cancer.
Sharon, the wife and manager of metal pioneer-turned TV dad Ozzy Osbourne, will undergo an operation today for "a treatable form of cancer," the couple's publicist, Lisa Vega, has announced.
Vega would not reveal what kind of cancer Osbourne is battling, but the publicist says, "[Sharon] is expected to make a full recovery.
"She has the loving support of her husband and three children who are by her side at this time," Vega says.
The Osbournes celebrate their 20-year wedding anniversary on Thursday.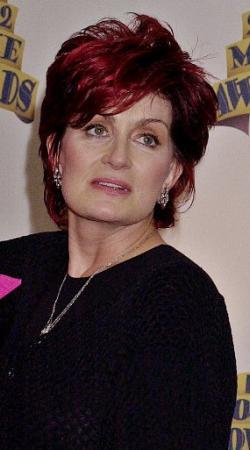 Meantime, MTV released a statement saying, "We know Sharon will conquer this with the same tenacity and vibrancy she approaches everything else in her life. Our thoughts are with Sharon and the entire Osbourne family and we send her our love and support for a complete recovery."
As a result of the surgery, the Osbournes are postpoing the first two dates of the rocker's Ozzfest 2002 tour–Saturday's show in Bristow, Virginia, and Sunday's stop in Pittsburgh. Both will be rescheduled, says Vega.
Until MTV put her family at the forefront of American pop culture, Sharon Osbourne was best known for her behind-the-scenes role as a rock manager and mom. She has masterminded the "Prince of F—ing Darkness' " career, including the mega-successful Ozzfest shows, while tending to bayonet-toting son, Jack, 16, and pink-haired princess cum aspiring pop star Kelly, 17, and oldest child, Aimee, 18, who didn't want to be a part of the series' inaugural season but is rumored to be making an appearance next season. (Ozzy also has an adult son, Louis, from his first marriage.)
Sharon also managed the Smashing Pumpkins until 2000, when she suddenly quit with the now legendary statement: "I must resign today, due to medical reasons–Billy Corgan was making me sick!"
Ozzy and Sharon, the now estranged daughter of the rocker's onetime promoter Don Arden, met in 1979–a tempestuous year for the rocker. Not only was he booted by the legendary metal band he fronted, Black Sabbath, but he was also booted by his first wife, Thelma Reilly, after eight years of marriage.
Three years later, the new couple married in Maui, with Sharon taking over as Ozzy's manager and getting his career back on track. Apart from a 1989 incident in which a binge-drinking Ozzy tried to choke her–an episode that landed him in rehab for three months–the couple have been inseparable…and unstoppable.
It was Sharon who hatched the idea for The Osbournes, after MTV visited the brood for an episode of another series, MTV Cribs. The show has generated the biggest ratings in MTV's history and made the whole family (in)famous.
There's the hit Osbourne Family Album soundtrack, featuring Kelly's cover of Madonna ( news – web sites)'s "Papa Don't Preach" (which earned her a record deal), a pair of upcoming books from publisher Simon & Shuster, a barrage of merchandising deals, and even a dinner invitation from President George W. Bush ( news – web sites), who was impressed with the clan's family values.
Sharon Osbourne has, like Ozzy, battled drug and alcohol abuse, but has been sober for years. She recently underwent a gastic bypass operation to shrink the size of her stomach. The now slender woman credited the procedure with helping her lose 90 pounds from her once 224-pound bulk.
No word whether her real-life cancer battle will pop up on the tube as a storyline on The Osbournes' second season that Sharon negotiated with MTV for a reputed $20 million.
Filming is supposed to take place at the family farm in England later this summer and the new season will debut in the fall.