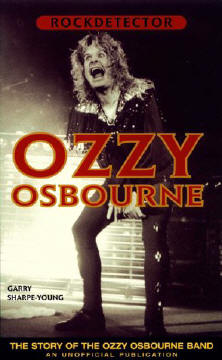 Our latest contest has been started! This time we have two copies of the Ozzy Osbourne book "Ozzy Osbourne: The Story of the Ozzy Osbourne Band". This is a very detailed book on the history of the Ozzy Osbourne solo band – including some info I had never been aware of before (like Randy Rhoads wasn't his actual first solo band guitarist). Anyway, the book is full of tidbits, and in the usual trivia question format I run these things in, I've gone through the book and pulled out a few tidbits to use as questions. The answers to these are in the book (as well as elsewhere on the net), so here they are:
What former member of UFO played briefly with Ozzy's band?
What members of Black Sabbath (besides Ozzy) played in the Ozzy band? (HINT: I'm looking for five people here, and Rick Wakemen is not one of them).
While Tommy Aldridge & Rudy Sarzo are pictured on the original version of Diary of a Madman as having played on it, they didn't. What other album did the pair join a band to replace a rhythm section that had just been let go? (HINT: It's not an Ozzy album)
Please send your answers to ozzybook@black-sabbath.com – Please note that ANY EMAILS SENT ANYWHERE ELSE THAN OZZYBOOK@BLACKSABBATH.COM WILL NOT BE ELIGIBLE FOR THE CONTEST, AND WILL BE DELETED. The contest will run till Friday, March 7, 2003.
Thanks to the folks over at Rockdetector for helping out with the books – and a big apology goes out to them – I should have had this contest online much sooner – sorry about that, guys!
You can order the book through the link below – but it's from Amazon's UK store – it's not stocked in the US at this time. You can also read my review of this book on my books page.