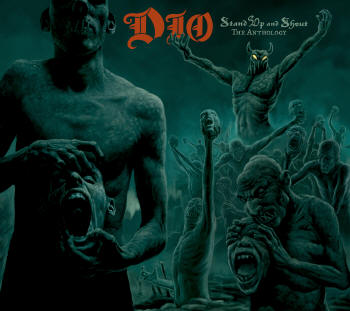 The latest contest is over, and the winners have been picked. The winners received a copy of the latest Dio disc – the two CD compilation "Stand Up & Shout: The Dio Anthology". The four questions are shown below, followed by the answers (and the source of the answers):
1. Which album was the first one that Ronnie James Dio called himself that instead of just "Ronnie Dio"?
2. What was the last song written for Sabbath's Heaven & Hell album?
3. What band did Ronnie James Dio first record with?
4. What band played backup for Dio for the two live tracks on the limited version of Killing the Dragon? (It wasn't Dio's own band – the tracks were Rainbow in the Dark & Fever Dreams).
Answers:
1. It was Elf's "Trying to Burn the Sun". According to Ronnie, it was Ritchie Blackmore's idea to use his middle name in his stage moniker. (Source: Tapio Kiehanen's Dio pages)
2. Neon Knights. (Source of this is both the liner notes of the Anthology, as well as the Black Sabbath Story Volume II video.)
3. Ronnie & the Red Caps. While the band had two names before that (The Vegas Kings, & Ronnie & The Rumblers), it was the Red Caps that first released something that Dio sang on. It was also in 1958! You do the math. :) (Source: Tapio's Dio pages again).
4. Deep Purple. (Source: Killing the Dragon SE CD)
The six winners picked were:
* Rom Ehalt
* Dave Kuntz
* Lori London
* Art Edelman
* Pekka Wainio
* Eric Knight
Thanks to all that entered, and I should have a new contest coming up soon. If you didn't win, you can check out info on the album by clicking on the cover art above, or if you'd like to purchase it, click on the buy link below.